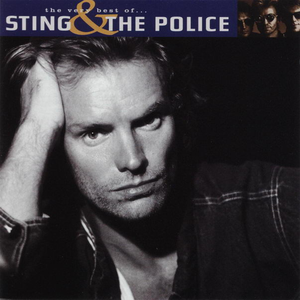 "Message in a Bottle" is a 1979 song by The Police, from their second album, Reggatta de Blanc.

The song is ostensibly about a castaway on an island, who sends out a message in a bottle to seek help. A year later, he feels that there is no need for love. Later on, he sees "a hundred billion bottles" on the shore, finding out that there are more people like him out there. The Police debuted the song on live television.

"Message in a Bottle" may also
Read Full Bio
"Message in a Bottle" is a 1979 song by The Police, from their second album, Reggatta de Blanc.

The song is ostensibly about a castaway on an island, who sends out a message in a bottle to seek help. A year later, he feels that there is no need for love. Later on, he sees "a hundred billion bottles" on the shore, finding out that there are more people like him out there. The Police debuted the song on live television.

"Message in a Bottle" may also be read as a lament of isolation and loneliness caused by the loss of a loved one ("love can break your heart"): he seeks help but gets no reply, then realises that there are many more people out there like him, suggesting that everyone has to deal with loss and loneliness as part of the human experience. The island and the bottle are metaphors; by reaching out, the protagonist discovers he is not alone, and that other people share his feelings of alienation.[citation needed]

The single was The Police's first number one hit in the United Kingdom, but only reached #74 in the United States. An alternate "Classic Rock" mix is available on Every Breath You Take: The Classics. This is Sting's favorite song as confessed to Jools Holland of BBC fame.

The Police reformed at Live Earth, a 2007 charity concert to raise awareness of global warming and other environmental hazards and performed "Message in a Bottle" as the US finale, with John Mayer playing guitar with Andy Summers (who described the track as a personal favourite in his book One Train Later) and Kanye West performing a rap verse over the chorus of the song.
Genre not found
Artist not found
Album not found
Search results not found
Song not found
Message in a Bottle
by
The Police
Just a cast away, an island lost at sea, oh
Another lonely day, no one here but me, oh
More loneliness than any man could bear
Rescue me before I fall into despair, oh
I'll send an SOS to the world
I'll send an SOS to the world
I hope that someone gets my
I hope that someone gets my
I hope that someone gets my message in a bottle, yeah
Message in a bottle yeah
A year has passed since I wrote my note
I should have known this right from the start
Only hope can keep me together
Love can mend your life but love can break your heart
I'll send an SOS to the world
I'll send an SOS to the world
I hope that someone gets my
I hope that someone gets my
I hope that someone gets my message in a bottle, yeah
Message in a bottle, yeah
Oh, message in a bottle, yeah
Message in a bottle, yeah
Walked out this morning, I don't believe what I saw
A hundred billion bottles washed up on the shore
Seems I'm not alone in being alone
A hundred billion castaways looking for a home
I'll send an SOS to the world
I'll send an SOS to the world
I hope that someone gets my
I hope that someone gets my
I hope that someone gets my message in a bottle, yeah
Message in a bottle, yeah
Message in a bottle, whoa
Message in a bottle, yeah
Sending out an SOS
Sending out an SOS
I'm sending out an SOS
I'm sending out an SOS
Sending out an SOS
Sending out an SOS
Sending out an SOS
Sending out an SOS
Sending out an SOS
Sending out an SOS
Sending out an SOS
Sending out an SOS
Sending out an SOS
Sending out an SOS
Sending out an SOS
Sending out an SOS
Sending out an SOS
Sending out an SOS
Sending out an SOS
Sending out an SOS
Sending out an SOS
Sending out an SOS
Sending out an SOS
Sending out an SOS
Sending out an SOS
Lyrics © Sony/ATV Music Publishing LLC
Written by: Gordon Sumner

Lyrics Licensed & Provided by LyricFind
To comment on specific lyrics,
highlight them