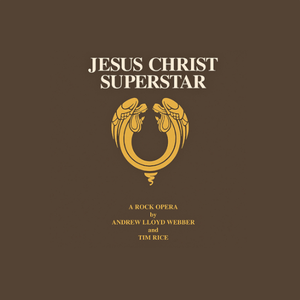 Jesus Christ Superstar is a 1970 rock opera by Andrew Lloyd Webber and Tim Rice. The album musical is a musical dramatisation of the last week of the life of Jesus Christ, beginning with his entry into Jerusalem and ending with the Crucifixion. The album's story is based in large part on the Synoptic Gospels and Fulton J. Sheen's Life of Christ, which compares and calibrates all four Gospels. However, greater emphasis is placed on the interpersonal relationships of the major characters, in particular, Jesus, Judas and Mary Magdalene. The album reached #1 on the Billboard chart in 1971 and
Read Full Bio
Jesus Christ Superstar is a 1970 rock opera by Andrew Lloyd Webber and Tim Rice. The album musical is a musical dramatisation of the last week of the life of Jesus Christ, beginning with his entry into Jerusalem and ending with the Crucifixion.

The album's story is based in large part on the Synoptic Gospels and Fulton J. Sheen's Life of Christ, which compares and calibrates all four Gospels. However, greater emphasis is placed on the interpersonal relationships of the major characters, in particular, Jesus, Judas and Mary Magdalene.

The album reached #1 on the Billboard chart in 1971 and served as a launching pad for numerous stage productions on Broadway and in the West End. The original 1970 boxed-set issue of this 2-record set was packaged in the U.S. with a special thin brown cardboard outer box which contained the 2 vinyl records and a 28-page libretto.

Marilyn Manson's Antichrist Superstar is in effect a derisive parody of this album. Manson's logo for this era along with the Shock symbol was a direct reference to the cover art, with the Manson lightning bolt juxtaposed within the center for further inversion and personalization.

Ian Gillan makes his appearance as vocals for Jesus Christ.

Everything about Jesus Christ Superstar offended American Christians, from its title to its overall theme. It seemed blasphemous to call Jesus a "superstar", as if he were no more important to the world then some flash in the pan celebrity.

Worse, the libretto of the rock opera was consistent was the view that Jesus did not have to die and that Jesus was not God Himself, contradicting two ideas which have been bedrock Christian theology since c. 400 A.D. By humanizing the characters in the Gospel story, it introduces or supports the idea that Jesus was trying to bring the Kingdom of God in his lifetime but was thwarted by the various failures of his disciples.


Added note: what the above review fails to consider is the music itself, which when created was way ahead of its time. One of Webber's finest that still stands the test of time. As for the text of the libretto, that's hardly relevant. It's just one version of fiction rather than the more traditional fiction that many of us have come to accept by way of our childhood indoctrination.
Genre not found
Artist not found
Album not found
Search results not found
Song not found
Instrumental
Lyrics Licensed & Provided by LyricFind
To comment on specific lyrics,
highlight them