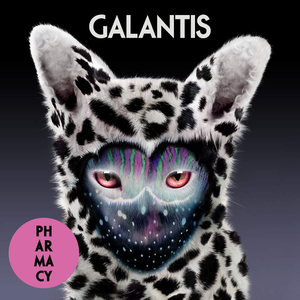 Pharmacy is the debut studio album by Swedish electronic music duo Galantis, released on 8 June 2015. The album features three singles ("Runaway (U & I)", "You", and "Peanut Butter Jelly") and a promotional single ("Gold Dust"). The first single "You" was originally on their self-titled EP and currently has over eight million plays on Spotify. However, it was not intended to promote Pharmacy, making "Runaway (U & I)" the album's first official single. "Peanut Butter Jelly" was later released on the pre-release of the album. Galantis released the single "Gold Dust" on 19 February 2015. It reached number one
Read Full Bio
Pharmacy is the debut studio album by Swedish electronic music duo Galantis, released on 8 June 2015. The album features three singles ("Runaway (U & I)", "You", and "Peanut Butter Jelly") and a promotional single ("Gold Dust").

The first single "You" was originally on their self-titled EP and currently has over eight million plays on Spotify. However, it was not intended to promote Pharmacy, making "Runaway (U & I)" the album's first official single. "Peanut Butter Jelly" was later released on the pre-release of the album.

Galantis released the single "Gold Dust" on 19 February 2015. It reached number one on Hype Machine's Popular Chart.

John Cameron from WeGotThisCovered.com gave Pharmacy a 3.5/5 stars stating "Galantis may have set our expectations a little too high with their 2014 releases" (referencing "Runaway (U & I)", 'You" and "Smile"), stating that even though the album's production values were good, "most of the songs seem to lack originality". Cameron also stated that "the tracks on Pharmacy are not poorly done by any means – it's just that very few of the new ones are all that memorable." A more positive review came from Lucas Sachs from YourEDM.com, he gave the album a "respectable 8.5/10" pointing out track 6 "Louder, Harder, Better" and track 10 "Firebird" as "two new songs from this album that stick out to me due to their excellence in production and writing." Stating that "Louder, Harder, Better" encompasses all that Galantis stands for, and that "Firebird" was his favorite track on the album due to the nostalgic feeling in the lyrics and the added reverb on the word "bird".

On May 21, 2015 Galantis began their summer festival tour in support of Pharmacy which ended on August 6, 2015. There were 22 dates on the tour in total. There were performances in multiple continents including Europe and North America.
Genre not found
Artist not found
Album not found
Search results not found
Song not found
Forever Tonight
Galantis Lyrics
Let me colorblind your night
With possibility
Set your teenage love alive
Won't you follow me
Blowin' fire in the sky
Burning evergreens
Before the sun is in your eyes
Run away with me
Forever
Our night is guided by lights
Together
We are one, one, one, one
Together
We are one
We'll have forever tonight
Forever, together
Forever, we'll have forever tonight
Forever, we'll have forever tonight
Forever
Let me colorblind your night
With infinity
We'll be one 'til we collide
In the in between
Lighting bonfires
Burning evergreens
You can love me back to life
Every time we see
Forever
Our night is guided by lights
Together
We are one, one, one, one
Together, we are one
Forever, we'll have forever tonight
Forever, together
Forever, we'll have forever tonight
Forever, together
Forever, we'll have forever tonight
Forever, we'll have forever tonight
Forever, tonight
We'll have forever tonight, tonight
Lyrics © BMG Rights Management, Universal Music Publishing Group, CONCORD MUSIC PUBLISHING LLC, Kobalt Music Publishing Ltd.
Written by: JIMMY KENNET KOITZSCH, JENNIFER DECILVIO, LINUS EKLOW, HENRIK JONBACK, LARS KARLSSON CHRISTIAN

Lyrics Licensed & Provided by LyricFind
To comment on specific lyrics,
highlight them