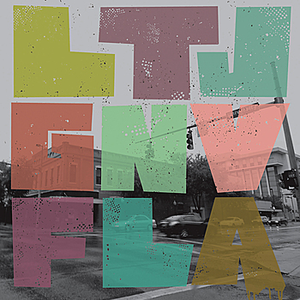 GNV FLA is the seventh studio album by Less Than Jake, released June 24, 2008 through the band's own label, Sleep It Off Records. Chris Demakes states that the band "wrote a quintessential Less Than Jake record" and that the album includes "lots of horns and lots of vocals."

The album's title is an abbreviation of the band's hometown, Gainesville, Florida. Corey Apar from Allmusic writes that: "Less Than Jake have essentially created a bittersweet tribute to their hometown of Gainesville
Read Full Bio
GNV FLA is the seventh studio album by Less Than Jake, released June 24, 2008 through the band's own label, Sleep It Off Records. Chris Demakes states that the band "wrote a quintessential Less Than Jake record" and that the album includes "lots of horns and lots of vocals."

The album's title is an abbreviation of the band's hometown, Gainesville, Florida. Corey Apar from Allmusic writes that: "Less Than Jake have essentially created a bittersweet tribute to their hometown of Gainesville, sparing no detail in naming the album GNV FLA, stringing the liner notes together with bleak snapshots of the city, and littering song names and lyrics with nods to both the state of Florida and the beloved college town of their inception." In the album's liner notes, the band thank the city, calling it: "the town that inspired the record."

In an interview promoting the record, saxophonist JR states that when the band were:

"conceptualizing what we wanted to do with the next record, we were like, "We should do what we've always done, and do what we do best. I think that's why we ended up calling the record "GNV FLA' (Gainesville Florida), because it's like we've come full circle, we've come home."

Similarily, the press release for the album reads:

It's a return to form that could be called the "traditional" Less Than Jake sound, complete with their trademark bouncy ska grooves and horns galore, GNV FLA comes full circle with the band's beginnings, when they were scrapping up money from gigs to augment their Pez collections.

"Does the Lion City Still Roar?", was uploaded to their official website on May 25, 2008 for fans to download for free, and released as a single on June 17, 2008 with a b-side entitled "All Time Low."

Scott Klopfenstein, from Reel Big Fish, provided additional trumpet parts on several tracks, while Neil Hennessy, from The Lawrence Arms, provides additional percussion throughout the album.

The album debuted at #61 on the Billboard 200 and at #9 on the Top Independent Albums charts on the week ending on July 12th, selling 10,300 copies in that week.

Regarding the band's decision to release the record on their own label, JR mentions that the band:

"could have gone with Epitaph Records or Fat Wreck Chords, but we figured we had enough experience among the five of us doing almost every facet of what it takes to run a label. Now we control everything we do. It's kind of scary, kind of creepy and a lot of fun; I wake up every day at, like, 9 o'clock in the morning and I work on my band. And it's not just the music side of things; it's marketing, online promotion, talking to dudes at radio stations. We work really hard and try to do it as best as we can. We're our own band, we're going to go on tour, put out records, and go on tour. That's it."

GNV FLA has received overall good reviews. Corey Apar from Allmusic said that "[...] on GNV FLA, Less Than Jake are still very much alive, and their exuberant, singalong melodies are heightened this time by actually being sung with heart, feeling, and a sense of fondness". Tony Pascarella from AbsolutePunk.net said that "The new record is raw, a bit underproduced, yet everything one could expect from a Less Than Jake record" and that "They're dedicated to putting out the best record possible, and this new collection of songs is going to rank right up there among their best work".
Genre not found
Artist not found
Album not found
Search results not found
Song not found
City Of Gainesville
Less Than Jake Lyrics
We have our master plan bottled and canned living in the 352
Steps 1 and 2 walk home drunk wake up confused with a stranger next to you
The copied costumes and conversation seem to be totally making
this into a strip mall kind of town
I use my credit card to buy alcohol student loan spent at the mall and I
I may be going broke but I'm never broken down

We have our history just you and me but our future gets tucked away
Steps 3 and 4 staying drunk sit on this porch planning out how to escape
Cause were two truck stops off the interstate promised land with a twist of fame
Were a town for all the lost and found
So sleep tight in this smoky room still buzzed from this afternoon and I
I may be going broke but I'm never broken down

Lyrics © Universal Music Publishing Group
Written by: LOUIS JAMES SCHAUB, PETER WASILEWSKI, ROGERIO MANGANELLI, VINNIE FIORELLO

Lyrics Licensed & Provided by LyricFind
To comment on specific lyrics,
highlight them