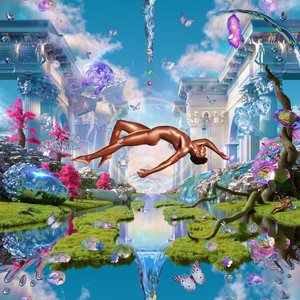 Montero (stylized in all caps) is the debut studio album by American rapper and singer Lil Nas X, released on September 17, 2021, by Columbia Records. The album was announced in 2019, and its title unveiled in March 2021, following the release of "Montero (Call Me by Your Name)", the lead single. Montero was also preceded by the singles "Sun Goes Down" and "Industry Baby", and features guest appearances from Jack Harlow, Doja Cat, Elton John, Megan Thee Stallion, and Miley Cyrus.
Genre not found
Artist not found
Album not found
Search results not found
Song not found
I caught it bad just today
You hit me with a call to your place
Ain't been out in a while anyway
Was hoping I could catch you throwin' smiles at my face
Romantic talking? You don't even have to try
You're cute enough to fuck with me tonight
Lookin' at the table, all I see is weed and white
Baby, you livin' the life, but nigga, you ain't living right
Cocaine and drinking wit' your friends
You live in the dark, boy, I cannot pretend
I'm not fazed, only here to sin
If Eve ain't in your garden, you know that you can
Call me when you want
Call me when you need
Call me in the morning
I'll be on the way
Call me when you want
Call me when you need
Call me out by your name
I'll be on the way, like
Mm, mm, mm
Mm, mm, mm
Ayy, ayy
I wanna sell what you're buying
I wanna feel on your ass in Hawaii
I want that jet lag from fuckin' and flyin'
Shoot a child in your mouth while I'm ridin'
Oh-oh, why me?
A sign of the times every time that I speak
A dime and a nine, it was mine every week
What a time, an incline, God was shining on me
Now I can't leave
And now I'm actin' hella elite
Never want the niggas that's in my league
I want to fuck the ones I envy, I envy
Cocaine and drinking wit' your friends
You live in the dark, boy, I cannot pretend
I'm not fazed, only here to sin
If Eve ain't in your garden, you know that you can
Call me when you want
Call me when you need
Call me in the morning
I'll be on the way
Call me when you want
Call me when you need
Call me out by your name
I'll be on the way, (oh) like
Call me by your name
Tell me you love me in private
Call me by your name
I do not care if you lying
Lyrics © Universal Music Publishing Group, Sony/ATV Music Publishing LLC
Written by: David Biral, Denzel Michael-Akil Baptiste, Montero Lamar Hill, Omer Fedi, Rosario Peter Lenzo IV

Lyrics Licensed & Provided by LyricFind
To comment on specific lyrics,
highlight them