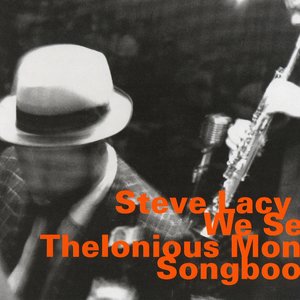 No doubt Steve Lacy possesses laudable chops in concert with a sweet, ringing tone. His Thelonious Monk influences have shaped his rather storied musical career, which is an ideology evidenced here on We See, Thelonious Monk Songbook. Naturally, Lacy's enactment of meter, depth, and space signify aspects of his Monk-based preferences and stylizations. Essentially, this a relatively straightforward set consisting of moderate to up-tempo swing vamps, accelerated by the saxophonist's gleaming choruses and Monk-like permutations. Lacy and associates perform these works with a deeply personalized and undeniably buoyant demeanor. A minor shift in strategy, however, resides within Lacy's collaboration with
Read Full Bio
No doubt Steve Lacy possesses laudable chops in concert with a sweet, ringing tone. His Thelonious Monk influences have shaped his rather storied musical career, which is an ideology evidenced here on We See, Thelonious Monk Songbook. Naturally, Lacy's enactment of meter, depth, and space signify aspects of his Monk-based preferences and stylizations. Essentially, this a relatively straightforward set consisting of moderate to up-tempo swing vamps, accelerated by the saxophonist's gleaming choruses and Monk-like permutations. Lacy and associates perform these works with a deeply personalized and undeniably buoyant demeanor. A minor shift in strategy, however, resides within Lacy's collaboration with vibist Sonhando Estwick and trumpeter Hans Kennel. With that, the sextet pursues sequential soloing opportunities as this effort shines forth with the qualities that might parallel the birth of a sun-drenched summer's day.
Genre not found
Artist not found
Album not found
Search results not found
Song not found
We have lyrics for these tracks by Steve Lacy:



4real No, I don't need an alibi You saved my wrong, I'll…
A Foggy Day I was a stranger in the city Out of town were…
atomic vomit Blown I'm so blown I'm so blown I'm so blown I'm so Pulled …
Azure Driftin' Dreamin' In an Azure mood, Stardust gleamin' Thru …
Bars. 16 La, la-la, la, la-la La, la-la, la, la-la La, la-la, la, la-…
Basement Jack Love me like your, ride me like your Touch me 'round…
C U Girl I wanna see you girl I wanna please you girl Go head…
Dark Red Something bad is 'bout to happen to me I don't know…
Daze Hey (you put me in a) Daze (each and every) Day (so…
Dreams You stepped out of a dream You are too wonderful to…
Easy to Love I know too well that I'm just wasting precious time In…
Guide I could be your guide, no, you gotta keep it…
Hate CD I need an intervention I'm in this situation I scratch, but …
Haterlovin I hate you just as much as I love you I…
How About You When a girl meets boy Life can be a joy But the…
Hummer Oh, oh, oh, oh Oh, oh, oh, oh Oh, oh, oh, oh…
I Let a Song Go Out of My Heart I let a song go out of my heart It was…
I Think I Should Baby (baby) I think I should know you (know you) You're look…
In Lust We Trust I want some touch All over my body Give some love To me,…
Infrunami Girl, you're the one I want You're the one I need I'm…
Jars of It I wanna dance With you all night Under the stars Until it is…
Lay Me Down Baby Save me Take me Oh, oh, oh Grab me Hug me Hold me Close…
Like Me Hello This is about me and what I am I didn't wanna…
Looks I want you and you want me But we don't know…
Love 2 Fast I swear there's something in the wind outside today And it…
Love Me or Leave Me Love me or leave me and let me be lonely You…
N Side Meet me outside of my palace Don't need no approval, girl,…
Once in a While Once in a while will you try to give One little…
Only If If I could travel through time, I think I Would tell…
Out of Me Head Can't get you outta my head Can't get you outta my…
Over the Rainbow Somewhere over the rainbow, way up high There's a land that…
Peg o Peg o'my heart I love you, don't let us part I love…
Peg o' My Heart Peg o'my heart I love you, don't let us part I love…
Playground Know you wanna play 'round Well, baby, I'm on the playground…
Prelude to a Kiss If you hear A song in blue Like a flower crying For the…
Ryd Speedin' down the backstreet I'm tryna get you in my backsea…
Some Pretty woman, pretty girl, pretty thighs Older black woman, …
Thangs Baby girl, we can do all the thangs you want…
Thats No Fun Hey Steve man, you-you've changed man Me? I changed? I don't…
Uuuu Baby girl, I got you (right where I wanted) Baby girl,…
You Stepped Out of a Dream You stepped out of a dream You are too wonderful to…

The lyrics can frequently be found in the comments below or by filtering for lyric videos.