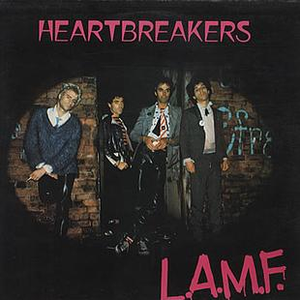 L.A.M.F.: the Lost '77 Mixes
Johnny Thunders (vocals/guitar) and Jerry Nolan (drums) had quit the New York Dolls, and that same week Richard Hell (vocals/bass) was forced out of Television. The trio joined forces, and after a few shows added Walter Lure (vocals/guitar), who had played with a group called the Demons.

In 1976, Hell either was kicked out of the Heartbreakers or quit the group, depending on whom you believe, and was replaced by Billy Rath, who, according to legend, was a gigolo. Hell went on to form his own band, The Voidoids.
Read Full Bio
Johnny Thunders (vocals/guitar) and Jerry Nolan (drums) had quit the New York Dolls, and that same week Richard Hell (vocals/bass) was forced out of Television. The trio joined forces, and after a few shows added Walter Lure (vocals/guitar), who had played with a group called the Demons.

In 1976, Hell either was kicked out of the Heartbreakers or quit the group, depending on whom you believe, and was replaced by Billy Rath, who, according to legend, was a gigolo. Hell went on to form his own band, The Voidoids.

Arriving for a European tour just as the UK punk scene was building momentum, the Heartbreakers developed a following playing in and around London. The band's members and image were widely associated with drug use, specifically, heroin. The Sex Pistols invited them to open for them on the ill-fated Anarchy Tour. They shortly signed with Track Records. Their debut--and only--studio album, L.A.M.F., featured all the Heartbreakers' popular live songs. The release of the album put a huge strain on the band, because of anger among some band members over the poor quality of the mix. Several of the members of the band left at this point. The band reformed in 1979 for a few farewell shows at Max's Kansas City with drummer Ty Stix sitting in for Nolan. The resulting live album Live at Max's Kansas City '79 is considered a punk classic. The Heartbreakers' song, London Boys, is a swipe at the Sex Pistols, in response to the Pistols' New York, a put-down of the New York Dolls.

The band re-formed occasionally to play at New York clubs until the death of Johnny Thunders in 1991. Jerry Nolan died a few months later, in 1992. Live shows often consisted of songs performed with the New York Dolls or taken from Johnny Thunders' solo career. Richard Hell rarely plays music live, concentrating instead on writing and spoken-word performances. Billy Rath's whereabouts are currently unknown, leading to various rumors such as that he died or became a priest. Walter Lure still performs about once a month with his band the Waldos, performing mostly Heartbreakers songs
Genre not found
Artist not found
Album not found
Search results not found
Song not found