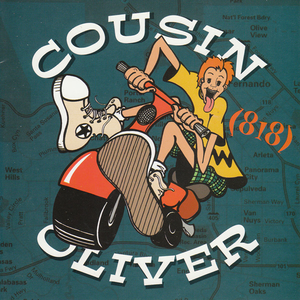 Cousin Oliver was a ska band from California, USA. They were signed to Drive-Thru Records and released their first album (818) in 1997. A second album was recorded but never officially released. The band split up shortly after that.
In the early 2000s, Drive-Thru re-released (818) together with the unreleased songs as bonus tracks.
Genre not found
Artist not found
Album not found
Search results not found
Song not found
Daytime TV Talk Shows
Cousin Oliver Lyrics
We have lyrics for these tracks by Cousin Oliver:



Chuck Lady Luck She ran out on me today Left my lying naked In…
Funny Way You're always hanging around my place Not much to do, not…
Moped Boy Jimmy's never been too popular Just a funny little kid who…
Naked Christmas Christmas time is here again This year I only want one…
No Apologies And if I never feel it again I'll turn my back…
Share Yeah, it's on again She flirts with all my friends What wo…
Shot My Boss Well I've had enough Of this nine to five Barely getting b…
Valentine's Day I'm dying, I'm crying Going crazy all because of you Your …
Valentines Day I'm dying, I'm crying Going crazy all because of you Your …

The lyrics can frequently be found in the comments below or by filtering for lyric videos.