Jump to: Overall Meaning | Line by Line Meaning
You were ridin' your bike to the sound of 'It's No Big Deal'
And you're tryin' to lift off the ground on those old two wheels
Nothin' 'bout the way that you were treated ever seemed especially alarming 'til now
So you tie up your hair and you smile like it's no big deal
You can let it go
You can throw a party full of everyone you know
And not invite your family 'cause they never showed you love
You don't have to be sorry for leavin' and growin' up, mm
Matilda, you talk of the pain like it's all alright
But I know that you feel like a piece of you's dead inside
You showed me a power that is strong enough to bring sun to the darkest days
It's none of my business but it's just been on my mind
You can let it go
You can throw a party full of everyone you know
And not invite your family 'cause they never showed you love
You don't have to be sorry for leavin' and growin' up
You can see the world
Followin' the seasons anywhere you go
You don't need a reason 'cause they never showed you love
You don't have to be sorry for doin' it on your own
You're just in time, make your tea and your toast
You framed all your posters and dyed your clothes, ooh
You don't have to go, you don't have to go home
Oh, there's a long way to go
I don't believe that time will change your mind
In other words, I know they won't hurt you anymore
As long as you can let them go
You can let it go
You can throw a party full of everyone you know
You can start a family who will always show you love
You don't have to be sorry for doin' it on your own
You can let it go
You can throw a party full of everyone you know
You can start a family who will always show you love
You don't have to be sorry, no
Overall Meaning
The song "Matilda" by Harry Styles is a beautiful and deep track that tells the story of a girl named Matilda who has grown up in a difficult environment. The lyrics describe how Matilda would ride her bike while listening to "It's No Big Deal" as a way of escaping from her harsh reality. She tries to lift off the ground on her "old two wheels," representing her desire to escape from her troubles and soar. Despite the fact that Matilda has been mistreated, she continues to smile and act as if everything is "no big deal." However, the song reveals that she is hurting deep inside and feels like a piece of her is "dead."
Harry sings about the immense power of Matilda's pain and her capacity to overcome it. He acknowledges that it is not his business to interfere, but he cannot help but think about her and her struggles. The lyrics inspire Matilda to let go of the pain and move forward. Harry encourages her to throw a party full of everyone she knows, to travel anywhere she wants, to start a family with people who will always show her love, and to ultimately do anything she wants, guilt-free.
In essence, "Matilda" is a song about resilience and the strength to start again. It's a reminder that it is possible to overcome the most difficult of situations and that there is always light at the end of the tunnel. The song is a tender and heartfelt tribute to those who have suffered mistreatment and a powerful statement of hope for the future.

Line by Line Meaning
You were ridin' your bike to the sound of 'It's No Big Deal'
You were cruising on your bike while listening to music, without a care in the world.
And you're tryin' to lift off the ground on those old two wheels
You were attempting to balance your bike on only two wheels, a nostalgic memory from your childhood.
Nothin' 'bout the way that you were treated ever seemed especially alarming 'til now
You didn't realize or acknowledge the mistreatment you endured until it became overwhelming.
So you tie up your hair and you smile like it's no big deal
You put on a brave face and hide your emotions by tying up your hair and acting nonchalant.
You can let it go
You have the power to move on and release the pain from the past.
You can throw a party full of everyone you know
You have the freedom to celebrate your life and surround yourself with loved ones.
And not invite your family 'cause they never showed you love
You don't owe anything to your family who never cared about you.
You don't have to be sorry for leaving and growing up
You have no reason to apologize for becoming independent and self-sufficient.
Matilda, you talk of the pain like it's all alright
Matilda, you speak of your trauma as if you've accepted it, but I know it still hurts.
But I know that you feel like a piece of you's dead inside
Despite your facade, I understand that a part of you feels empty and numb.
You showed me a power that is strong enough to bring sun to the darkest days
Your strength and resilience inspire and motivate me, even during the toughest times.
It's none of my business but it's just been on my mind
It's not my place to interfere, but I can't help but think of you and hope you're coping well.
You can see the world
You have the ability to explore and experience everything the world has to offer.
Followin' the seasons anywhere you go
You can travel wherever and whenever you desire, without restraint or obligation.
You don't need a reason 'cause they never showed you love
You don't have to justify or explain your actions to those who never showed you affection or support.
You don't have to be sorry for doin' it on your own
You don't need to feel guilty for achieving your goals and pursuing your dreams independently.
You're just in time, make your tea and your toast
It's the perfect moment to relax and treat yourself to a warm drink and a snack.
You framed all your posters and dyed your clothes, ooh
You decorated and personalized your living space, showing your individuality and creativity.
You don't have to go, you don't have to go home
You have the choice to stay or leave, without any pressure or obligation.
Oh, there's a long way to go
The future may be uncertain and unpredictable, but you have a lifetime ahead of you to discover and grow.
I don't believe that time will change your mind
I don't think time alone will heal your emotional wounds and change your perspective.
In other words, I know they won't hurt you anymore
I understand that the people who hurt you in the past can no longer harm you anymore.
As long as you can let them go
As long as you can release the past and let go of the hurt, you will be free to move forward and live fully.
You can start a family who will always show you love
You have the option to form your own family, filled with unconditional love and support.
You don't have to be sorry
You don't need to apologize for being yourself and pursuing your own happiness.
Lyrics © Universal Music Publishing Group, CONCORD MUSIC PUBLISHING LLC, Kobalt Music Publishing Ltd.
Written by: Amy Marie Allen, Harry Edward Styles, Thomas Edward Percy Hull, Tyler Sam Johnson

Lyrics Licensed & Provided by LyricFind
To comment on or correct specific content,
highlight it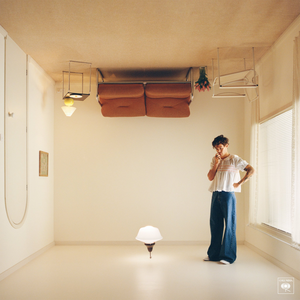 "Matilda" is the seventh track off "Harry's House", the third studio album by Harry Styles.

In the song, Harry somberly sings to somebody whose family did not treat her well. He takes inspiration from the Roald Dahl book Matilda and/or its movie adaptation of the same name, about a girl with telekinesis who was mistreated by her principal and parents. Though Roald Dahl's character Matilda is gendered as female, Styles purposefully does not assign a label to the person he sings to.
Read Full Bio
"Matilda" is the seventh track off "Harry's House", the third studio album by Harry Styles.

In the song, Harry somberly sings to somebody whose family did not treat her well. He takes inspiration from the Roald Dahl book Matilda and/or its movie adaptation of the same name, about a girl with telekinesis who was mistreated by her principal and parents. Though Roald Dahl's character Matilda is gendered as female, Styles purposefully does not assign a label to the person he sings to. The song asserts a common theme in the album that home is not a place, but a state of mind. Styles does this by showing how Matilda's house was not a home to her.

"I had an experience with someone where, in getting to know them better, they revealed some stuff to me that was very much like, 'Oh, that's not normal, like I think you should maybe get some help or something.' This song was inspired by that experience and person, who I kind of disguised as Matilda from the Roald Dahl book. I played it to a couple of friends and all of them cried. So I was like, 'Okay, I think this is something to pay attention to.' It's a weird one, because with something like this, it's like, 'I want to give you something, I want to support you in some way, but it's not necessarily my place to make it about me because it's not my experience.' Sometimes it's just about listening. I hope that's what I did here. If nothing else, it just says, 'I was listening to you.'"

"I think "Matilda" is kind of self-explanatory […] I like that it was this personal story to me about someone else, being able to say, "This thing is more important than me just making music about myself, because I think it could mean more to you and a lot more people" […] I played it for a couple of friends, and all of them cried. I was, like, "Okay, this is something to pay attention to." But I haven't played it to the person who it's about, and they don't know it's about them."

- via Apple Music
Genre not found
Artist not found
Album not found
Search results not found
Song not found