Roll the Old Chariot Along
In Harmony's Way Lyrics
We'll Roll the Old Chariot Along
We'll Roll the Old Chariot Along
We'll Roll the Old Chariot Along
And we'll all fall in behind
We'd be alright if we 'ad a drop of rum
We'd be alright if we 'ad a drop of rum
We'd be alright if we 'ad a drop of rum
And we'll all fall in behind
We'll Roll the Old Chariot Along
We'll Roll the Old Chariot Along
We'll Roll the Old Chariot Along
And we'll all fall in behind
We'd be alright if yah buggers all would sing
We'd be alright if yah buggers all would sing
We'd be alright if yah buggers all would sing
And we'll all fall in behind
We'll Roll the Old Chariot Along
We'll Roll the Old Chariot Along
We'll Roll the Old Chariot Along
And we'll all fall in behind
If the devils in the road we'll roll it over him
If the devils in the road we'll roll it over him
If the devils in the road we'll roll it over him
And we'll all fall in behind
We'll Roll the Old Chariot Along
We'll Roll the Old Chariot Along
We'll Roll the Old Chariot Along
And we'll all fall in behind
We'll be alright when the skipper's in his grave
We'll be alright when the skipper's in his grave
We'll be alright when the skipper's in his grave
And we'll fall in behind
We'll roll the old chariot along
And we'll all fall in behind
End
Contributed by Ian P. Suggest a correction in the comments below.
To comment on specific lyrics,
highlight them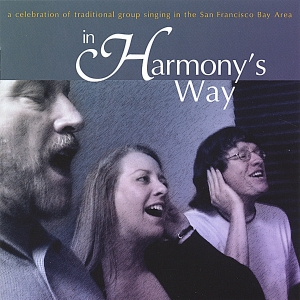 Roll the Old Chariot Along
In the spring of 2005, eighteen Bay Area singers got together to record some of their favorite chorus songs from the American and British Isles traditions in a CD collection called "In Harmony's Way." The project seeks to document the rich local heritage of a cappella singing, and to share these wonderful songs with a greater audience. The rehearsal, recording process and concert were filmed by El Mundo Bueno Studios for a documentary on the Bay Area folk singing community.
Read Full Bio
In the spring of 2005, eighteen Bay Area singers got together to record some of their favorite chorus songs from the American and British Isles traditions in a CD collection called "In Harmony's Way." The project seeks to document the rich local heritage of a cappella singing, and to share these wonderful songs with a greater audience. The rehearsal, recording process and concert were filmed by El Mundo Bueno Studios for a documentary on the Bay Area folk singing community.

Participants of "In Harmony's Way" are
Richard Adrianowicz ~ Steve Baughman ~ Michael Black ~ Shay Black ~ Susan Frank ~ Sylvia Herold ~ Lani Herrmann ~ Holdstock and MacLeod ~ Kim Hughes ~ Arlene Immerman ~ Peter Kasin ~ Oak Ash & Thorn ~ Riggy Rackin ~ Ed Silberman ~ Pam Swan.
http://www.inharmonysway.com/index.html
~
Genre not found
Artist not found
Album not found
Search results not found
Song not found