Just Another Story
Jamiroquai Lyrics
Nobody make a move
This kid's got you covered
He was just seventeen
Trying to get on like his dead brother
Mama couldn't do a thing for him
Though she hurt inside
And daddy wants his son back
While he knows he's still alive.
Stick up kid
Thinking you're a glory boy
Fronting that stupid toy
But you don't get that it's yourself you will destroy
Running that rock on the front line
Get to hell before your time
If you your face on the cover of High Times
Push in.
Now it occurred to me
As I awoke from deeper dreams
All this evolution
And still I don't know what it means
And it gets so hard for me to change
When there's an easy way to earn
Why should I work my fingers to the bone.
Can you give more than get
Get down
With a conscious train of thought.
Light years
Can pass me by without me realizing
I'm water in a stream
But ya got to keep it clean.
Dirty dreams
Purity.
How can
So many people think they're right when
Everybody's wrong?
Lyrics © OBO APRA/AMCOS

Lyrics Licensed & Provided by LyricFind
To comment on specific lyrics,
highlight them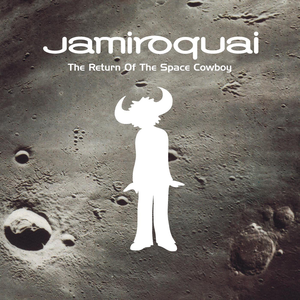 Jamiroquai is a funk/acid jazz band which formed in London, England, United Kingdom in 1992. The band currently consists of Jason Luis 'Jay Kay' Cheetham (vocals), Matt Johnson (keyboards), Rob Harris (guitar), Paul Turner (bass), Derrick McKenzie (drums) , Sola Akingbola (percussion), Lorraine McIntosh (backing vocals) and Hazel Fernandez (backing vocals). The name "Jamiroquai" is derived from the Native American Iroquois tribe, with which Kay has said he identifies philosophically, combined with 'Jam', as in musical jamming.
Read Full Bio
Jamiroquai is a funk/acid jazz band which formed in London, England, United Kingdom in 1992. The band currently consists of Jason Luis 'Jay Kay' Cheetham (vocals), Matt Johnson (keyboards), Rob Harris (guitar), Paul Turner (bass), Derrick McKenzie (drums) , Sola Akingbola (percussion), Lorraine McIntosh (backing vocals) and Hazel Fernandez (backing vocals). The name "Jamiroquai" is derived from the Native American Iroquois tribe, with which Kay has said he identifies philosophically, combined with 'Jam', as in musical jamming.

After Jay Kay auditioned unsuccessfully to be the singer of the Brand New Heavies, he decided to put together his own band. Jamiroquai's first single, "When You Gonna Learn?", was released in 1992 on the Acid Jazz label. Following its success, Kay signed a £1,000,000 eight-album record deal with Sony BMG Music Entertainment. The band enjoys worldwide popularity and is the best-known member of the early-1990s London-based acid jazz movement, alongside groups such as Incognito, Galliano, and Corduroy. Jamiroquai has since, however, moved in other musical directions.

Band Members:
Jason "Jay" Kay - Vocals
Rob Harris - Guitar
Derrick McKenzie - Drums
Paul Turner - Bass
Sola Akingbola - Percussion
Matt Johnson - Keyboards
Lorraine McIntosh - Backing vocals
Hazel Fernandez - Backing vocals

Former Members:
Toby Smith - Keyboards (1992-2002)
Wallis Buchanan - Didgeridoo (1992-2001)
Gavin Dodds - Guitar (1993-1994)
Simon Katz - Guitar (1995-2000)
Stuart Zender - Bass (1992-1998)
Nick Fyffe - Bass (1998-2003)
Nick Van Gelder - Drummer (1993)
Darren Galea aka DJ D-Zire - Turntables (1993-2001)
Adrian Revell - Flute, saxophone
Winston Rollins - Trombone
Simon Carter - Keyboards (1999-2001)
Sia - Backing Vocals
Sam Smith - Backing vocals (2001-2007)
Genre not found
Artist not found
Album not found
Search results not found
Song not found