Wrapped In Piano Strings
Radical Face Lyrics
I saw your father in the hall
His ghost is living in the walls
I heard him crying while you slept
I heard him breaking things after you left
I watched you crawl into my bed
With curses spilling from your head
You said "We're just the walking dead"
So I pulled the trigger and we floated off
Into the air
Into the air
Into the air
Into the air
Up in the air
We're in the air
Up in the air
Up in the air
I used to worry about the time
But I lost my teeth along the line
So I carved the apple from my eye
And gave it to you before I went away
Blood ran into the kitchen sink
Your hand and lives are running pink
I sat and watched you as your ring
Slipped off and rolled across the kitchen floor
They cut your eyes wide open
And pour into your precious head
My reach don't go that far dear
But please oh please don't let them in
I sank into the sea
Wrapped in piano strings
Few words could open me
But you knew them all
Now I just sleep beneath your floor
My ghost just tries to keep you warm
I've seen the end, I've lost the war
One day you'll join me here just like the rest
I hear the engines
They're roaring in our mouths
The smell of creatures
Are falling tooth and nail to get out
I see the airplanes
They're pouring from the chest
They fill the air
And burn and bury just like the rest
Lyrics © Peermusic Publishing
Written by: BENJAMIN COOPER

Lyrics Licensed & Provided by LyricFind
To comment on specific lyrics,
highlight them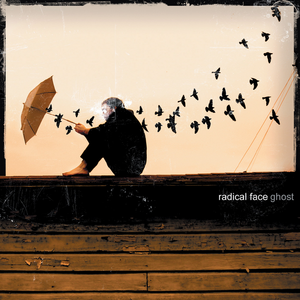 Radical Face is the solo project of Ben Cooper (mainly of Electric President fame). Cooper, from Jacksonville Beach, FL is the sole member of the band, although he has enlisted the help of fellow Electric President Alex Kane, Cooper's friend Mark Hubbard and his brother Emeral. The album "Ghost" was originally scheduled to be released in late 2006, but was delayed to be remastered by the label (Morr Music), and it was subsequently released in March 2007.
Read Full Bio
Radical Face is the solo project of Ben Cooper (mainly of Electric President fame). Cooper, from Jacksonville Beach, FL is the sole member of the band, although he has enlisted the help of fellow Electric President Alex Kane, Cooper's friend Mark Hubbard and his brother Emeral. The album "Ghost" was originally scheduled to be released in late 2006, but was delayed to be remastered by the label (Morr Music), and it was subsequently released in March 2007.

Cooper's sophomore album, "Family Tree: The Roots" was released in October 2011. It is the first of the trilogy record called "The Family Tree" which follows the story of a fictional family from 1800 to 1950. Following "The Roots" will be "The Branches" and "The Relatives" respectively.

In between his first two Radical Face records Ben released two EP's to fill the gap. The first was "Touch The Sky". In the summer of 2011 "The Bastards Volume 1" EP was released. Other volumes will compliment the fore-coming Family Tree trilogy.

Under his 'Radical Face' moniker his music features acoustic guitar, "found-sound" percussion, and many multi-layered tracks. The sound is incredibly unique, not only because of Cooper's originality and raw talent, but also because most of the music has traditionally been recorded in the shed in his backyard.


Website: www.radicalface.com
Genre not found
Artist not found
Album not found
Search results not found
Song not found