I can hear the car
As it rumbles up the driveway
But I'm too scared to look,
So I curl up beneath the window
And I pray they won't find me
And I pray that I'll keep still
I see your face in the glass
With branches growing from your mouth
You wear the moon like a halo
You wear the night like it's your coat
And you're always laughing
But you always look afraid
I think we're haunted
Hands against my eyes
I hear you crying in your sleep
I think we're haunted
(Clouds are coming down the chimney)
That we're never alone
(And trees are growing through the living room)
I think we're haunted
(The moon is stuck in the ceiling)
That we're swimming through ghosts
(The rain is pouring on the dining room table)
Yeah I think we're haunted
(The vines are growing up and down the walls)
That we're never alone
(The water's flooding on the kitchen floor)
I think we're haunted
(The woods are all taking it back
We've overstayed our welcome
It's time we were gone)
Lyrics © Peermusic Publishing
Written by: BENJAMIN COOPER

Lyrics Licensed & Provided by LyricFind
To comment on specific lyrics,
highlight them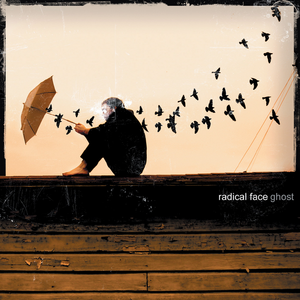 Radical Face is the solo project of Ben Cooper (mainly of Electric President fame). Cooper, from Jacksonville Beach, FL is the sole member of the band, although he has enlisted the help of fellow Electric President Alex Kane, Cooper's friend Mark Hubbard and his brother Emeral. The album "Ghost" was originally scheduled to be released in late 2006, but was delayed to be remastered by the label (Morr Music), and it was subsequently released in March 2007.
Read Full Bio
Radical Face is the solo project of Ben Cooper (mainly of Electric President fame). Cooper, from Jacksonville Beach, FL is the sole member of the band, although he has enlisted the help of fellow Electric President Alex Kane, Cooper's friend Mark Hubbard and his brother Emeral. The album "Ghost" was originally scheduled to be released in late 2006, but was delayed to be remastered by the label (Morr Music), and it was subsequently released in March 2007.

Cooper's sophomore album, "Family Tree: The Roots" was released in October 2011. It is the first of the trilogy record called "The Family Tree" which follows the story of a fictional family from 1800 to 1950. Following "The Roots" will be "The Branches" and "The Relatives" respectively.

In between his first two Radical Face records Ben released two EP's to fill the gap. The first was "Touch The Sky". In the summer of 2011 "The Bastards Volume 1" EP was released. Other volumes will compliment the fore-coming Family Tree trilogy.

Under his 'Radical Face' moniker his music features acoustic guitar, "found-sound" percussion, and many multi-layered tracks. The sound is incredibly unique, not only because of Cooper's originality and raw talent, but also because most of the music has traditionally been recorded in the shed in his backyard.


Website: www.radicalface.com
Genre not found
Artist not found
Album not found
Search results not found
Song not found