Away in a manger,
No crib for His bed
The little Lord Jesus
Laid down His sweet head
The stars in the bright sky
Looked down where He lay
The little Lord Jesus
Asleep on the hay
The cattle are lowing
The poor Baby wakes
But little Lord Jesus
No crying He makes
I love Thee, Lord Jesus
Look down from the sky
And stay by my side,
'Til morning is nigh.
Be near me, Lord Jesus,
I ask Thee to stay
Close by me forever
And love me I pray
Bless all the dear children
In Thy tender care
And take us to heaven
To live with Thee there
Lyrics © Universal Music Publishing Group, Sony/ATV Music Publishing LLC, Capitol CMG Publishing, Kobalt Music Publishing Ltd.
Written by: William J. Kirkpatrick, Traditional

Lyrics Licensed & Provided by LyricFind
To comment on specific lyrics,
highlight them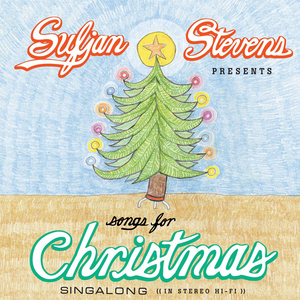 Sufjan Stevens (Born July 1, 1975) is an American musician, songwriter, and multi-instrumentalist from Petoskey, Michigan. He is known for his lyrically focused and instrumentally rich songs that often relate to faith and family. He has enjoyed wide critical success in the United States. He is considered part of the folk revival through indie pop, but his influences are very broad, including experimental electronic music, the jazz of Vince Guaraldi, and the academic minimalism of Steve Reich and Philip Glass.
Read Full Bio
Sufjan Stevens (Born July 1, 1975) is an American musician, songwriter, and multi-instrumentalist from Petoskey, Michigan. He is known for his lyrically focused and instrumentally rich songs that often relate to faith and family. He has enjoyed wide critical success in the United States. He is considered part of the folk revival through indie pop, but his influences are very broad, including experimental electronic music, the jazz of Vince Guaraldi, and the academic minimalism of Steve Reich and Philip Glass.

Though Stevens had announced plans to make an album for each of the 50 U.S. states, beginning the series with the albums 'Michigan' (2003) and 'Illinois' (2005), he has since then somewhat retracted the statement. "Sufjan Stevens is not going to write a record for each of the 50 states after all" was the original text included on the online liner notes for 'Mews Too: An Asthmatic Kitty Compilation' , a disc released on February 7, 2006. This statement was possibly included as a joke, as the text has since been removed and the current liner notes related to Sufjan Stevens reads: "Sufjan Stevens can fold a fitted-sheet (he once worked as a professional folder in a commercial Laundromat)."

Background

Stevens was born in Detroit, Michigan, and grew up in the city of Petoskey in that same state. He attended Hope College on the west coast of Michigan.

The name Sufjan is an Arabic/Persian name that predates Islam and most famously belonged to Abu Sufyan, a figure from early Islamic history. It has been mentioned in the press that the name was given to Stevens by the leader of Subud, a spiritual sect to which his parents belonged when he was born. Stevens has stated that the name is of Armenian origin and means "comes with a sword," and that it is "a charming militaristic Muslim name." In fact the name is not Armenian, and Armenia is a predominantly Christian country.
Sufjan is also the plural form of Sufi in Persian . Sufi is a practitioner of Sufism .This word is frequently used in the old Persian literature ,specially Sufi poetry .

His brother, marathonist Marzuki Stevens, has trained to compete in the 2008 Olympic trials, and has played on two of Sufjan's albums.

A multi-instrumentalist, Stevens plays the banjo, guitar, drums, and several other instruments, often playing all of these on his albums through the use of multi-tracking. While in school, he studied the oboe and English horn, which he also plays on his albums; he is one of the few musicians in popular music to use these instruments.

Career

Sufjan Stevens began his musical career as a member of Marzuki, a folk-rock band from Holland, Michigan. He also played (and continues to play) various instruments for Danielson Famile. While in school at Hope College, Stevens wrote and recorded his debut solo album, A Sun Came, which he released on Asthmatic Kitty Records, a record label he founded with his step-father in 1999. He later moved to New York City, where he was enrolled in a writing program at the New School for Social Research.

While in New York, Stevens composed and recorded the music for his second album, Enjoy Your Rabbit, a song cycle based around the animals of the Chinese Zodiac that ventured into electronica.

Stevens followed this with the first of his 50 states albums, a collection of folk songs and instrumentals inspired by his home state of Michigan. The result, the expansive Michigan, included odes to cities including Detroit and Flint, the Upper Peninsula, and vacation areas such as Tahquamenon Falls. Melded into the scenic descriptions and characters are his own declarations of faith in God, sorrow, love and the regeneration of Michigan.

Following the release of Michigan, Stevens compiled a collection of songs recorded previously into a side project, the Christian folk album Seven Swans, which was released in March 2004.

Next he released the second in the 50 states projects, entitled Come On Feel The Illinoise!. Among the subjects explored on Come On Feel The Illinoise! are the cities of Chicago, Decatur and Jacksonville, the serial killer John Wayne Gacy, the poet Carl Sandburg, and Mississippi Palisades State Park.

He has contributed to the music of Denison Witmer, Soul Junk, Half-handed Cloud, Brother Danielson, Danielson Famile, Serena Maneesh, Castanets, and Liz Janes. He played piano on for fellow Brooklyn musician's The National's album 2007 Boxer. A cover of "She Is" is included on the album Dream Brother, released in the United States on January 31, 2006.

Sufjan contributed a lot to the sound of the 2001 Liz Janes album Done Gone Fire as he engineered, recorded, produced and arranged it as well as playing many addition instruments.

Sufjan recently recorded with Rosie Thomas and Denison Witmer playing banjo and providing vocals. It is unknown how this record will be released. In April 2006, Pitchfork erroneously announced that Stevens and Thomas were having a baby together, but were forced to print a retraction. Witmer and Thomas later admitted it was an April Fools' prank.

The Fifty States Project

Beginning with Michigan, Stevens announced an intent to write an album for each of the 50 U.S. states, although in interviews he wavers between utter sincerity and self-deprecating irony when describing the idea.

Stevens spent the second half of 2004 researching and writing material for the second of these projects, this time focusing his efforts on Illinois. As with Michigan, Stevens used the state of Illinois as a leaping-off point for his more personal explorations of faith, family, love, and location.

The widely acclaimed Illinois was the highest rated album of 2005 on the Metacritic review aggregator site, based on glowing reviews from Pitchfork, The Onion A/V Club, Spin, Billboard, Entertainment Weekly, Rolling Stone, The New York Times, and The Guardian. The 2006 PLUG Independent Music Awards awarded Stevens with the Album Of The Year, Best Album Art/Packaging, and Male Artist Of The Year. Pitchfork Media and Paste Magazine named Come On Feel The Illinoise! as the editors' choice for best album of 2005 and Stevens received the 2005 Pantheon prize, awarded to albums selling 500,000 copies or fewer, for Come On Feel The Illinoise!. In April of 2006, Stevens announced that 21 pieces of music he had culled from the Come On Feel The Illinoise! recording sessions would be incorporated into a new album, called The Avalanche. The album was released on July 11, 2006.

While there were other projects rumored to be released following 2005's Illinois, by 2009 and his live album The BQE, he was seemingly finished with the project, calling it "Such a joke", and accepting that the project was too massive and too cliché to ever reach an end.

Religious themes

Many of Stevens' songs have religious and spiritual allusions, but his album Seven Swans has the most direct religious references. Stevens has expressed that he is Christian, but does not overtly advertise this aspect of himself in his music. Stevens has also stated that he does not try to make music "with a message", or music for the sake of preaching. "I don't think music media is the real forum for theological discussions," says Stevens. "I think I've said things and sung about things that probably weren't appropriate for this kind of forum. And I just feel like it's not my work or my place to be making claims and statements, because I often think it's misunderstood."

The songs 'Abraham', 'Seven Swans', 'To Be Alone With You', 'We Won't Need Legs To Stand' and 'The Transfiguration' directly address Christianity on the album Seven Swans. In 'Abraham', Sufjan recounts the Old Testament story in the Book of Genesis when Abraham, ordered by God as a test of faith, leads his son, Isaac, up a mountain and prepares to kill him, as commanded (but before God sends an angel to intervene). The lyrics of 'The Transfiguration' follow the Biblical accounts of Jesus' Transfiguration in Matthew 17:1-8, Mark 9: 1-8, and Luke 9:28-36.

Michigan and Come On Feel The Illinoise! are packed with Christian references and metaphors. Michigan contains "Sleeping Bear, Sault Saint Marie", which implores "Oh Lamb of God! Tell us Your perfect design and give us the rod" ("Lamb of God" being a Biblical name for Jesus Christ). The song "Oh God, Where Are You Now?" asks God to "hold me now", to "save somehow", searching for God in the midst of personal turmoil. "There's no other man who could save the dead," the song states. The album closer, 'Vito's Ordination Song', was apparently originally written for Sufjan's friend Vito Aiuto, and its lyrics allude directly to Psalm 139 ("I always knew you. In your mother's arms, I have called your name", "I've made a crown for you"). The song speaks of "When the bridegroom comes" - the New Testament speaks of Jesus Christ as being the Bridegroom and the Church His Bride, finally being united together at the End of Time.

Come On Feel The Illinoise! features the song 'Chicago' with its refrain of "You came to take us, to recreate us", and 'Decatur' has the chorus of "It's the great I Am" ("I Am" being the name the Lord reveals Himself by to Moses in Exodus 3:14). "Casimir Pulaski Day" speaks of "All the glory that the Lord has made" in the midst of personal pain and loss. "The Predatory Wasp of the Palisades Is Out To Get Us!" has the lyrics: "Lamb of God, we sound the horn. Hallelujah!" One instrumental passage has the title of "In This Temple as in the Hearts of Man for Whom He Saved the Earth". "The Seer's Tower" speaks of Emanuel, "With His sword, with His robe He comes dividing man from brothers" (an interesting side note is that "Sufjan" actually means "comes with a sword"). Indeed, the vast majority of songs of Come On Feel The Illinoise! contain lyric lines which can be readily identified as having a basis in Stevens' faith in Christ.

Sufjan's second, electronic album, Enjoy Your Rabbit, contains a song cycle based on of the animals of the Chinese Zodiac, culminating with the song "Year of our Lord". Stevens released the original, Christian-themed song "God'll Ne'er Let You Down" on the "To Spirit Back the Mews" compilation on Asthmatic Kitty. The officially unreleased Christmas albums Sufjan Stevens made and then compiled into Songs for Christmas feature suitably Christmas and Christian themed music, both originals and covers of hymns and traditional songs.

Trivia

On Snow Patrol's 2006 album Eyes Open there is a reference to Sufjan and the song "Chicago" in the song "Hands Open" - "Put Sufjan Stevens on and we'll play your favorite song/"Chicago" bursts to life and your sweet smile remembers you."

The film "Little Miss Sunshine" featured pieces of two songs from Come on Feel the Illinoise in its soundtrack.

Sufjan has twice been featured on the FOX television show "The OC". "To Be Alone With You" and "For The Widows In Paradise, For The Fatherless In Ypsilanti" can be heard on episodes 202 and 315, respectively.

Sufjan Stevens' music has appeared twice on the Showtime dark comedy "Weeds". "All The Trees Of The Field Will Clap Their Hands" appears on S1E02 over the end credits, and "Holland" appears near the end of S2E10.

Two of Sufjan's songs appear on the soundtrack to "Little Miss Sunshine": "Chicago" and "No Man's Land"

The song "John Wayne Gacy, Jr." appears on the 3rd season of the tv show "Nip/Tuck".

Several song can be heard on the movie "Driving Lessons"

You can also hear snippets in between CSI shows on 5US

In the TV show "Austin City Limits", he mentioned that when he was a kid, he and his best friend saw something in the sky which they couldn't figure out. They thought it was a spaceship or UFO first, then an eagle or a dragon. Finally they realized it was a giant wasp. He wrote the song "The Predatory Wasp of the Palisades is Out to Get Us!" about the incident and mentioned that the reason they (the band) all have wings on stage is to overcome his fear of flying things.

The song "Redford (For Yia-Yia & Pappou)" is heard in the 2012 "World of Red Bull" television commercial. he is quoted as saying "selling out never looked so good." and "somebody had to pay for all of that Christmas confetti." referring to his recent Christmas album and supporting tour.

In 2017 Stevens wrote two Original Songs to be featured in the gay drama film "Call me by your Name", entitled "Mystery of Love" and "Visions of Gideon". He also made a reworked version of his Song "Futile Devices" which is also featured on the soundtrack.
Website:http://sufjan.com
Genre not found
Artist not found
Album not found
Search results not found
Song not found