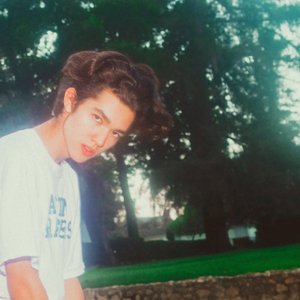 Conan Gray is an American singer-songwriter and social media personality. He was born on December 5, 1998, in Lemon Grove, California. As an infant, his family moved to Hiroshima, Japan and short after returned to California, before settling in Georgetown, Texas.

He started his career on Youtube under his channel 'ConanxCanon' before officially changing to 'Conan Gray'. While on his time on Youtube he released multiple original songs, with the most
Read Full Bio
Conan Gray is an American singer-songwriter and social media personality. He was born on December 5, 1998, in Lemon Grove, California. As an infant, his family moved to Hiroshima, Japan and short after returned to California, before settling in Georgetown, Texas.

He started his career on Youtube under his channel 'ConanxCanon' before officially changing to 'Conan Gray'. While on his time on Youtube he released multiple original songs, with the most famous one being 'Idle Town' the lead single of his debut EP 'Sunset Season' released on November 16, 2018. Before releasing the EP he signed with Republic Records in October of 2018. He supported the EP with the singles 'Generation Why' and 'Crush Culture'.

In 2019, Conan officially started to release a series of singles for his debut studio album 'Kid Krow'. Since June he has released 3 official singles, with the most notable one being 'Maniac', which garnered success in South Korea, Australia, New Zealand and on many Spotify charts around the world. Two days before the release of his album, he released the third official single 'Wish You Were Sober'. On March 20th Conan released 'Kid Krow'. The album debuted at #5 on the Billboard 200 albums chart and following the commercial success of Kid Krow, Apple Music named Conan as an Up Next artist and released an exclusive mini-documentary about him in April 2020.
Genre not found
Artist not found
Album not found
Search results not found
Song not found
The Other Side
Conan Gray Lyrics
I've got tired eyes, a black sky
Making its home under my lash line
You keep on crying, babe, I don't mind
I'll keep on staring at the clock tryna pass time
In my life, it flies by
Faster than you could say, "I love you, goodbye"
"It's almost over," you say with a sigh
Will our lives be better when we make it to the other side?
Ah, ah
I hope we make it to the other side
Ah, ah
Eighteen, prom queen
We spend our time thinking 'bout what we'll be doing
We walk quiet streets, not afraid of the sounds
Nothing bad ever happens in this town
Mean dreams (Ah), can't sleep (Ah)
Younger me thought this'd be more bittersweet
But we never noticed (Ah) how long it'd been (Ah)
Got too caught up in the life we were living
Ah, ah
I hope we make it to the other side
Ah, ah
And I hope, I hope
All of our homes have white fences
And I hope, I hope
Our smiles are wider than theirs is
And I hope, I hope
All of our dreams are kept fragrant
And I'll meet you on the pavement
When we make it to the other side
Ah, ah
I hope we make it to the other side
Ah, ah
Lyrics © Sony/ATV Music Publishing LLC
Written by: Conan Lee Gray

Lyrics Licensed & Provided by LyricFind
To comment on specific lyrics,
highlight them