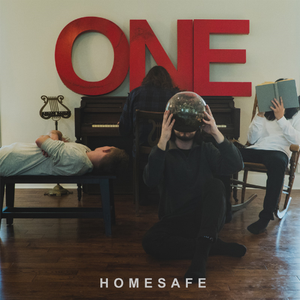 Vanilla-Scented Laser Beams
Homesafe is a four-piece pop punk band from Oak Lawn, Illinois, United States.

Now that they are signed with Pure Noise Records, their popularity has grown even more. The group has released a number of EPs, singles, and an LP, [albumartist=Homesafe]Evermore, in 2016. Homesafe has now released an album, [albumartist=Homesafe]ONE, in 2018.

The current line-up is:
Ryan Rumchaks - Vocal/Guitar
Joe Colesby - Guitar
Tyler Albertson - Vocal/Bass
[badmember]Emanuel Duran - Drums
Genre not found
Artist not found
Album not found
Search results not found
Song not found
vanilla-scented laser beams
Homesafe Lyrics
We have lyrics for these tracks by Homesafe:



03.Homesafe Lie enough to try to convince me of your plans All…
Bad Habits If you never want anything to do with me again…
Exoneration The van was driven off the side of the road. It's…
Guts It started with the sun peering through my bedroom window-…
Headache I have a headache but it's more than just a…
Hourglass Do you know this fucked up situation I put myself in? I'm…
Mountain Well, I've been marching up all the way to you…
Nothing Left to Lose What's to come from all of this? These drawn out days…
Placement I'm thinking it's apparent that I could never follow you in…
Relapse I have relapsed in regards to what you're calling this. You…
Resolve I'll waste another two years thinking of where I want…
Selfless I know where you have been. Can you even hear this? I…
The Only One You make me feel like i'm the only one Who's always…
Trying To Forget Lie enough to try to convince me of your plans All…
When You Left I know that what you said was a lie. You do…

The lyrics can frequently be found in the comments below, by filtering for lyric videos or browsing the comments in the different videos below.