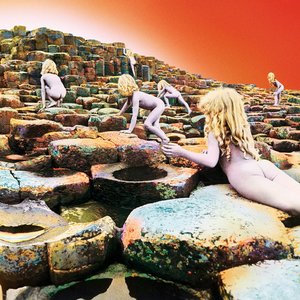 Houses of the Holy is the fifth album by English rock band Led Zeppelin, released by Atlantic Records on 28 March 1973. The album title is a dedication by the band to their fans who appeared at venues they dubbed "Houses of the Holy." It was the first Led Zeppelin album to not be, at least unofficially, titled after the band. The album represents a musical turning point for Led Zeppelin, as they began to use more layering and production techniques in recording their songs. It is also the first of three albums to be completely original, the first four
Read Full Bio
Houses of the Holy is the fifth album by English rock band Led Zeppelin, released by Atlantic Records on 28 March 1973. The album title is a dedication by the band to their fans who appeared at venues they dubbed "Houses of the Holy." It was the first Led Zeppelin album to not be, at least unofficially, titled after the band. The album represents a musical turning point for Led Zeppelin, as they began to use more layering and production techniques in recording their songs. It is also the first of three albums to be completely original, the first four albums featuring at least one cover. The other two albums are Presence and In Through the Out Door.

Although Houses of the Holy initially received mixed reviews, it has since become regarded by critics as one of Led Zeppelin's finest albums. The album provided notable additions to the band's catalogue, including "Over the Hills and Far Away", "Dancing Days", "The Song Remains the Same", "D'yer Mak'er", "No Quarter" and "The Ocean", and it has sold over 11 million copies in the United States. In 2003, the album was ranked number 149 on Rolling Stone magazine's list of the 500 greatest albums of all time.

This album was a stylistic turning point in the lifespan of Led Zeppelin. Guitar riffs became more layered within Jimmy Page's production techniques and departed from the blues influences of earlier records. In the album's opening opus, "The Song Remains the Same", and its intricate companion suite, "The Rain Song", Robert Plant's lyrics matured toward a less overt form of the mysticism and fantasy of previous efforts.

Houses of the Holy also featured styles not heard on the first four Led Zeppelin albums. For example, "D'yer Mak'er" is a reggae-based tune; "No Quarter" features atmospheric keyboard sounds and an acoustic piano solo from John Paul Jones; "The Crunge" is a funk tribute to James Brown; and "The Rain Song" is embellished by Jones on his newly-acquired mellotron. The album's closing song "The Ocean", which featues an a cappella section and a doo-wop influenced coda, is dedicated to "the ocean" of fans who at this point of the band's career massed to Led Zeppelin concerts.
Genre not found
Artist not found
Album not found
Search results not found
Song not found
The Song Remains the Same
Led Zeppelin Lyrics
I had a dream
Oh, yeah
Crazy dream, uh-huh
Anything I wanted to know
Any place I needed to go
Hear my song
Yeah, people don't you listen now?
Sing along
Oh
You don't know what you're missing, now
Any little song that you know
Everything that's small has to grow
And it's gonna grow, push push, yeah
Oh-oh-oh-oh-oh, California sunlight
Sweet Calcutta rain
Honolulu starbright
The song remains the same
Ooh, ooh, oh, oh
Here we go, here we go
All you gotta do, now
All you gotta do, now
Ooh-ee
Sing out Hare-Hare
Ooh, dance the Hoochie-Koo
City lights are oh so bright, as we go sliding, sliding
Sliding, sliding, sliding, sliding, sliding, sliding
Oh
Lyrics © Warner Chappell Music, Inc.
Written by: JAMES PATRICK (JIMMY) PAGE, ROBERT ANTHONY PLANT

Lyrics Licensed & Provided by LyricFind
To comment on specific lyrics,
highlight them