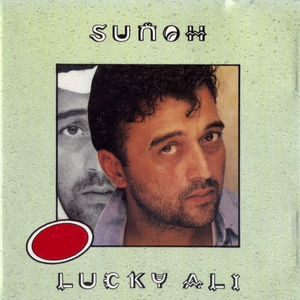 Sunoh

Sunoh (Hindi: सुनो, Urdu: سنو, translation: listen) is the first album of the Indian singer Lucky Ali released in 1996. This Album made him very popular and he won many awards for it including the Best Pop Male Vocalist in the 1996 Screen Awards and the Channel V Viewers Choice Award (1997). It stayed on the MTV Asia Charts for 60 weeks.

Track Listing:

O Sanam ओ सनम و صنم
Sunoh सुनो سنو
Pyaar Ka Musafir प्यार का मुसाफ़िर پیار کا مُسافِر
Read Full Bio
Sunoh

Sunoh (Hindi: सुनो, Urdu: سنو, translation: listen) is the first album of the Indian singer Lucky Ali released in 1996. This Album made him very popular and he won many awards for it including the Best Pop Male Vocalist in the 1996 Screen Awards and the Channel V Viewers Choice Award (1997). It stayed on the MTV Asia Charts for 60 weeks.

Track Listing:

O Sanam ओ सनम و صنم
Sunoh सुनो سنو
Pyaar Ka Musafir प्यार का मुसाफ़िर پیار کا مُسافِر
Aap Par Arz आप पर अर्ज़ آپ پر عرض
Milegi Milegi मिलेगी मिलेगी ملیگی ملیگی
Tum Hi Se तुम ही से تُم ہی سے
Yeh Zameen यह ज़मीन یہ زمین
Jab Hum Chhote जब हम छोटे جب ہم چھوٹے
Kya Mausam क्या मौसम کیا موسم
Yeh Mumbai Nagariya यह मुंबई नगरिया

About the Album:

Sunoh (सुनो) is Hindi for Listen. It seems Lucky wanted everyone to listen to him. Sunoh was released in June 1996 with BMG CRESCENDO. It was the first ever album to be released by Lucky Ali. It sold over Four million copies worldwide. This was way beyond the expectations of Lucky himself. And you know what? The hit single 'O Sanam' from Sunoh stayed for over 60 weeks consecutively on Music charts of MTV Asia. Sunoh can be referred as history in the making as it was Sunoh which introduced Indian music fans to such a wonderful and talented singer. The song O Sanam from Sunoh, considered by some to be one of the best indi-pop songs ever. Sunoh established him as an icon in the Indian music scene. The album was a phenomenal success.

Sunoh has Music by Lucky Ali, It was performed by Lucky Ali and Mike McCleary (his brother in law). The lyrics of the album were written by Syed Aslam Noor (a childhood friend of Lucky Ali with whom he used to clean and sell carpets). Lucky Ali was rejected by a lot of music companies, for his first album. No one was ready to take a risk and release the album. He didn't have enough money to make the album. So he decided to do it himself. He went to his friend Mahesh Mathai and told him to produce the video. He didn't even pay Mahesh for the video. He recorded all the songs himself with help from his brother in law Mike McLeary. After he completed the album, he returned to New Zealand, unaware of the success of the album.

Acknowledgments:

"Grateful to the almighty, to my parents, my teachers and to all those people who have encouraged this effort, to my loving wife who stood by me during the blues... to my brother Mackie who added cheer, to Ghealuuuu Akki my childhood friend. To Nirja Shah another childhood friend who helpped me make the breakthrough. To my friends in Watford, Nads, Anis & Nitin day by day, my friends in the valley of Kashmir, to the people of Egypt, to all at Highlight, especially Mahesh Mathai and Srila."
Genre not found
Artist not found
Album not found
Search results not found
Song not found
Shaam Sawere teri yaadein aati hain
Aake dil ko mere yu tadpati hain
O Sanam Mohabbat ki kasam,
Milke bichad na to dastoor ho gaya
Yadoon mein teri main majboor hogaya
O Sanam teri yadoon ki kasam
Samjhe zamaana ke dil he khilona
Jaana hai ab kya hai dil ka lagana
Nazroon se na yu humko girana
Mar bhi gaye toh bhul na jaana.
Ankhon mein bassee ho
Par door ho kaheen
Dil ke kareeb ho
Yeh mujhko hai yakeen
O Sanam tere pyar ki kasam.
Contributed by Sydney E. Suggest a correction in the comments below.
To comment on specific lyrics,
highlight them