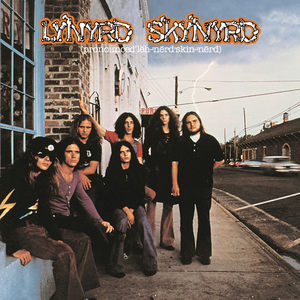 Pronounced Leh-Nerd Skin-Nerd
(pronounced 'lĕh-'nérd 'skin-'nérd) is the debut album from Lynyrd Skynyrd, released in 1973. The album features several of the band's most well-known songs, including "Gimme Three Steps", "Simple Man", "Tuesday's Gone" and "Free Bird", the latter of which launched the band to national stardom. Bassist Leon Wilkeson left the band during the album's early recording sessions only playing on two tracks. Strawberry Alarm Clock guitarist Ed King was asked to fill in for Wilkeson on bass during the remaining sessions, as Wilkeson already wrote many of the bass parts. This left Skynyrd with only six official members at the time
Read Full Bio
(pronounced 'lĕh-'nérd 'skin-'nérd) is the debut album from Lynyrd Skynyrd, released in 1973. The album features several of the band's most well-known songs, including "Gimme Three Steps", "Simple Man", "Tuesday's Gone" and "Free Bird", the latter of which launched the band to national stardom.

Bassist Leon Wilkeson left the band during the album's early recording sessions only playing on two tracks. Strawberry Alarm Clock guitarist Ed King was asked to fill in for Wilkeson on bass during the remaining sessions, as Wilkeson already wrote many of the bass parts. This left Skynyrd with only six official members at the time of the album's release. Not long after, King remained with the band, and was made a member, so that they could replicate the triple-guitar lead during live performances. Wilkeson returned to the band when it was time to take the photo for the album cover and embark on the tour for the album. It was certified gold on December 18, 1974, platinum and 2x platinum on July 21 1987 by the RIAA.

The album was re-released in 2001 as an expanded version with bonus tracks, including demos of many of the songs on the album
Genre not found
Artist not found
Album not found
Search results not found
Song not found
Jump to: Overall Meaning | Line by Line Meaning
Now I'll tell you plainly, baby, what a plan to do
Say, I may be crazy, woman, but I ain't no fool
Your daddy's rich, mama, you're overdue
I ain't the one, baby, been messin' with you
Got bells in your mind, lady, and it's easy to see
I think it's time for me to move along, I do believe

Or are you tryin' to put a hook on me? Oh no

Now you're talkin' jive, woman, when you say to me
That your daddy's gonna take us in, baby, take care of me
You know and I know, woman, I ain't the one
I never hurt you, sweetheart, I never pulled my gun
Got bells in your mind, mama, and it's easy to see
I think it's time for me to move along, I do believe

Time for me to put my boots out in the streets missy
Are you ready?
Walk on!

Alright little missy, let me tell you a thing or two

Now you're talkin' jive, woman, when you say to me
That your daddy's gonna take us in, baby, take care of me
When you know and I know, woman, I ain't the one
I never hurt you, sweetheart, said, I never pulled my gun
Got bells in your mind, mama, and it's easy to see
I think it's time for me to move along, I do believe

Oh, I must be in the middle of some kinda conspiracy
Overall Meaning
The lyrics of Lynyrd Skynyrd's song I Ain't the One describe a man addressing a woman who is leading him on and trying to put a hook on him, despite knowing that he is not the one she should be messing with. The song begins with the man telling the woman that he is aware of her plans and although he may be crazy, he is not a fool. The woman's father is rich and she is overdue, but the man declares that he is not the one who has been messing with her. The woman is delusional and has bells in her mind, which is evident and he believes it's time for him to move on.
As the song progresses, the man directly questions the woman's intentions and calls her out for talking jive. She talks about her father taking care of both of them, which he knows is not true. He never pulled the gun on her or hurt her, and he declares that he is not the one she should be messing with. As the song ends he walks away, telling her it's time to put his boots out in the streets because he's ready to move on.

Line by Line Meaning
Now I'll tell you plainly, baby, what a plan to do
I am going to be honest with you about my intentions.
Say, I may be crazy, woman, but I ain't no fool
I may seem erratic, but I am not foolish.
Your daddy's rich, mama, you're overdue
Your father has a lot of money and you are ready for a relationship.
I ain't the one, baby, been messin' with you
I am not the one who has been involved with you.
Got bells in your mind, lady, and it's easy to see
You are confused and it shows in your behavior.
I think it's time for me to move along, I do believe
I believe it is time for me to end this relationship.
Or are you tryin' to put a hook on me? Oh no
Are you trying to trap me? I won't let it happen.
Now you're talkin' jive, woman, when you say to me
You are using fancy language to try to convince me.
That your daddy's gonna take us in, baby, take care of me
You are suggesting that your father will support us financially.
You know and I know, woman, I ain't the one
Both of us know that I am not the right person for you.
I never hurt you, sweetheart, I never pulled my gun
I have never harmed you or threatened violence.
Time for me to put my boots out in the streets missy
It's time for me to leave.
Are you ready?
Are you prepared for me to leave?
Walk on!
Goodbye.
Alright little missy, let me tell you a thing or two
Listen up, I have something important to say.
Oh, I must be in the middle of some kinda conspiracy
I feel like something fishy is going on.
Lyrics © Universal Music Publishing Group
Written by: GARY ROBERT ROSSINGTON, RONNIE VAN ZANT

Lyrics Licensed & Provided by LyricFind
To comment on or correct specific content,
highlight it