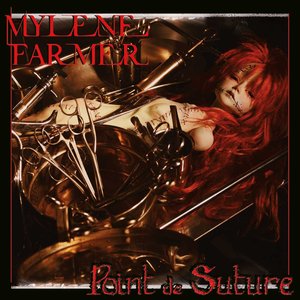 Point de Suture is the seventh studio album by French singer-songwriter Mylène Farmer, and her 14th album overall. Preceded by the lead single "Dégénération", it was released digitally on August 20, 2008, then on CD five days later. This album, which contains especially songs with electro sonorities, marked an important musical change in the singer's career. Variously received in the media which, mainly, criticized it for a lack of innovation, the album had success on the French, Swiss, Belgian, Russian and Greek charts. For the name of this album, Farmer drew her inspiration from Al Pacino's sentence in the 1993
Read Full Bio
Point de Suture is the seventh studio album by French singer-songwriter Mylène Farmer, and her 14th album overall. Preceded by the lead single "Dégénération", it was released digitally on August 20, 2008, then on CD five days later. This album, which contains especially songs with electro sonorities, marked an important musical change in the singer's career. Variously received in the media which, mainly, criticized it for a lack of innovation, the album had success on the French, Swiss, Belgian, Russian and Greek charts.

For the name of this album, Farmer drew her inspiration from Al Pacino's sentence in the 1993 film Carlito's Way, that which appears inside the digipack : "All the stitches of the world cannot sew us again". The photos illustrating this album were made by a Japanese photographer. The cover as well as the booklet show a doll covered with scars, with surgical instruments in the foreground. Inside, there is only a sole photo of Farmer, turned back.

This album was announced as being very different from the previous ones in musical and promotional terms. About this album, Farmer explained during an interview : "If I compare it with Avant que l'ombre..., it will probably be more electronic... with many "up tempo" songs". In this album there is a little bit of all the universes that characterize Mylène's albums: melancholy ballads, songs with electro / techno sounds, club-friendly and pop-rock songs

The subjects in this album are "sexuality, uneasiness, mantras, coded plays on words", "melancholy", "extreme love, purity, loneliness", "life, death, love tackled in turn with seriousness or humor". The album also evokes "the resilience and the indelible scars of the childhood" with numerous quotations and literary references (Süskind, Schubert, Baudelaire...).

The album received mixed reviews. La Voix du Nord published reviews from the singer's fans proving that the reactions are shared between "disappointed love and ecstasy". La Meuse and 20 Minutes summed up many critics deeming this album is "nor completely failed nor completely exciting", "without surprise but pleasant". In a survey held by the biggest fan site of Mylène Farmer "Mylène.net", Point De Suture was voted as the forth all time favourite studio album of her discography.

The chart performance of the album in France was great, with 5,121 downloads on four days it went straight to number-one on the French digital albums chart, on August 23, which is one of the records of the year. Universal Music even declared it was the record for a francophone artist. The album stayed for another week at #1 with and then dropped to #3 and remained on the chart (top 50) for 13 weeks.
With 108,596 sales, the album was directly #1 on the SNEP Albums Chart on August 30. It dropped to #2 the week after, with 48,144 sales (616 sales of difference with the number-one album), then to #3 and fell off the top ten after five weeks.
In addition Universal Music's president, revealed on September 2 that about 175,000 Sony Ericsson mobile phones containing the album Point Suture were sold.

In Russia, Europa Plus radio aired the album for the first time on August 23. Available two days later, it met a great success : on a single day, it was certified Platinum for more than 20,000 sold copies.
In Switzerland, the album was certified Gold in one week and debuted at #2 on September 7, 2008, then it dropped and remained on the chart (top 100) for nine weeks.
In Belgium (Wallonia), the album reached #1 in its first week, on September 6, and stayed there for other two weeks. Therafter, it dropped regularly. In Belgium (Flanders), the album was #32 on September 13, 2008, and stayed for a sole week on the chart, but became Farmer's highest ranked album on this chart.
The album reached #60 on the albums chart in Canada, on September 14, 2008 (it was #11 in Quebec City and #6 in Montreal).
In the 37th week of 2008, without any promotion the album entered the Greek International Albums Chart at #25, then peaked at #16 for two weeks, and remained ranked for five weeks.

Five singles have been released "Dégénération", "Appelle Mon Numéro", "Si J'avais Au Moins...", "C'est Dans L'air" and "Sextonik". All of them have met success in France and have topped the singles chart making Point De Suture her only album that spawned more than one number one hits.
Genre not found
Artist not found
Album not found
Search results not found
Song not found
Sexy coma, sexy trauma
Sexy coma, sexy trauma
Coma t'es sexe, t'es Styx, test statique
Coma t'es sexe, t'es Styx, extatique
Coma t'es sexe, t'es Styx, test-test statique
Coma t'es sexe, t'es Styx, esthétique
Sexy coma, sexy trauma
Sexy coma, sexy trauma
Han, han, han, han-han, han, han, han-han
Han, han, han, han-han, han, han
Han, han, han, han-han, han, han, han-han
Han, han, han, han-han, han, han
Dégéneration
Ma génération
Sexy coma, sexy trauma
Sexy coma, sexy trauma
Je sais pas moi mais faut que ça bouge
Je sais pas moi mais faut que ça bouge
Suis coma là mais il faut que ça bouge
Je sais pas moi mais faut que ça bouge, faut qu'ça bouge, faut qu'ça bouge
Sexy coma, sexy trauma
Sexy coma, sexy trauma
Dégéneration
Ma génération
Sexy coma, sexy trauma
Sexy coma, sexy (sexy, sexy)
Han, han, han, han-han, han, han, han-han
Han, han, han, han-han, han, han
Han, han, han, han-han, han, han, han-han
Han, han, han, han-han, han, han
Coma t'es sexe, t'es Styx, test statique
Coma t'es sexe, t'es Styx, extatique
Coma t'es sexe, t'es Styx, test-test statique
Coma t'es sexe, t'es Styx, esthétique
Han, han, han, han-han, han, han, han-han
Han, han, han, han-han, han, han
Han, han, han, han-han, han, han, han-han
Han, han, han, han-han, han, han
Sexy coma, sexy trauma
Sexy coma, sexy trauma
Sexy coma, sexy trauma
Sexy coma (dégénération) sexy trauma
Sexy coma, sexy trauma
Sexy coma (ma génération) sexy trauma
Lyrics © O/B/O APRA AMCOS
Written by: Laurent Boutonnat, Mylene Farmer

Lyrics Licensed & Provided by LyricFind
To comment on specific lyrics,
highlight them