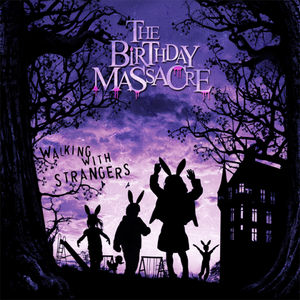 The Birthday Massacre is a synth-rock band formed in 1999 and based in Toronto, Ontario, Canada. From 1999 until 2002, the band name was Imagica. The current lineup consists of Chibi (vocals), Rainbow (guitars and programming), Michael Falcore (guitars), Owen (keyboards), Brett Carruthers (bass), and Philip Elliot (drums). Their sound is mostly a fusion of alternative rock, new wave, industrial, and synthpop.

So far, TBM have released eight studio albums: Nothing and Nowhere (2002)
Read Full Bio
The Birthday Massacre is a synth-rock band formed in 1999 and based in Toronto, Ontario, Canada. From 1999 until 2002, the band name was Imagica. The current lineup consists of Chibi (vocals), Rainbow (guitars and programming), Michael Falcore (guitars), Owen (keyboards), Brett Carruthers (bass), and Philip Elliot (drums). Their sound is mostly a fusion of alternative rock, new wave, industrial, and synthpop.

So far, TBM have released eight studio albums: Nothing and Nowhere (2002), Violet (2005), Walking With Strangers (2007), Pins and Needles (2010), Hide and Seek (2012), Superstition (2014), Under Your Spell (2017), and Diamonds (2020). They have also issued the DVD Blue (2005), the live album/DVD Show and Tell (2009), and the EPs Violet (2004), Looking Glass (2008), Imaginary Monsters (2011), and Imagica (2016).

The group originated in London, Ontario under the name Imagica, inspired from the novel "Imajica" by Clive Barker. The band's original lineup consisted of: Chibi, Rainbow, Michael Falcore, and Aslan (bass). Dank played live keyboards and O.E. joined the group on live drums. A seven-song limited edition demo was released.

In 2001, Dank left the group, and the others relocated from London to Toronto, Ontario, to begin recording. There, they recorded another limited edition demo, this time with five songs. In 2002, the band adopted the name The Birthday Massacre in order to avoid confusion with a metal band. They chose the name "The Birthday Massacre" since people were already familiar with the song of the same title. The song was later retitled as "Happy Birthday".

In July of 2002, The Birthday Massacre independently released their debut album entitled Nothing and Nowhere. In 2003, Adm joined the band on live keyboards and Rhim on drums.

On 20 July 2004, The Birthday Massacre released a nine song EP entitled Violet and at the end of the year, re-released Nothing and Nowhere with new sleeve artwork. Adm soon left thereafter to explore his own projects.

In the fall of 2004, the band was signed to Repo Records in Germany, and released a remastered and expanded version of Violet in Europe. The expanded version of Violet included four re-recorded and slightly reworked tracks from Nothing and Nowhere.

In 2005 the band signed to Metropolis Records and released Violet in the United States, Canada, United Kingdom, and most of South America. Owen joined on live keyboards and in August, the band began a series of international tours taking them to Switzerland, Germany, the Netherlands, Hungary, the Czech Republic, and Belgium.

Also in August 2005, a DVD consisting of a video for the song "Blue" was released. It also included behind-the-scenes footage, interviews, a studio performance of "Nevermind" as well as live performances of "Violet" and "Video Kid". The centerpiece of the DVD was the Dan Ouellette-directed video for "Blue".

In early 2006, the Birthday Massacre toured North America, playing across Canada, the United States, and Mexico on their "Broken Minds" tour. They also played Europe in the summer of 2006.

In June 2007, it was announced that the band was working on a new record with Canadian producer/engineer Dave "Rave" Ogilvie (producer of many industrial acts such as Skinny Puppy), and that bass player Aslan had left the band for his own project named Aslan Osiris. Aslan was replaced on bass by former drummer O.E. .

On 11 September 2007 the band released their third album Walking With Strangers in North America, entering at #10 on the Billboard "Top Heatseekers" chart for 29 September. The album was released in Europe on 21 September and in the UK on 22 October. Walking With Strangers included the singles "Kill the Lights" and "Looking Glass". An EP, Looking Glass followed in 2008.

In spring 2009, The Birthday Massacre issued their first live album, Show and Tell. It was recorded in Hamburg, Germany in Autumn 2007. A DVD with the Hamburg show and extra video content was released later in Europe (2009) and North America (2010).

The band's fourth studio album, Pins and Needles was issued on 14 September 2010 in North America, debuting at #152 on the Billboard 200, #6 on the heatseekers, and #34 on independent. O.E. left the group and was replaced by Nate Manor.

On 9 August 2011 the band released the EP Imaginary Monsters. In 9 October 2012, TBM released the fifth studio album, Hide and Seek.

Superstition is the sixth studio album by Canadian electronic rock band The Birthday Massacre, released on November 11, 2014 through Metropolis Records. The album was funded through PledgeMusic. To promote the album, a subsequent North America tour and music video for "Beyond" followed the album's release.

Under Your Spell is the seventh studio album by Canadian electronic rock band The Birthday Massacre, released on June 9, 2017 through Metropolis Records. The album was funded, once again, through PledgeMusic.

Official site: www.thebirthdaymassacre.com
Genre not found
Artist not found
Album not found
Search results not found
Song not found
Jump to: Overall Meaning | Line by Line Meaning
This story's missing a wishing well
No mirror to show and tell
No kiss that can break the spell
I'm falling asleep

Every prince is a fantasy
The witch is inside of me
Her poison will wash away
The memory

We kill the lights and put on a show
It's all a lie but you'd never know
Your star will shine and then it will fall
And you will forget it all

And after midnight we're all the same
No glass shoe to bring us fame
Nobody to take the blame
We're falling apart

Every story's a waiting game
A flower for every name
Their colors are paling
In the falling rain

We kill the lights and put on a show
It's all a lie but you'd never know
Your star will shine and then it will fall
And you will forget it all

Now you know it's so much better to pretend
There's something waiting for you here
Every letter that you wrote
Has found its way to me, my dear

You can make believe that
What you say is what I want to hear
I'll keep dancing through this beautiful
Delusional career

Faking every tear
Looking like a compromised suicide
Keeping all my dreams alive
Overall Meaning
The Birthday Massacre's song "Kill the Lights" is a haunting and poetic track that delves into the darker side of fairy tale narratives. The song starts with the acknowledgement that something is missing from the story - a wishing well, a mirror, a kiss - and we are left with the feeling that this loss has the power to break an enchantment. The narrator admits that they are falling asleep, perhaps indicating a sense of apathy towards these stories as they become disillusioned with the myths they were once enamored with.
From there, the lyrics take on a more sinister tone as the narrator identifies with the witch of the fairy tales, seeing in themselves the power to poison and erode the memories of those they come into contact with. It is striking that the witch is not an external force working against the protagonist, but rather an internal struggle, as if the narrator is coming to terms with their own capacity for deceit and manipulation. This forms the basis for the chorus, "We kill the lights and put on a show / It's all a lie but you'd never know / Your star will shine and then it will fall / And you will forget it all," which seems to suggest a cycle of building up and tearing down, with everyone playing their roles in a grand performance.
The final verse of the song is perhaps the most poignant, focusing on the idea that every story is a waiting game, with a flower for every name that is destined to fade in the falling rain. Here, the narrator seems to be grappling with the sense of impermanence that comes with life, and the realization that even the most beautiful things - stories, idols, and dreams - are subject to decay and loss. Yet, despite this, the narrator chooses to keep dancing, faking every tear and compromising their own sense of self to keep their delusional career alive.
Overall, "Kill the Lights" is a song that speaks to the ways in which we cling to our own narratives, even as they begin to crumble around us. It is a meditation on the power of stories and the allure of fantasy, even when we know deep down that they can never last.

Line by Line Meaning
This story's missing a wishing well
The tale I'm living doesn't have any magic or wishes. The world is mundane and gritty.
No mirror to show and tell
I don't have any way to reflect upon myself or my problems. I'm lost and unsure of how to proceed.
No kiss that can break the spell
There isn't anyone to lift me out of my current state. No one can save me from my own despair.
I'm falling asleep
I'm becoming numb to the world around me. I'm disengaging from reality.
Every prince is a fantasy
There are no heroes in the real world. The idea of a prince charming is just a fairy tale.
The witch is inside of me
The evil or dark parts of me are my own worst enemy. I'm self-destructive.
Her poison will wash away
The thing that's consuming me will eventually fade away or dissipate.
The memory
But the experience will stay with me, linger within my mind and soul.
We kill the lights and put on a show
To hide my pain and sorrow from the world, I pretend to be someone else. The act is like a mask to hide my true emotions.
It's all a lie but you'd never know
My persona is a facade. It's not who I really am, but no one can tell the difference anyway.
Your star will shine and then it will fall
Everyone has their moment of glory and everyone has a downfall. Nothing good can last forever.
And you will forget it all
The past becomes forgotten over time. The memories fade and are lost to history.
And after midnight we're all the same
Everyone becomes equal once the sun goes down. The night can act as a veil to cover our true selves.
No glass shoe to bring us fame
There's no real hope for fame or fortune, it's all just a dream people chase.
Nobody to take the blame
When things go wrong, everyone points the finger at someone else. There's no accountability or blame being taken.
We're falling apart
Society is crumbling or disintegrating. There's no stable foundation for anything anymore.
Every story's a waiting game
Waiting is all we can do in a world that's uncertain. We don't know what's coming next and there's no way to prepare for it.
A flower for every name
There's beauty and uniqueness in everything and everyone. Everyone has their own identity or story.
Their colors are paling
But with time, everything fades away. The vibrancy and boldness of life fades until it becomes bland and grey.
In the falling rain
The imagery of rain is used to represent the sadness and depression that overtakes everything.
Now you know it's so much better to pretend
It's easier to fake happiness or contentment than to really try to achieve it. Pretending is easier than putting in the effort.
There's something waiting for you here
There's always something to look forward to or hope for, even if it's just a delusion or lie.
Every letter that you wrote
Everything we communicate to each other is just another layer of the facade or act we put on. It's never the true reality of our emotions.
Has found its way to me, my dear
Even though the words are empty or hollow, they still find their way to us and affect us in some way.
You can make believe that
We can delude ourselves into thinking that everything is alright or that we're happy even when we're not.
What you say is what I want to hear
We crave validation and acceptance, even if it's insincere. We want to be liked or loved by everyone.
I'll keep dancing through this beautiful
It's easier to keep up the act and pretend everything is beautiful or lovely than to acknowledge the harshness of reality.
Delusional career
Our delusions and lies become our whole persona or career. We become the act and forget who we really are.
Faking every tear
We feign emotions and feelings to fit in or get what we want. We don't express our true selves.
Looking like a compromised suicide
We're destroyed and broken on the inside, but we still try to maintain some level of stability or illusion of control.
Keeping all my dreams alive
We keep our dreams alive even if they're impossible or unrealistic. It's still a way to hold onto some kind of hope.
Lyrics © Sony/ATV Music Publishing LLC, Songtrust Ave
Written by: MICHAEL HANMER, MICHAEL RAINBOW, SARA TAYLOR

Lyrics Licensed & Provided by LyricFind
To comment on or correct specific content,
highlight it