Bonnie And Clyde
Axel Bauer Lyrics
We all have a special meeting
In a special place
You're afraid of dying?
What's your problem
You go and see the high above and the high below
Allow me to introduce myself
I'm clyde and here's my friend bonnie
Unknown creatures from an unknown planet
Placed for an unknown destiny
This uncounter leads us to one decision
Live freely with the conviction
That death will not set up apart
Well you see when I first met bonnie
It was from the sight of her thigs
And her from a glimps in my eyes
No lies
It was love at first sight
We couldn't wait for the night
It feels better when the lights out
Alright find out how bats fly in the dark
In the dark love and death meets
In the light! Real light meets
Babe I'm talking about the real light
And in the real light
Everyone meets everyone meets
You know the story more than I
To live and to die
We're comming back to take your guns
And outlive your lies
We are not afraid of being despised and penalised
By your earthly rules
For we conquer love
And to conquer is to be conquered
We all have a special meeting in a special place
Lyrics © SOC ACCELERATION NO 1, WARNER CHAPPELL MUSIC FRANCE
Written by: Axel Bauer

Lyrics Licensed & Provided by LyricFind
To comment on specific lyrics,
highlight them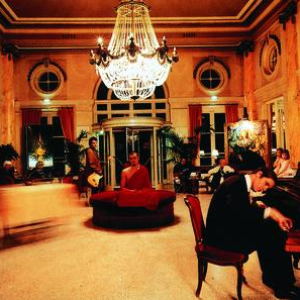 Catapulted to overnight fame in the early 80s with his single "Cargo de nuit", Axel Bauer appears to have spent most of the last two decades struggling against the 'one-hit wonder' syndrome. Axel finally managed to shake off his "Cargo de nuit" image at the end of the 90s and his latest album proves his worth as a genuinely talented singer-songwriter.

Born in Paris on 7 April 1961, Axel Bauer grew up in a talented musical family, which included a classical concert pianist (his aunt) and a professional jazz musician (his father).
Read Full Bio
Catapulted to overnight fame in the early 80s with his single "Cargo de nuit", Axel Bauer appears to have spent most of the last two decades struggling against the 'one-hit wonder' syndrome. Axel finally managed to shake off his "Cargo de nuit" image at the end of the 90s and his latest album proves his worth as a genuinely talented singer-songwriter.

Born in Paris on 7 April 1961, Axel Bauer grew up in a talented musical family, which included a classical concert pianist (his aunt) and a professional jazz musician (his father). Axel's father honed his musical skills playing drums with Django Reinhardt and went on to work with the crème de la crème of the jazz world. Surrounded by music from an early age, Axel acquired an extensive musical culture and a passion for British and American groups.

Axel took piano lessons as a child, but without any great enthusiasm. The instrument which was to prove the love of his life was the guitar. Throughout his teenage years the budding young musician spent considerably more time hanging out in local rock clubs than he did studying at his lycée. Nevertheless, Axel passed his baccalauréat with no trouble at all and went on to enrol at art school, where he developed another great passion in life, drawing.

Music won out over art in the end, however, and by the late 70s Axel had bought his first guitar and was spending most of his time playing chords and songwriting. Axel went on to trade his first guitar in for a Stratocaster while on a trip to Africa and this legendary make of guitar seemed to act as a lucky charm on his career.

On The Waterfront

In the early 80s Axel was introduced to the songwriter Michel Eli and the pair embarked upon successful songwriting collaboration together. In fact, it was one of their early numbers that launched Axel's career.

By 1983 pop videos were all the rage on the French music scene and any artist who wanted to make their way in the world had to have an eye-catching video clip. Axel Bauer excelled in this department, enlisting the services of French video-maker and fashion photographer Jean-Baptiste Mondino. Taking inspiration from the movie "Querelle de Brest", Mondino shot an elegant 80s twist on the film classic in which Axel strode through the streets of a deserted French port dressed in a sexy polo neck, braces and cloth cap. Bauer's single "Cargo de nuit" proved to be a huge hit with the French public and over the next few months half of France walked round singing "Trente-cinq jours sans voir la terre / Pull rayé, mal rasé" (35 days and still no sight of land/ Here I am on deck, unkempt and unshaven in my stripy sailor's top).

"Cargo de nuit" went on to sell a staggering 700,000 copies, catapulting Axel to fame within a few weeks of its release. This lightning rise to fame turned out to be more of a curse than a blessing, however. It was difficult enough for a 22-year-old singer to be thrust into the media spotlight, but Axel's other problem was that he quickly became the victim of a 'one-hit wonder' phenomenon, music fans associating his success with a well-tuned marketing machine rather than the good, honest slog of a singer-songwriter. What's more, the look Mondino had created for Axel in his "Querelle de Brest" video soon became a subject of mockery.

Axel attempted to repeat the success of "Cargo de nuit" with "Phantasmes", but his second single sold just 200,000 and sales of his third single, "Jessy", plummeted to 60,000. In short, Axel's fall from grace proved to be as rapid as his lightning rise to fame. One stroke of bad luck was followed by another and after his record company, Vogue, went bankrupt, Axel found himself totally abandoned by the French music industry.

The Exile Years

Following this string of disappointments and disasters in France, Axel decided to re-locate to London in 1987. The wind of fortune changed for him once he had crossed the Channel, however, and after sending out a tentative demo tape Axel was offered a recording deal with EMI. (This was a major achievement in itself, for Axel was the first French artist to be signed by the label which had launched The Beatles).

Axel concentrated on his live career from this point on, touring extensively throughout the UK. Five years after his first hit, he went on to bring out a debut album "Les Nouveaux seigneurs", which half-heartedly experimented with techno. But Axel failed to repeat his early success - "Les Nouveaux seigneurs" sold a mere 20,000 copies.

Meanwhile, Axel had not been forgotten in France (although he seemed to be forever associated in most people's minds with "Cargo de nuit" and his "Querelle de Brest" video). While the record-buying public failed to see beyond Axel's public image, several French musicians recognised his talent. And when Axel returned to France in 1989 one of the first people to call him was Jean-Louis Aubert (the former lead singer of Téléphone), who invited him into the studio to work on his forthcoming album. Axel ended up guesting on two tracks on Aubert's album, "Bleu Blanc Vert".

Encouraged by the fact that he had not been forgotten on the French music scene, Axel, by now in his thirties, returned to the studio. In 1990 he released a second album entitled "Sentinelles" (which many people actually took to be his first). Apart from several songs penned by Axel himself, "Sentinelles" featured tracks written by a host of well-known French songwriters including Boris Bergman, Catherine Ringer (from Rita Mitsouko), Jean-Louis Aubert and Christine Lidon.

This second album, a combination of rock, guitar riffs and romantic ballads, appeared to be much better-suited to Axel's personality and, although "Sentinelles" failed to score a huge hit with French music critics, it did produce one chart-topping single, "Eteins la lumière". This melodic electric guitar ballad (written and composed by Bauer himself), proved that a genuinely talented musician lay beneath the one-hit wonder image of "Cargo de nuit".

Following the success of the single, Axel Bauer embarked upon an extensive two-month French tour (October – November 1990), bringing the house down when he performed at l'Elysée Montmartre in Paris on October 25th.

The Travelling Life

Axel gradually began to shake off his "Cargo de nuit" image, but inventing a new persona in the French public's mind proved to be a long and arduous image. Keen to stay out of the showbiz spotlight the second time round, Axel decided to go off travelling for a while and shortly after his "Sentinelles" tour he disappeared into the Sahara, going off to live with the Touareg community for several months. When he returned from his adventures in the desert, he went off to live in the French countryside where he took up his songwriting activities once again.

Axel spent most of his three years in the countryside working on material for a new album, entitled "Simple mortel". Mixed and produced by UK studio wizard Steve Forward, this album featured a return to 70s-style rock and brought Axel's descant vocals to the fore. Released in March '98, "Simple mortel" got an enthusiastic reception in the French media but failed to produce a chart-topping single.

Axel appeared satisfied with his new album however and, after taking time off to spend with his girlfriend and new-born baby, he set off on tour again in 1999, appearing on the French club circuit with a three-piece backing band.

It had been a long uphill struggle for Axel to shake off "Cargo de nuit", but by the end of his 1999 tour he finally appeared to have done so. This break with the past left him free to embark upon new projects and in 2000, Axel re-surfaced on the French music scene with a new album entitled "Achille".

Axel's 11-track album featured a richer, fuller, more mature style and contributions from guest vocalists Miossec and Zazie (a long-term friend). Axel's songwriting had come a long way since "Cargo de nuit" and he wrote much of the material on his new album himself. "Achille" also featured songs written by Juan Tamayo, Arnaud Giroux and his girlfriend Ilhem Kadid. Axel began touring his new album in December 2000 and brought the house down when he appeared in Paris, performing at La Scène (a 'bar-restaurant' in Bastille) on January 23rd 2001.Axel returned to La Scène to play three concerts in May.

Gold disc

Axel rocketed back to the top of the charts after "A ma place", a duet he recorded with Zazie, was released as a single at the start of the summer. The single went on to reach no.6 in the French singles chart in June. Following his new chart success, Axel kicked off a mini-tour in the autumn of 2001 with a concert in Paris at the Elysée Montmartre on 22 October. The concert, an absolute sell-out, featured guest appearances by a variety of artists including Zazie, Jean-Louis Aubert and the musicians from Parisian band Aston Villa. At the end of the tour Axel's record company presented him with his first gold disc, after sales of his album (which had since been re-released with a new cover and a new title "Personne n'est parfait") topped the 100,000 mark.

In January 2002 the single "A ma place" went on to win the NRJ Music Award for Best Francophone Song of the Year. Following this new success Axel joined the Enfoirés tour, performing a series of fund-raising concerts for French charity "Restaurants du Cœur". Then on 12 February he continued his fund-raising activities for Survival (an organisation fighting to protect indigenous peoples). Later that month Florent Pagny released his new album, "2", which included a duet recorded with Bauer entitled "Terre".

Bauer remained busy with live concerts throughout the spring of 2002, performing a mini-tour which included an appearance in Francis Cabrel's native village, Astaffort (near Toulouse) on 30 March.

Having reached the 20-year milestone in his career, 2003 seemed to be an appropriate year for Axel Bauer to release a greatest hits album. Needless to say "La Désintégrale", released in April of that year, included his biggest chart hit "Cargo."

A few months after the release of his greatest hits compilation, Axel was already hard at work writing material for a new album. He ended up composing the majority of the music for this new opus, which featured his usual mix of rock and mainstream sounds. Working in collaboration with producer Daniel Presley, Axel did try and move back towards his musical roots, however, keeping the overall sound on the album as raw and live as possible. A number of well-known songwriters contributed lyrics to the album including Ilhem Kahid, Pierre-Yves Lebert – who wrote the first single release "Tu me tues" (featuring music by Philippe Uminski) - Kemar (a former member of No One is Innocent) and Fred (from the group Aston Villa). This musical 'family' appeared to suit Axel Bauer down to the ground. His new album, "Bad Cowboy", would finally be released in April 2006.

The following month, Axel Bauer made a welcome return to the live circuit, performing a series of concerts across France.

(excerpt from http://www.rfimusique.com/siteen/biographie/biographie_6249.asp)
Genre not found
Artist not found
Album not found
Search results not found
Song not found