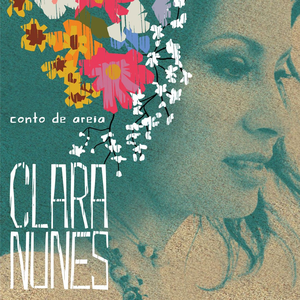 Clara Francisca Gonçalves Pinheiro (August 12, 1942, Caetanópolis, Minas Gerai…
Read Full Bio ↴
Clara Francisca Gonçalves Pinheiro (August 12, 1942, Caetanópolis, Minas Gerais, Brazil — April 2, 1983, Rio de Janeiro, Brazil), best known as Clara Nunes, was one of the major Brazilian singers and performers of samba music and MPB.

A researcher of Brazilian popular music, its rhythms, and folklore, she has also traveled to many countries representing the Brazilian culture. A connoisseur of African music, dance, traditions, and religions, she converted to Candomblé and took Afro-Brazilian culture into her songs and costumes. She was one of the singers who recorded the most songs by the composers of Portela, her favorite samba school. She was also the first female Brazilian singer to sell more than one hundred thousand records, breaking a taboo according to which women did not sell records in Brazil. During her whole career she sold four million four hundred thousand records. She was considered by Rolling Stone magazine as the ninth greatest Brazilian voice and, by the same magazine, the fifty-first greatest Brazilian artist of all time.

On April 2, 1983, she died at age 40, after suffering from anaphylaxis during a surgery to treat varicose veins. Even today she remains one of the most popular singers in Brazil.
Jump to: Overall Meaning ↴ Line by Line Meaning ↴
Dorival Caymmi falou para Oxum
Com Silas tô em boa companhia
O Céu abraça a Terra
Deságua o rio na Bahia
Jêje, minha sede é dos rios
A minha cor é o arco-íris
Minha fome é tanta
Planta flor, irmã da bandeira
A minha sina é verde-amarela
Feito a bananeira
Ouro cobre o espelho esmeralda
No berço-esplêndido a floresta em calda
Manjedoura d'alma
Labarágua, sete quedas em chama
Cobra de ferro, Oxum-Maré
Homem e mulher na cama
Jêje tuas asas de pomba
Presas nas costas
Com mel e dendê
Agüentam por um fio
Sofrem o bafio da fera
O bombardeiro de Caramuru
A sanha d'Anhanguera
Jêje tua boca do lixo
Escarra o sangue
De outra hemoptise
No canal do mangue
O uirapuru das cinzas chama
Rebenta a louça, Oxum-Maré
Dança em teu mar de lama
Overall Meaning
The lyrics of Clara Nunes's song "Nação", which translates to "Nation", evoke a sense of pride and connection to Brazilian culture through references to traditional Afro-Brazilian religions and elements of nature. The first stanza begins with a reference to Dorival Caymmi, a famous Brazilian musician who is known for incorporating Afro-Brazilian rhythms into his work. In this line, Caymmi is speaking to the goddess Oxum, a deity associated with love, beauty, and water in many African religions. The line "Com Silas tô em boa companhia" refers to Silas de Oliveira, a samba composer who was known for his connection to the community of Rio de Janeiro's Portela samba school. The next two lines are a poetic description of the meeting of sky and earth and the flowing of the river into the Brazilian state of Bahia.
The second stanza continues with the theme of connection to nature and references to Afro-Brazilian religions. The word "Jêje" is an ethnic term referring to a group of people from the region that is now known as Benin and Togo, who were brought to Brazil as enslaved people in the 19th century. The singer identifies themselves as having a thirst for rivers, their color as the rainbow, and hunger for the beauty of flowers. The line "irmã da bandeira" refers to the green and yellow flag of Brazil, connecting the singer's identity to the national identity. The final line compares the singer's destiny to that of a banana tree, another symbol of Brazil.
The final stanza contains references to both nature and Afro-Brazilian religions, with an emphasis on the power of the goddess Oxum. The first two lines describe a lush forest, with the contrast of precious metals against the greenery. "Labarágua" is a term that refers to a waterfall in the Yoruba language, which is spoken in parts of West Africa and is an influence in many Afro-Brazilian religions. The line "cobra de ferro, Oxum-Maré" may refer to a specific legend in which Oxum-Maré, Oxum as the goddess of the sea, is represented by a serpent made of iron. The final lines describe the metaphorical power of Jêje, with their wings of a dove and ability to withstand the attacks of enemies. The line "uirapuru das cinzas" refers to a Brazilian bird associated with rebirth and renewal.

Line by Line Meaning
Dorival Caymmi falou para Oxum
The legendary Brazilian singer Caymmi spoke to the deity Oxum
Com Silas tô em boa companhia
I am in good company with Silas
O Céu abraça a Terra
The sky embraces the earth
Deságua o rio na Bahia
The river ends up in Bahia
Jêje, minha sede é dos rios
My thirst is for the rivers, Jêje
A minha cor é o arco-íris
My color is the rainbow
Minha fome é tanta
My hunger is intense
Planta flor, irmã da bandeira
Plant flowers, sister of the flag
A minha sina é verde-amarela
My destiny is green and yellow
Feito a bananeira
Like a banana tree
Ouro cobre o espelho esmeralda
Gold covers the emerald mirror
No berço-esplêndido a floresta em calda
In the splendid cradle, the forest is in syrup
Manjedoura d'alma
Manger of the soul
Labarágua, sete quedas em chama
Labarágua, seven fiery waterfalls
Cobra de ferro, Oxum-Maré
Iron snake, Oxum-Maré
Homem e mulher na cama
Man and woman in bed
Jêje tuas asas de pomba
Your wings like a dove, Jêje
Presas nas costas
Trapped on your back
Com mel e dendê
With honey and palm oil
Agüentam por um fio
They endure by a thread
Sofrem o bafio da fera
They suffer the breath of the beast
O bombardeiro de Caramuru
The bombardier of Caramuru
A sanha d'Anhanguera
The fury of Anhanguera
Jêje tua boca do lixo
Your garbage dump mouth, Jêje
Escarra o sangue
Spits out blood
De outra hemoptise
From another hemoptysis
No canal do mangue
In the mangrove canal
O uirapuru das cinzas chama
The uirapuru bird calls from the ashes
Rebenta a louça, Oxum-Maré
Breaks the dishes, Oxum-Maré
Dança em teu mar de lama
Dances in your sea of mud
Lyrics © Universal Music Publishing Group, Sony/ATV Music Publishing LLC, Warner Chappell Music, Inc.
Written by: Aldir Blanc Mendes, Gabriela Marques Da Costa Leite, Joao Bosco De Freitas Mucci

Lyrics Licensed & Provided by LyricFind
To comment on or correct specific content,
highlight it
Genre not found
Artist not found
Album not found
Search results not found
Song not found