Bugs Got a Devilish Grin Conga
Clint Mansell Lyrics
[Instrumental]
Lyrics © Warner/Chappell Music, Inc., Universal Music Publishing Group
Written by: CLINTON DARRYL MANSELL

Lyrics Licensed & Provided by LyricFind
To comment on specific lyrics,
highlight them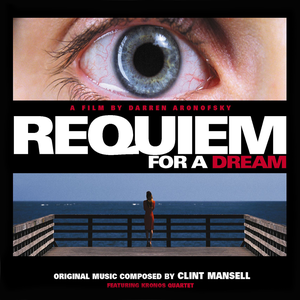 Bugs Got a Devilish Grin Conga
Clinton Darryl "Clint" Mansell, (born 7 January 1963) is an English musician, composer, and former lead singer and guitarist of the band Pop Will Eat Itself.
After the disbanding of Pop Will Eat Itself in 1996, Mansell was introduced to film scoring when director Darren Aronofsky, hired him to score his debut film, π. Mansell then wrote the score for the next Aronofsky film, Requiem for a Dream, which has been well received. Mansell's composition for The Fountain was nominated for Best Original Score at the 64th Annual Golden Globe Awards.
Read Full Bio
Clinton Darryl "Clint" Mansell, (born 7 January 1963) is an English musician, composer, and former lead singer and guitarist of the band Pop Will Eat Itself.
After the disbanding of Pop Will Eat Itself in 1996, Mansell was introduced to film scoring when director Darren Aronofsky, hired him to score his debut film, π. Mansell then wrote the score for the next Aronofsky film, Requiem for a Dream, which has been well received. Mansell's composition for The Fountain was nominated for Best Original Score at the 64th Annual Golden Globe Awards. His other notable film scores include Moon, Smokin' Aces, The Wrestler, and Black Swan. Mansell's score for Darren Aronofsky's π was followed up by his score for Aronofsky's next film, Requiem for a Dream, which became a cult hit. Since their first collaboration in 1996, Mansell has composed the music to every Aronofsky film. Other notable achievements include the theme for the film The Hole, the music for the pilot episode of CSI: NY, and the score for Aronofsky's later films The Fountain, which was nominated for Best Original Score in the 64th Annual Golden Globe Awards, and The Wrestler. Mansell has also contributed the score to HBO's Voyeur. The song was also used as the base theme for the song "Throw It Up" by Lil Jon. His most recent work has been on the soundtrack for Black Swan in 2010. Mansell's theme tune for sci-fi movie Moon also appears on the trailer for the film The Iron Lady. Mansell also contributed music to Lord of the Rings. The trailer for The Lord of the Rings: The Two Towers contained a rearranged version of the track "Lux Æterna", using a full orchestra and choir. The piece, named "Requiem for a Tower", was recorded especially for the trailer. The orchestration was arranged by Simone Benyacar, Dan Nielsen, and Veigar Margeirsson. "Lux Æterna" has since become popular, with both the original and the "Requiem for a Tower" version having appeared in a wide variety of advertisements and trailers, including the trailer for the Red Sox–Yankees games in the 2007 Major League Baseball season, and trailers for the films Zathura, The Da Vinci Code, Sunshine, Babylon A.D. and the TV series Lost and Top Gear. It was also used on Sky Sports News and as the theme for Soccer Saturday from 2007-2009. In 2006, the theme was used in EuroSport LIVE trailers. The theme was also used by America's Got Talent as an introduction of the judges before being changed slightly. The new variant is now a regular piece on the show. Another well known trailer cue is "Death Is the Road to Awe" from the score for The Fountain which was featured in a trailer for the 2007 film I Am Legend, the trailer for the film The Mist, as well as the trailer for the film Frost/Nixon, and toward the end of 2007 The Final Cut trailer for Blade Runner.

Scoring credits

Pi, 1998
Requiem for a Dream, 2000
World Traveler, 2001
The Hole, 2001
Knockaround Guys, 2001
Rain, 2001
Abandon, 2002
Murder by Numbers, 2002
Sonny, 2002
The Hire: Ticker, 2002
11:14, 2003
Suspect Zero, 2004
Sahara, 2005
Doom, 2005
The Fountain, 2006
Trust the Man, 2006
Smokin' Aces, 2006
Wind Chill, 2007
In The Wall, 2007
Definitely, Maybe, 2008
The Wrestler, 2008
Blood: The Last Vampire, 2009
Moon, 2009
L'affaire Farewell, 2009
The Rebound, 2010
Black Swan, 2010
Last Night, 2010
Faster, 2010
United, 2011
Mass Effect 3, 2012 (TBA)
Filth, 2013

http://www.clintmansell.com
Genre not found
Artist not found
Album not found
Search results not found
Song not found