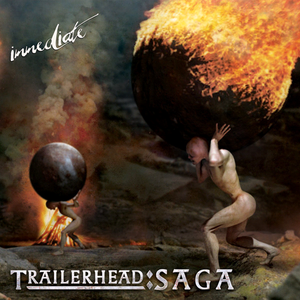 Launched in 1993 in Santa Monica, Los Angeles, by composers/producers Yoav Goren and Jeffrey Fayman, Immediate Music LLC has since become Hollywood's preeminent supplier of original music for high profile, major studio feature film trailers. Having produced, scored and licensed music for over 7000 film trailers and TV spots, Immediate Music has always striven to maintain the highest production standards by recording their premium productions with large scaled orchestras and choirs
Read Full Bio
Launched in 1993 in Santa Monica, Los Angeles, by composers/producers Yoav Goren and Jeffrey Fayman, Immediate Music LLC has since become Hollywood's preeminent supplier of original music for high profile, major studio feature film trailers. Having produced, scored and licensed music for over 7000 film trailers and TV spots, Immediate Music has always striven to maintain the highest production standards by recording their premium productions with large scaled orchestras and choirs, and utilizing the finest musicians and film score mixers in the entertainment industry. This style of rousing, propulsive orchestral music has set a standard and has been credited with establishing the genre often referred to as Epic Trailer Music.

Just some of campaigns, old and new, with trailers featuring compositions by Immediate Music include: "Jurassic World," "Tomorrowland," "Avengers - Age of Ultron," "Fantastic 4," "Ant-Man," "Steve Jobs," "The Gunman," "Cincerella," "American Sniper," "Still Alice," "Attack on Titan," "Max," "Hancock," "The Incredible Hulk," "Iron Man," "The Chronicles of Narnia: Prince Caspian," "Pirates of the Caribbean 3," "Horton Hears a Who," "Hellboy 2," "The Mummy: Tomb of the Dragon Emperor," and the custom score for "Dragonball," as well as the upcoming "Harry Potter and the Half Blood Prince," "X-Men 1-3," "Spiderman 2 & 3," "Harry Potter 1-5," "The Da Vinci Code," "Pirates: Dead Man's Chest," "Superman Returns," "Lord of the Rings," "Gladiator" and "American Beauty"

Immediate Music has also contributed sound design elements to many trailers along with the films themselves. TV commercials and exclusive web content have rounded-out the mix of the many places where one might find Immediate Music's music.

Immediate Music continues to release select collections to the public via Imperativa Records and in 2015 partnered with DashGo for the distribution of select never-released-before premium production tracks. Yoav Goren has also parlayed his love of football (soccer) into a collection of anthems by many of the world's top teams via Futbol is Epic! - also available on Imperativa Records.
Genre not found
Artist not found
Album not found
Search results not found
Song not found
We have lyrics for 'Invictus' by these artists:



Allfather Unconquerable spirit, true to the power of the mind No…
Ancient Rites Out of the night that covers me, Black as the pit…
Brave Saint Saturn I've been breaking my back... yeah, Only to show You, How…
Carved in Stone Out of the night that covers me, black as the pit…
Corpus Christi Our wisdom is the raving of fools. Our knowledge is…
Eternal Helcaraxe Roar the horns of triumph, For they face a legion of…
Eternal Malediction "Algo estranho, no ceu tudo escuro Em minha alma so existem…
Ex Deo Elegance, we salute you King and liberator of the world…
Folkearth Come o'twilight Gently caress the gleaming snow As weary…
Holyhell Out of the night that covers me Black as a pit…
Lamb of God Unconquered Life is born of agony's strain Manifested in…
Liar Storm of violence Face the new game called fear spread…
Necromantia Out of the night that covers me Black as the pit…
Noctem "I felt victorious today, I felt undefeated. Among hazy memo…
Per Vers Midt i natten som omslutter mig sort som graven, kold og…
Satyrian Invictus… Invictus… ??? Where the sun does never shine, …
Six Elements Out of the night that covers me, Black as the Pit…
Under Ember Skies We bear these scars, a testament to resilience. Our shattere…
Varg Am Ende des Feldes zittern die Feinde Blattgleich fallen di…
Virgin Steele I sing of power, magick and faith A sonnet of…



We have lyrics for these tracks by Immediate Music:



Heroes Crusade Sangra Loti Retisan Con Mia Soleta Ni Retisan Sonkolani Reti…

The lyrics can frequently be found in the comments below, by filtering for lyric videos or browsing the comments in the different videos below.