Instrumental
Lyrics Licensed & Provided by LyricFind
To comment on specific lyrics,
highlight them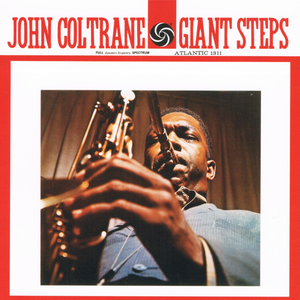 "'Giant Steps'" is a jazz recording by John Coltrane, on tenor saxophone, which is the first track on the album of the same name and is 4 minutes and 49 seconds long. The composition is a milestone for jazz musicians' progress, given the difficulty of improvising its rapid progression of chord changes that progress through three keys shifted by major thirds.

The saxophonist had previously used this technique on the LP Blue Train on the tunes Moment's Notice and Lazy Bird.
Read Full Bio
"'Giant Steps'" is a jazz recording by John Coltrane, on tenor saxophone, which is the first track on the album of the same name and is 4 minutes and 49 seconds long. The composition is a milestone for jazz musicians' progress, given the difficulty of improvising its rapid progression of chord changes that progress through three keys shifted by major thirds.

The saxophonist had previously used this technique on the LP Blue Train on the tunes Moment's Notice and Lazy Bird. Coltrane continued in this vein on a recording with Cannonball Adderley of the standard "Limehouse Blues," and on his original "Fifth House." He continued to use this approach on other tunes, such as "Countdown", based on the Miles Davis tune "Tune Up"; "26 2" based on Charlie Parker's "Confirmation"; and a reharmonization of the jazz standard "Body and Soul." Songs such as "Naima" and "Like Sonny" also show some harmonic similarity to "Giant Steps." Coltrane continued to employ similar concepts in his soloing during his more open and modal middle period. A Love Supreme features examples of lines based on "Giant Steps" cycles over modal vamps, to create a Polytonal effect.

The progression continues to stimulate harmonic thinking in contemporary jazz. There are a number of different approaches to soloing on the song. While Coltrane favoured arpeggiation over the changes, other players have used different tricks and patterns to bring out the sound of the changes. The chord progression was later used by Freddie Hubbard as a basis for his composition "Dear John." Covers have been recorded by such artists as Pat Metheny, Buddy Rich, Jaco Pastorius, Mike Stern, Greg Howe, Tommy Flanagan (who played on the original recording), McCoy Tyner, Kenny Werner, Kenny Garrett, Woody Herman, and Taylor Eigsti.

John Coltrane was known for coming into the studio with unrehearsed songs - "Giant Steps" was no exception. On the original recording, Tommy Flanagan (piano) played a choppy start-stop solo where it sounds like he is struggling to improvise over Coltrane changes without adequate preparation. Flanagan would revisit Giant Steps on several recordings later in his career and mastered the progression.

John Coltrane - tenor sax
Tommy Flanagan - piano
Paul Chambers - bass
Art Taylor - drums

Written by John Coltrane
Recorded May 5, 1959 at Atlantic Studios, New York
Originally released on the album Giant Steps, Atlantic SD-1311, January 1960
Genre not found
Artist not found
Album not found
Search results not found
Song not found