Jump to: Overall Meaning | Line by Line Meaning
Hey, hey, mama, said the way you move
Gon' make you sweat, gon' make you groove
Ah-ah, child, way ya shake that thing
Gon' make you burn, gon' make you sting
Hey, hey, baby, when you walk that way
Watch your honey drip, can't keep away
Oh yeah, oh yeah, ah, ah, ah
Oh yeah, oh yeah, ah, ah, ah
I gotta roll, can't stand still
Got a flamin' heart, can't get my fill
With eyes that shine, burnin' red
Dreams of you all through my head
Ah-ah, ah-ah
Ah-ah, ah-ah
Ah-ah, ah-ah, ah
Hey, baby, whoa, baby, my pretty baby
Darlin,' make 'em do it now
Hey baby, oh, my baby, my pretty baby
Move the way you're doin' now
Didn't take too long 'fore I found out
What people mean by down and out
Spent my money, took my car
Started tellin' her friends she gon' be a star
I don't know, but I been told
A big-legged woman ain't got no soul
Oh yeah, oh yeah, ah, ah, ah
Oh yeah, oh yeah, ah, ah, ah
All I ask for, all I pray
Steady rollin' woman gon' come my way
Need a woman gonna hold my hand
Won't tell me no lies, make me a happy man
Ah-ah, ah-ah
Ah-ah, ah-ah
Ah-ah, ah-ah, ah
Overall Meaning
The lyrics of "Black Dog" by Led Zeppelin seem to be about the overwhelming power of desire and attraction. The song opens with an address to a woman by Robert Plant, who comments on the way she moves (presumably sexually) and the effect that it has. He tells her that she is going to make people sweat and groove. The use of the phrase "gon' make you" is suggestive of inevitability and instinctive behavior, implying that the sexuality is almost out of the individual's control.
The chorus of the song emphasizes the power of the woman's movement, with repeated "oh yeah" and "ah-ah" sounds creating a sense of excitement and anticipation. Plant describes his own emotions in response to this woman, stating that he has to move and can't stand still. The imagery of a "flamin' heart" conveys intense passion and desire. The bridge of the song brings in a more narrative element, describing a woman who seems to have used the singer for fame and success.
Overall, "Black Dog" is a song about the primal power of desire and the way it can overcome rational thought and decision-making. The lyrics are strikingly erotic and vivid, conveying the sense of a physical attraction that is almost irresistible.

Line by Line Meaning
Hey, hey, mama, said the way you move
Mother, your style of movement is so enticing that it will lead to perspiration and motion
Gon' make you sweat, gon' make you groove
This will induce a physical response of sweat and motion
Ah-ah, child, way ya shake that thing
The way you dance is so explosive that it will cause burning and stinging
Gon' make you burn, gon' make you sting
Your movements have the potential to cause pain and discomfort
Hey, hey, baby, when you walk that way
Dear, when you walk with that particular gait
Watch your honey drip, can't keep away
The observer experiences a strong attraction to seeing you walking that way, like nectar dripping from a flower
Oh yeah, oh yeah, ah, ah, ah
The joy and thrill one experiences watching you in motion
I gotta roll, can't stand still
I must move, I am incapable of being stationary
Got a flamin' heart, can't get my fill
My heart is aflame, and I will never be content
With eyes that shine, burnin' red
My eyes are aglow, burning with emotions
Dreams of you all through my head
You occupy my entire being, and I can't stop thinking about you
Hey, baby, whoa, baby, my pretty baby
Oh dear, beautiful woman whom I adore
Darlin,' make 'em do it now
Please don't wait, take action and do it now
Didn't take too long 'fore I found out
It took no time for me to discover
What people mean by down and out
What individuals imply when they say they are struggling
Spent my money, took my car
I exhausted my finances and lost my vehicle
Started tellin' her friends she gon' be a star
She began telling her friends that she will become a celebrity
I don't know, but I been told
I am uncertain, but have heard
A big-legged woman ain't got no soul
Individuals of ample physical proportions lack spirituality
All I ask for, all I pray
All I desire and hope for
Steady rollin' woman gon' come my way
I will soon find a reliable and consistent partner
Need a woman gonna hold my hand
A partner to hold, comfort and support me
Won't tell me no lies, make me a happy man
They must be trustworthy and truthful, and enable me to find happiness
Ah-ah, ah-ah
Admiration for the goddess-like figure
Ah-ah, ah-ah
Commendation for the powerful and strong
Ah-ah, ah-ah, ah
The beauty of femininity and strength in its whole essence
Lyrics © BMG Rights Management, Universal Music Publishing Group, Sony/ATV Music Publishing LLC, Songtrust Ave, Warner Chappell Music, Inc.
Written by: James Patrick Page, Robert Anthony Plant, John Paul Jones

Lyrics Licensed & Provided by LyricFind
To comment on or correct specific content,
highlight it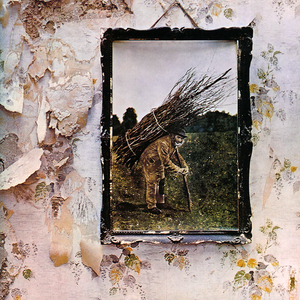 "Black Dog" is a song by English rock band Led Zeppelin, which is featured as the lead-off track of their fourth album, released in 1971. It was also released as a single in the US and Australia with "Misty Mountain Hop" on the B-side, and reached #15 on Billboard and #11 in Australia.

In 2004 the song was ranked #294 on Rolling Stone's list of the 500 Greatest Songs of All Time.
Genre not found
Artist not found
Album not found
Search results not found
Song not found