Jump to: Overall Meaning | Line by Line Meaning
Weather man said it's gonna snow
By now I should be used to the cold
Mid-February shouldn't be so scary
It was only December
I still remember the presents, the tree, you and me
But you went away
How dare you, I miss you
They say I'll be OK
But I'm not going to ever get over you
Living alone here in this place
I think of you, and I'm not afraid
Your favorite records make me feel better
'Cause you sing along with every song
I know you didn't mean to give them to me
But you went away
How dare you, I miss you
They say I'll be OK
But I'm not going to ever get over you
It really sinks in, you know
When I see it in stone
'Cause you went away,
How dare you, I miss you
They say I'll be OK
But I'm not going to ever get over you
Overall Meaning
Miranda Lambert's "Over You" is a poignant song that speaks about the pain of losing someone you love. The song is about Lamberts' own experience of losing her brother at a young age. The opening lines, "Weatherman said it's gonna snow, by now I should be used to the cold," convey the feeling of numbness and the idea that she should be able to deal with the loss by now. She then goes on to talk about the feeling of sadness in mid-February, a time when it should not be scary, as it was only in December when they were all together.
The chorus is the emotional core of the song. The lines "How dare you, I miss you, they say I'll be okay, but I'm not going to ever get over you" express the feeling of betrayal and sadness that comes with losing someone close to you. The second verse is about Lambert finding solace in music, particularly her ex's favorite records. The lines "I know you didn't mean to give them to me" show that sometimes memories of the departed can be painful, but they still bring a sense of comfort at the same time. The bridge brings everything full circle as she talks about seeing it in stone, meaning the realization that her loved one is gone forever.

Line by Line Meaning
Weather man said it's gonna snow
The weather forecast predicts snowfall, which serves as an external reminder of the coldness and loneliness of the speaker's life.
By now I should be used to the cold
The speaker has been through enough heartbreaks and difficulties to acclimate to the pain, but it still hurts.
Mid-February shouldn't be so scary
Although February is usually associated with love, warmth, and Valentine's Day, the speaker feels overwhelmed and scared by her feelings of loss and sadness.
It was only December
The speaker is reflecting on a recent event or breakup that occurred in December, but it feels like it was just yesterday due to the emotional pain and the heavy weight of their absence.
I still remember the presents, the tree, you and me
The speaker recalls happier times with their partner, such as the holiday season when they exchanged gifts and decorated a Christmas tree together.
But you went away
The speaker's partner left, abandoned, or passed away, leaving the speaker feeling lost, broken, and alone.
How dare you, I miss you
The speaker feels angry, hurt, and betrayed by their partner's departure, but they still yearn for them and their presence in their life.
They say I'll be OK
People around the speaker are trying to reassure them that they will eventually move on from this heartbreak, but the speaker feels it's impossible to do so.
But I'm not going to ever get over you
The speaker expresses their conviction that they will never be able to fully recover and let go of their partner or the happy memories they shared together.
Living alone here in this place
The speaker is residing in a house or an apartment that once housed joyful moments shared with their partner, but is now empty and full of painful reminders.
I think of you, and I'm not afraid
Thinking about their partner's absence and memories, reminds the speaker of their love and affection, allowing them to find a sense of comfort amidst the pain.
Your favorite records make me feel better
The speaker finds solace in listening to their partner's favorite music and singing along, as it reminds them of happy times shared with their partner.
'Cause you went away.
The speaker repeats this line for emphasis, emphasizing the profound impact of their partner's departure and its lasting effects.
It really sinks in, you know
The realization that their partner is gone and won't be coming back, becomes more and more painful for the speaker over time, rather than the other way around.
When I see it in stone
Seeing something solid and permanent, such as a tombstone or grave marker, makes the reality of their partner's absence hit home for the speaker.
But I'm not going to ever get over you
The speaker reaffirms their conviction that no matter what people say, they can never let go of the love and connection they shared with their partner.
Lyrics © Sony/ATV Music Publishing LLC
Written by: Blake Shelton, Miranda Lambert

Lyrics Licensed & Provided by LyricFind
To comment on or correct specific content,
highlight it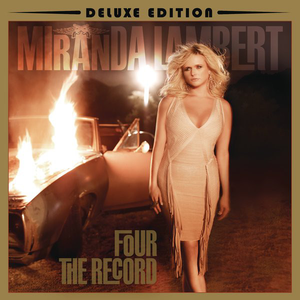 The Over You Songfacts reports that Miranda Lambert penned this poignant cut with her husband, Blake Shelton. It is inspired by the memory of Blake's older brother Richie Shelton, who died in a car accident in 1990.
Genre not found
Artist not found
Album not found
Search results not found
Song not found