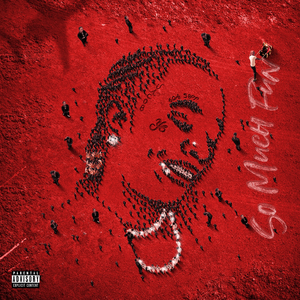 Jeffery Lamar Williams, better known by his stage name Young Thug (also uses the…
Read Full Bio ↴
Jeffery Lamar Williams, better known by his stage name Young Thug (also uses the name "SEX!!" and was briefly known as "Jeffery"), is an American rapper from Atlanta, Georgia who is signed to Gucci Mane's 1017 Brick Squad Records, Asylum Records and Atlantic Records. Thug grew to prominence in 2013 after releasing his mixtape 1017 Thug to positive critical reception. He has collaborated with artists such as Gucci Mane, Young Scooter, Rich Homie Quan and Waka Flocka Flame.

Thug was born amongst the masses eliminating any doubt that he wouldn't be special. The second youngest child of 11 children developed a skill for standing out amongst many, early. Young Thug moved to Jonesboro, an impoverished suburb of Georgia where his lifestyle was engrossed by the crime, drug addiction and violence that surrounded him. It was there that he developed an insatiable appetite to succeed his current situation. After discovering and acknowledging his talent and creativity for music in 2010, Thug started a new hustle that would soon mature as one of the most promising music careers in the South. He also founded the record label YSL ( Young Stoner/Slatt Life) in 2010.


Eyeballing the throne of Hip hop royalty, Young Thug began to create a sound and style that would inevitably place him on top. Young Thug's catchy verses and raw lyrical talent distinguished noise from art, clearly being the latter his creations are the best that remain of Southern hip hop. He is the embodiment of the evolution of Southern hip-hop. Young Thug is the representative for a generation that doesn't see hip-hop as a hobby but a lifestyle. Keeping true to himself, his art, and his home Young Thug will stand alone as the one true savior of the Southern movement.

2. Young Thug aka The Demon Child is hardcore/horrorcore rapper/beatmaker from Central France. Often collaborated with Lil Prod. Also he made 2 albums under the alias Da Mystic Terror, in these 2 albums he changed his voice to make it sounds like it's an other person rapping.
Official blogspots:
http://demonchildproductions.blogspot.com/
http://lilproddiscographie.blogspot.com/
Jumped Out The Window
Young Thug Lyrics
Jump to: Overall Meaning ↴ Interesting Facts ↴ Line by Line Meaning ↴
(Hey)
(Hey) (let's go, Mario)
Jumped out the window and I fled on the cops (woo)
Nigga had to run 'cause I had meds in my socks (slatt)
Hit the rocky road, then I led 'em to the projects (whoa)
Whole hood outdoors in the street, they tryna stop 'em (no cap)
Fuck a callin' coppa, fuck a fuckin' cock block (yeah)
Fucked her one time, iced baguettes in my socks (yeah)
All them bitches 'round, tryna trick me out my cock (yeah)
Trappin' out a four door, old Carrera with the drop
I been in the trenches with three niggas called pork and beans
Chillin' with the Zoes, that's my family, they my ahks
Cook it watch it roll 'round the pot, then they come shop (woo, woo, woo, woo)
Playin' with the Spider, they pull up and then they chop (rrr)
Niggas 'round here funny, we cook up the bunnies (woo, woo)
I done showed my chest, bitches say they want me
I don't know the rest (yeah), niggas ain't no slimy (hey)
Show you the finesse, everybody 'round me (slatt)
Everywhere I go, I keep that strap like I'm horny (yeah)
Yellow diamonds on me, uh-uh-uh, but I'm not corny (yeah)
I am so not sorry, so don't tell me 'bout your story (uh-uh)
Black and white seats, Ore' (Ore'), five rings, Horry (Horry)
MAC-10 hungry (hungry), you pussies are baloneys (yeah)
I been with your mummy 'cause your daddy a jabroni (ha)
I been in the top room at Tootsie's, they ain't stop me
They know I got money, and I don't want nothing (Uh-uh)
Jumped out the window and I fled on the cops (woo)
Nigga had to run 'cause I had meds in my socks (ayy)
Hit the rocky road, then I led them to the projects (on God)
Whole hood outdoors in the streets, they tryna stop 'em (yeah)
Fuck a callin' coppa, fuck a fuckin' cock block (fuck 'em)
Fucked her one time, iced baguettes in my socks (yeah)
All them bitches 'round, tryna trick me out my cock
Trappin' out a four door, old Carrera with the drop (skrr)
Big baguettes on niggas, it make lil' mama come and pamper me (yeah-yeah-yeah, yeah)
I be with my brodie 'cause he won't let nothing happen to me
I don't want your baby girl, you're nothing but a scam to me
I been ballin' on niggas like D Wade and they can't handle me (woo)
Broke niggas scam to me (yeah-yeah), don't put out my candle leaf
I just hit my groove and now we growin' none but Hercules
I just hit my dawg up, he said he went to church for me (to church)
Ran into the opps, kill 'em 'cause they tryna murder me
My niggas look like Starburst, make 'em all squirt (yeah-yeah-yeah)
Let me shop hoe, I can't buss you in the mall, jerk (yeah-yeah-yeah)
Shoot a nigga hands up like I'm Lil Durk (on God)
I got semi-automatics on the tour bus (woo)
Jumped out the window and I fled on the cops (skrt)
Nigga had to run 'cause I had meds in my socks (ayy)
Hit the rocky road, then I led them to the projects (on God)
Whole hood outdoors in the street, they tryna stop 'em (yeah)
Fuck a callin' coppa, fuck a fuckin' cock block (fuck 'em)
Fucked her one time, iced baguettes in my socks (yeah)
All them bitches 'round, tryna trick me out my cock
Trappin' out a four door, old Carrera with the drop (hey)
Overall Meaning
Young Thug's "Jumped Out The Window" is a song about escaping the cops and avoiding trouble. The lyrics talk about how Young Thug had to run from the cops after having medication in his socks. He describes leading the police to the projects, and the whole neighborhood tries to stop them. He speaks on ignoring women who are trying to take advantage of him and focuses on his drug dealings that involve cooking and selling. He refers to his friends, who he considers family, and mentions that they protect him. Young Thug also boasts about his wealth, showing off his diamonds and the luxurious car he drives.
The hook "Jumped out the window and I fled on the cops, nigga had to run 'cause I had meds in my socks" highlights the appeal of outsmarting the law by eluding them, even when they are chasing you. Young Thug cleverly describes his situation and how he maneuvered himself out of trouble. The lyrics also depict his desire to be in control in dangerous situations quickly.
In conclusion, Young Thug's "Jumped Out The Window" blends his usual trap style with a bit of storytelling. He touches on his personal experiences and offers a glimpse into the world of lawbreaking and drug dealing. The song is both an ode to life in the drug game, as well as a warning that it is not something to be taken lightly. Overall, the song speaks on a lifestyle filled with thrill, dangers, and an unapologetic approach to it all.
Interesting facts about the song:
Interesting Facts
Note: This section uses generative AI, which can be inaccurate.


Line by Line Meaning
Jumped out the window and I fled on the cops (woo)
I had to escape from the police by jumping out of a window and running away.
Nigga had to run 'cause I had meds in my socks (slatt)
I had to run because I had drugs hidden in my socks.
Hit the rocky road, then I led 'em to the projects (whoa)
I ran through dangerous terrain and led the police to the projects where my friends and family live.
Whole hood outdoors in the street, they tryna stop 'em (no cap)
Everyone in the neighborhood was outside trying to stop the police from catching me.
Fuck a callin' coppa, fuck a fuckin' cock block (yeah)
I don't trust the police and I won't let anyone get in the way of me doing what I want to do.
Fucked her one time, iced baguettes in my socks (yeah)
I had sex with a woman and kept my expensive jewelry hidden in my socks.
All them bitches 'round, tryna trick me out my cock (yeah)
All the women around me are trying to take advantage of me.
Trappin' out a four door, old Carrera with the drop
I'm selling drugs out of a four-door car with the top down.
I been in the trenches with three niggas called pork and beans
I have been in dangerous situations with three of my friends.
Chillin' with the Zoes, that's my family, they my ahks
I am hanging out with my family, the Zoes.
Cook it watch it roll 'round the pot, then they come shop (woo, woo, woo, woo)
I'm cooking drugs and then people come to buy them from me.
Playin' with the Spider, they pull up and then they chop (rrr)
I am involved in a dangerous situation with some people who are violent.
Niggas 'round here funny, we cook up the bunnies (woo, woo)
People in this area are strange and we are cooking drugs to sell.
I done showed my chest, bitches say they want me
I have exposed myself to women and they are interested in me sexually.
I don't know the rest (yeah), niggas ain't no slimy (hey)
I don't know all of the details, but I don't trust people who are sneaky.
Show you the finesse, everybody 'round me (slatt)
I will demonstrate my skill and impress everyone around me.
Everywhere I go, I keep that strap like I'm horny (yeah)
I always carry a weapon with me, like I'm always sexually aroused.
Yellow diamonds on me, uh-uh-uh, but I'm not corny (yeah)
I have expensive yellow diamonds on me, but I'm still cool and not cheesy.
I am so not sorry, so don't tell me 'bout your story (uh-uh)
I don't care about your problems, so don't bother telling me about them.
Black and white seats, Ore' (Ore'), five rings, Horry (Horry)
I have fancy car seats and am wearing five championship rings like Robert Horry.
MAC-10 hungry (hungry), you pussies are baloneys (yeah)
My gun is ready to attack and I don't respect weak people.
I been with your mummy 'cause your daddy a jabroni (ha)
I have slept with your mother because your father is a fool.
I been in the top room at Tootsie's, they ain't stop me
I have been in a high-security area at Tootsie's and nobody stopped me.
They know I got money, and I don't want nothing (Uh-uh)
People know that I have a lot of money, but I don't want anything from them.
Big baguettes on niggas, it make lil' mama come and pamper me (yeah-yeah-yeah, yeah)
My expensive jewelry attracts women who want to please me.
I be with my brodie 'cause he won't let nothing happen to me
I am with my friend who will protect me.
I don't want your baby girl, you're nothing but a scam to me
I don't want to be involved with your daughter because you're only trying to cheat me.
I been ballin' on niggas like D Wade and they can't handle me (woo)
I have been playing basketball better than my opponents, like Dwayne Wade, and they can't beat me.
Broke niggas scam to me (yeah-yeah), don't put out my candle leaf
Poor people try to cheat me, but I won't let them put out my 'candle.'
I just hit my groove and now we growin' none but Hercules
I am doing well and I'm only going to get stronger, like the mythological figure Hercules.
I just hit my dawg up, he said he went to church for me (to church)
I contacted my friend and he said he had prayed for me in church.
Ran into the opps, kill 'em 'cause they tryna murder me
I encountered my enemies and I will kill them to defend myself because they are trying to murder me.
My niggas look like Starburst, make 'em all squirt (yeah-yeah-yeah)
My friends are colorful and powerful, and they make people surrender.
Let me shop hoe, I can't buss you in the mall, jerk (yeah-yeah-yeah)
Let me shop and leave me alone, I won't have sex with you in the mall, jerk.
Shoot a nigga hands up like I'm Lil Durk (on God)
I will shoot someone and make them raise their hands like Lil Durk.
I got semi-automatics on the tour bus (woo)
I have guns on the tour bus for protection.
Lyrics © BMG Rights Management, Universal Music Publishing Group, RESERVOIR MEDIA MANAGEMENT INC, Warner Chappell Music, Inc.
Written by: Jeffery Lamar Williams

Lyrics Licensed & Provided by LyricFind
To comment on or correct specific content,
highlight it
Genre not found
Artist not found
Album not found
Search results not found
Song not found