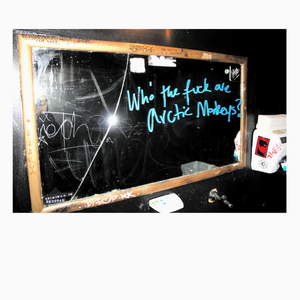 Who the Fuck Are Arctic Monkeys
"Who the Fuck Are Arctic Monkeys?" is the second EP by Sheffield indie rock band Arctic Monkeys, first released on 24 April 2006. The EP features "The View from the Afternoon", the opening track of their debut album Whatever People Say I Am, That's What I'm Not, along with four other songs. "The View from the Afternoon" was originally expected to be the band's third single following UK Number Ones "I Bet You Look Good on the Dancefloor" and "When the Sun Goes Down", but the band announced in March 2006 that their next record would in fact be a
Read Full Bio
"Who the Fuck Are Arctic Monkeys?" is the second EP by Sheffield indie rock band Arctic Monkeys, first released on 24 April 2006. The EP features "The View from the Afternoon", the opening track of their debut album Whatever People Say I Am, That's What I'm Not, along with four other songs.

"The View from the Afternoon" was originally expected to be the band's third single following UK Number Ones "I Bet You Look Good on the Dancefloor" and "When the Sun Goes Down", but the band announced in March 2006 that their next record would in fact be a 5-track EP, thereby disqualifying it from the UK singles and albums charts due to the EP being too long to be a single and being too cheap to be an album. With "The View from the Afternoon" as the A-side, the remainder of the EP is made up of new material, although "Cigarette Smoker Fiona" is a reworking of "Cigarette Smoke" - one of the band's earlier songs that formed part of the "Beneath the Boardwalk" collection of demo CDs.

"Despair in the Departure Lounge" was premiered at a gig in the Great American Music Hall in San Francisco, although it was played by Alex Turner alone due to Andy Nicholson blowing his bass amp.

Although the language content of the EP resulted in less radio airplay than their earlier releases, the nature of the band's rise to fame and its lack of reliance on radio meant that this was not a concern for the band.

The photograph on the cover was taken by Timm Cleasby Photography.
Genre not found
Artist not found
Album not found
Search results not found
Song not found
The View from the Afternoon
Arctic Monkeys Lyrics
Anticipation has a habit to set you up
For disappointment in evening entertainment but
Tonight there'll be some love
Tonight there'll be a ruckus, yeah, regardless of what's gone before
I want to see all of the things that we've already seen
The lairy girls hung out the window of the limousine
Of course it's fancy dress
And they're all looking quite forlorn in bunny ears and devil horns and how
Anticipation has a habit to set you up
For disappointment in evening entertainment but
Tonight there'll be some love
Tonight there'll be a ruckus, yeah, regardless of what's gone before
I want to see all of the things that we've already seen
I wanna see you take the jackpot out the fruit machine
And put it all back in
You've got to understand that you can never beat the bandit, no
And she won't be surprised and she won't be shocked
When she's pressed the star after she's pressed unlock
And there's verse and chapter sat in her inbox
And all that is said is that you've drank a lot
And you should bear that in mind tonight
Bear that in mind, yeah
You should bear that in mind tonight
Bear that in mind
And you can pour your heart out
For a reason it would block
Oh, you send her after nine o'clock
Anticipation has a habit to set you up
For disappointment in evening entertainment but
Tonight there'll be some love
Tonight there'll be a ruckus, yeah, regardless of what's gone before
And she won't be surprised and she won't be shocked
When she's pressed the star after she's pressed unlock
And there's verse and chapter sat in her inbox
And all that is said is that you've drank a lot
And you should bear that in mind tonight
Bear that in mind, yeah
You should bear that in mind tonight
Bear that in mind
And you can pour your heart out
Around three o'clock
When the two-for-ones have done the writer's block
Lyrics © Sony/ATV Music Publishing LLC
Written by: Alex Turner

Lyrics Licensed & Provided by LyricFind
To comment on specific lyrics,
highlight them