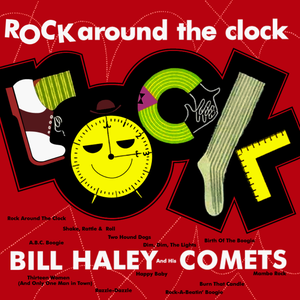 Bill Haley & His Comets was an American rock and roll band that was founded in 1952 in Chester, Pennsylvania, and continued until Haley's death in 1981. The band (sometimes referred to as Bill Haley and The Comets or Bill Haley's Comets; and as The Comets after the death of Haley) was the earliest group of white musicians to bring rock and roll to the attention of white America and the rest of the world. From late 1954 to late 1956, the group scored nine singles in the US Top 20, one of those a number one and three more
Read Full Bio
Bill Haley & His Comets was an American rock and roll band that was founded in 1952 in Chester, Pennsylvania, and continued until Haley's death in 1981. The band (sometimes referred to as Bill Haley and The Comets or Bill Haley's Comets; and as The Comets after the death of Haley) was the earliest group of white musicians to bring rock and roll to the attention of white America and the rest of the world. From late 1954 to late 1956, the group scored nine singles in the US Top 20, one of those a number one and three more in the Top Ten. In 1987, Bill Haley was inducted into the Rock and Roll Hall of Fame; the Comets were belated added in 2012. In July 2005 the surviving members of the 1954–55 Comets represented Haley when Bill Haley and His Comets were inducted into Hollywood's Rockwalk. The Comets placed their handprints in cement; a space was left blank for Haley.

The band initially formed as Bill Haley and the Saddlemen c.1949-1950, and performed mostly country and western songs, though occasionally with a bluesy feel. Many Saddlemen recordings would not be released until the 1970s and 1980s. The original members of this group were Bill Haley, pianist and accordion player Johnny Grande and steel guitarist Billy Williamson. Al Thompson was the group's first bass player, followed by Al Rex and Marshall Lytle.

Haley began his rock and roll career with a cover of "Rocket 88" recorded for Holiday Records label in 1951 which sold well and was followed up a cover of a 1940s rhythm and blues song called "Rock the Joint" in 1952. Both songs were released under the increasingly incongruous Saddlemen name. It soon became apparent that a new name was needed to fit the music the band was now playing. A friend of Haley's, making note of the common alternative pronunciation of the name Halley's Comet to rhyme with Bailey, suggested that Haley call his band The Comets.

The new name was adopted in the fall of 1952. At that time, the members were Haley, Grande, Williamson, and Lytle. Grande usually played piano on record, but switched to accordion for live shows as it was more portable than a piano and easier to deal with during musical numbers that involved a lot of dancing around. Soon after renaming the band, Haley hired his first drummer, Charlie Higler, though Higler was soon replaced by Dick Boccelli (a.k.a Dick Richards). During this time (and indeed, as late as the fall of 1955), Haley did not have a permanent lead guitar player, choosing to use session musicians on record and either playing lead guitar himself or having Williamson play steel solos, instead.

In 1953, Haley scored his first national success with an original song (co-written by an uncredited Marshall Lytle) called "Crazy Man, Crazy", a phrase Haley said he heard from his teenaged audience. Haley later claimed it sold a million copies, but this is considered an exaggeration. "Crazy Man, Crazy" was the first rock and roll song to be televised nationally when it was used on the soundtrack for a 1953 television play starring James Dean.

In early 1954, Haley added Joey Ambrose on tenor sax, and soon after this the band joined Decca Records label of New York City. For their first recording session on April 12, 1954, with session musicians Danny Cedrone on electric guitar and Billy Gussak on drums (standing in for Boccelli), Bill Haley and His Comets recorded "Rock Around the Clock". Haley's biggest hit, and one of the most important records in rock and roll history, sales of "Rock Around the Clock" started slow but eventually sold an estimated 25 million copies and marked the arrival of a cultural shift.

Initially, "Rock Around the Clock" was only a modest success. Much more impressive was the million-seller, "Shake, Rattle and Roll", a somewhat bowdlerdized version of the Big Joe Turner recording of earlier in 1954. Although Haley's recording is often referred to as a cover version, it technically isn't as the song is a) substantially rearranged and bears almost no resemblance to Turner's version and b) it was not released in direct competition with Turner's original. Although Haley's "Shake, Rattle and Roll" never achieved the same level of historical importance as "Rock Around the Clock", it actually predated it as the first major international rock and roll hit, although it did not attain the Number 1 position in the American charts. When Elvis Presley recorded the song in 1956, he combined Haley's arrangement with Turner's original lyrics but failed to score a subtantial hit.

The (belated) success of "Rock Around the Clock" is attributed to its use in the soundtrack of the film Blackboard Jungle, which was released in March 1955. The song, which was re-released to coincide with the film, rose to the top of the American musical charts that summer and stayed there for eight weeks, the first rock and roll record to do so.

In 1955, Lytle, Richards and Ambrose quit the Comets in a salary dispute and formed their own group, The Jodimars. Haley hired several new musicians to take their place: Rudy Pompilli on sax, Al Rex (a former member of the Saddlemen) on double bass, Charles chiz Porter and Ralph Jones on drums; in addition, lead guitarist Franny Beecher, who had been a session musician for Haley since Cedrone's death in the fall of 1954, became a full-time Comet and Haley's first performing lead guitarist. This version of the band became even more popular than the earlier manifestation, and appeared in several motion pictures over the next few years.

Other hits recorded by the band included "See You Later, Alligator" in which Haley's frantic delivery contrasted with the Louisiana langour of the original by Bobby Charles, "Don't Knock the Rock", "Rock-a-Beatin' Boogie", "Rudy's Rock" (the first instrumental hit of the rock and roll era) and "Skinny Minnie".

In 1956, Bill Haley and His Comets appeared in two of the earliest rock and roll movies: Rock Around the Clock, and Don't Knock the Rock.

The band's popularity in the United States began to wane in 1956-57 as sexier, wilder acts such as Elvis Presley and Little Richard began to dominate the record charts (although Haley's cover version of Little Richard's "Rip It Up" - which was released in direct competition - actually outsold the original). After "Skinny Minnie" hit the charts in 1958, Haley found it difficult to score further successes Stateside, although a spin-off group made up of Comets musicians dubbed The Kingsmen did score a hit with the instrumental, "Weekend" that same year.

Overseas, however, Haley and his band continued to be extremely popular, touring the United Kingdom in the spring of 1957, during which Haley and his crew were mobbed by thousands of fans at Waterloo Station in London at an incident dubbed the Second Battle of Waterloo by media. That same year, the Comets toured Australia and in 1958 enjoyed a successful (if riot-dominated) tour of the European mainland. Bill Haley & His Comets were the first major American rock and roll act to tour the world in this way.

In 1960, the band enjoyed its last new hit in the United States with an instrumental version of "Skokiaan", although another instrumental that same year called "Tamiami" almost became a hit.

Haley and the Comets began recording for Warner Brothers in January, creating a series of critically acclaimed, but commercially unsuccessful songs over the next 13-14 months, many in the country and western style. Between 1961 and 1969, Haley and His Comets recorded unsuccessful singles for a number of small labels in America such as Newtown Records, Guest Star Records, APT Records, as well as for United Artists. APT Records even went so far as to release a single under the name B.H. Sees Combo in order to trick American radio stations into playing music by the so-called "has been" group. Guest Star Records released an album of Haley recordings under the name Scott Gregory, possibly due to the fact Haley was having major problems with the Internal Revenue Service at the time. In 1964 there was an abortive attempt to return to Decca with a low-selling recording of Jim Lowe's "The Green Door" backed by "Yeah, She's Evil!" a song that would later be recorded by Elvis Presley as "The Meanest Girl in Town" for the soundtrack of his movie, Girl Happy.

For commercial success in the 1960s, the band had to turn to venues outside the United States. The group continued to be a top concert draw in Europe throughout the 1960s, including a successful stint at the Star Club in Hamburg, Germany where they played around the same time the Beatles performed there.

In 1961-1962, Bill Haley y sus Cometas (as the band was known in Latin America) signed with the Orfeon Records label of Mexico and scored an unexpected hit with "Twist Espanol", a Spanish language recording based on the Twist dance craze that was sweeping America at the time. Haley followed up with what was, for a time, the biggest selling single in Mexican history with "Florida Twist". Although Chubby Checker and Hank Ballard were credited with starting the Twist craze in America, in Mexico and Latin America, Bill Haley and His Comets were proclaimed the Kings of the Twist. Thanks to the success to "Twist Espanol" and "Florida Twist", among others, the band had continued success in Mexico and Latin America over the next few years, selling many recordings of Spanish and Spanish flavored material and simulated live performances (overdubbed audience over studio recordings) on the Orfeon label and its subsidiary, Dimsa. They hosted a TV series entitled Orfeon a Go-Go and made cameo appearances in several movies, lipsynching to some of their old hits. Haley, who was fluent in Spanish, recorded a number of songs in the language, but the vast majority of the band's output during these years were instrumental recordings, many utilizing local session musicians playing trumpet. There was also some experimentation with Haley's style during this time; one single for Orfeon was a folk ballad, "Jimmy Martinez", which Haley recorded without the Comets.

In 1966, the Comets (without Bill Haley) cut an album for Orfeon as session musicians for Big Joe Turner, who had always been an idol to Haley; no joint performance of "Shake, Rattle and Roll" was recorded, however. In a 1974 interview with BBC Radio, Haley said Turner's career was in a slump at this time, so he used his then-considerable influence with Orfeon to get Turner a recording session. The Comets' association with Orfeon/Dimsa ended later that year.

By 1967, as related by Haley in an interview with radio host Red Robinson that same year, the group was "a free agent" without any recording contracts at all, although the band continued to perform regularly in North America and Europe. During this year, Haley -- without the Comets -- recorded a pair of demos in Phoenix, Arizona: a country-western song called "Jealous Heart" for which he was backed by a local mariachi band (and similar in style to the earlier "Jimmy Martinez"), and a late-60s-style rocker called "Rock on Baby" backed by a group called Superfine Dandelion. Neither recording would be released for 30 years. In 1968, Haley and the Comets recorded a single for the United Artists label, a version of That's How I Got to Memphis but no long-term association with the label eventuated. In order to revive his recording career, Haley needed to turn to Europe.

By the late 1960s, Haley and the Comets were considered an oldies act. The band's popularly never waned in Europe, and the group signed a lucrative deal with Sonet Records of Sweden in 1968 that resulted in a new version of "Rock Around the Clock" hitting the European charts that year. The band would record a mixture of live and studio albums for the label over the next decade.

In the United States in 1969, promoter Richard Nader launched a series of rock and roll revival concert tours featuring "oldies" acts of the 50s and 60s. One of the first of these shows, held at the Felt Forum at Madison Square Garden in New York City, resulted in Haley receiving an eight-and-a-half minute standing ovation following his performance, as Nader related in his recorded introduction to Haley's live album Bill Haley's Scrapbook, which was recorded a few weeks later at New York's Bitter End club.

The band appeared in several concert films in the early 1970s, including The London Rock and Roll Show and Let the Good Times Roll. After 1974, tax and management problems prevented Haley from performing in the United States, so he performed in Europe almost exclusively, though he also toured South America in 1975. The band was also kept busy in the studio, recording numerous albums for Sonet and other labels in the 1970s, several with a country music flavor. In 1974, Haley's original Decca recording of "Rock Around the Clock" hit the American sales charts once again thanks to its use in American Graffiti and Happy Days.

In February 1976, Haley's saxophone player and best friend, Rudy Pompilli, died of cancer after a nearly 20-year career with the Comets. Haley continued to tour for the next year with a succession of new sax players, but his popularity was waning again and his 1976 performance in London was critically lambasted by music media such as Melody Maker. In early 1977 Haley announced his retirement from performing and settled down at his home in Mexico. According to the John Swenson biography of Haley, the musician was quoted as saying that he and Pompilli had an agreement that if one died, the other would retire.

The Comets continued to tour on their own during this period.

In 1979, Haley was persuaded to return to performing with the offer of a lucrative contract to tour Europe. An almost completely new group of musicians, mostly British, were assembled to perform as The Comets, and Haley appeared on many TV shows as well as in the movie Blue Suede Shoes, filmed at one of his London concerts in March 1979. A few days later, a performance in Birmingham was videotaped and aired on UK television; it was released on DVD in 2005.

In November 1979, Haley and the Comets performed for Queen Elizabeth II, a moment Haley considered the proudest of his career. It was also the last time he performed in Europe and the last time most fans saw him perform "Rock Around the Clock".

In 1980, Bill Haley and His Comets toured South Africa but Haley's health was failing and it was reported that he had a brain tumor. The tour was critically lambasted, but surviving recordings of a performance in Johannesburg show Haley in good spirits and good voice. Nonetheless, according to the Haley News fan club newsletter and the Haley biography Sound and Glory, planned concerts such as a fall 1980 tour of Germany, and proposed recording sessions in New York and Memphis were cancelled -- including a potential reunion with past members of the Comets -- and Haley returned to his home in Harlingen, Texas where he died in his sleep of an apparent heart attack on February 9, 1981.

In April 1981, Bill Haley & His Comets returned to the British musical charts once again when MCA Records (inheritors of the Decca catalog) released "Haley's Golden Medley", a hastily compiled edit of the band's best known hits in the style of the then-popular "Star on 45" format. The single reached No. 50 in the UK but was not released in the United States.

In 1987, Bill Haley was inducted into the Rock and Roll Hall of Fame. At that time, supporting bands were not also named to the hall. This policy has since changed and efforts have been under way for several years to have The Comets also named to the Hall. Bill Haley and His Comets have also been inducted into the Rockabilly Hall of Fame and, in July 2005, the surviving members of the 1954-55 Comets represented Haley when Bill Haley and His Comets were inducted into Hollywood's Rockwalk, a ceremony also attended by Haley's second wife and youngest daughter. The Comets placed their handprints in cement; a space was left blank for Haley.
Genre not found
Artist not found
Album not found
Search results not found
Song not found
One, two, three o'clock, four o'clock, rock
Five, six, seven o'clock, eight o'clock, rock
Nine, ten, eleven o'clock, twelve o'clock, rock
We're gonna rock around the clock tonight
Put your glad rags on and join me, hon'
We'll have some fun when the clock strikes one
We're gonna rock around the clock tonight
We're gonna rock, rock, rock, 'til broad daylight
We're gonna rock, gonna rock, around the clock tonight
When the clock strikes two, three and four
If the band slows down we'll yell for more
We're gonna rock around the clock tonight
We're gonna rock, rock, rock, 'til broad daylight
We're gonna rock, gonna rock, around the clock tonight
When the chimes ring five, six and seven
We'll be right in seventh heaven
We're gonna rock around the clock tonight
We're gonna rock, rock, rock, 'til broad daylight
We're gonna rock, gonna rock, around the clock tonight
When it's eight, nine, ten, eleven too
I'll be goin' strong and so will you
We're gonna rock around the clock tonight
We're gonna rock, rock, rock, 'til broad daylight
We're gonna rock, gonna rock, around the clock tonight
When the clock strikes twelve, we'll cool off then
Start a rockin' round the clock again
We're gonna rock around the clock tonight
We're gonna rock, rock, rock, 'til broad daylight
We're gonna rock, gonna rock, around the clock tonight
Lyrics © BROADWAY MUSIC CORPORATION, ROBERT W. CINQUE, ESQ., Peermusic Publishing
Written by: Max Freedman, James Myers

Lyrics Licensed & Provided by LyricFind
To comment on specific lyrics,
highlight them