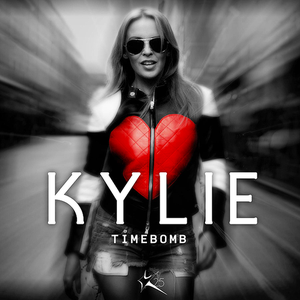 "Timebomb" is a song by Australian recording artist Kylie Minogue. It was released as a non-album single on 25 May 2012 by Parlophone, three days before her 44th birthday, as part of Minogue's K25 celebrations, commemorating 25 years in the music industry. The song was written by Karen Poole, Matt Schwartz and Paul Harris, while production was handled by Schwartz and Harris, who helped produce her previous album Aphrodite (2010). The song was expected to be released on Minogue's The Best of Kylie Minogue (2012); however, it was instead included on her box set K25 Time Capsule (2012). The song
Read Full Bio
"Timebomb" is a song by Australian recording artist Kylie Minogue. It was released as a non-album single on 25 May 2012 by Parlophone, three days before her 44th birthday, as part of Minogue's K25 celebrations, commemorating 25 years in the music industry. The song was written by Karen Poole, Matt Schwartz and Paul Harris, while production was handled by Schwartz and Harris, who helped produce her previous album Aphrodite (2010). The song was expected to be released on Minogue's The Best of Kylie Minogue (2012); however, it was instead included on her box set K25 Time Capsule (2012).

The song was recorded and mixed at Destined Studio's in London, England by Schwartz. In early announcements, fans alike had thought it was the song which was written by American singer and songwriter Michael Jackson, however this was proven not to be. An uptempo dance song which features strong elements of house and synthpop, the song features instrumentation of guitars, synthesizer and keyboards. Lyrically, the songs subject talks about Minogue telling people to dance before a sudden "timebomb" goes off, hence the title of the song.

"Timebomb" received critical acclaim from most music critics, who praised Minogue for getting back to her signature dance music. Critics also praised composition and hook and noting it as one of Minogue's best, and was even listed by PopCrush the "Best Dance Song of 2012". The song has achieved moderate chart success in Europe and Australasia, charting within the Top forty in Australia, Spain, Ireland, New Zealand, Scotland and the United Kingdom. It sold 10,044 copies in its first two days in the United Kingdom. It became Minogue's first number one on the ARIA Dance Chart. Despite modest success in those regions, the song was eventually released in North America, and received quite better peaking success, reaching the number-one spot on the US Hot Dance Club Songs, as well as appearing on the Canadian chart.

Directed and edited by Christian Larson, the accompanying music video for the single was shot in Soho, London. The video shows Minogue dancing in a white room, as well as walking and driving through the streets of London. At the end, it shows Minogue dancing and eventually driving away with a biker. The video also received positive reviews from critics, who noted Minogue's re-invention of her previous singles "Spinning Around" (2000) and "Can't Get You Out of My Head" (2001), as well as praising her fashion imagery. Minogue performed the song on The Voice UK series 1 semi-final.
Genre not found
Artist not found
Album not found
Search results not found
Song not found
Fast, time is ticking oh so fast
The sound is running quick right through our hands
Beat, feel the rhythm in my heartbeat
Why don't you move your body to my body
Before we disappear
Tell me now, woo
Do you wanna, wanna, wanna, woo
I wanna, wanna dance like it was the last dance of my life
I wanna woo, wanna, wanna, wanna, wanna, woo
Do you wanna, wanna dance, like it was the last dance
Wait, no, please don't make me wait
When walls are shaking, ground feels like a mind break
It's not the end of the world
It's just the start of me and you, yeah
So let's just take the moment
Boy let's move
Tell me now, woo
Do you wanna, wanna, wanna, woo
I wanna, wanna dance like it was the last dance of my life
I wanna woo, wanna, wanna, wanna, wanna, woo
Do you wanna, wanna dance, like it was the last dance
We're on a timebomb, you might not last long
So let's just do it right now, do it come on
We're on a timebomb, before the night's gone
Let's just do it right now, do it come on
Wait, please don't make me wait
Wait, please don't make me wait
Tell me now, woo
Do you wanna, wanna, wanna, woo
I wanna, wanna dance like it was the last dance of my life
I wanna woo, wanna, wanna, wanna, wanna, woo
Do you wanna, wanna dance, like it was the last dance
We're on a timebomb, you might not last long
So let's just do it right now, do it come on
We're on a timebomb, before the night's gone
Let's just do it right now, do it come on
Lyrics © BMG Rights Management, Universal Music Publishing Group, Sony/ATV Music Publishing LLC
Written by: PAUL BARDSLEY, PHIL MURPHY, CHRIS PICKIN, MIKE DARLING, BASIL CREESE

Lyrics Licensed & Provided by LyricFind
To comment on specific lyrics,
highlight them