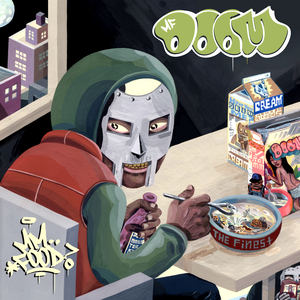 MM...FOOD is the classic fifth studio album by British-American rapper and producer MF DOOM. It was released via Rhymesayers Entertainment on November 16, 2004. It peaked at number 17 on Billboard's Independent Albums chart, and number 9 on the Heatseekers Albums chart. The title, "MM.. FOOD" is an anagram of "MF DOOM". MF DOOM described MM...FOOD as a concept album "about the things you find on a picnic, or at a picnic table". The album's titles and lyrics contain references to different foods, some with common metaphors and double entendres in the "street world" and the "nutritional realm". The album
Read Full Bio
MM...FOOD is the classic fifth studio album by British-American rapper and producer MF DOOM. It was released via Rhymesayers Entertainment on November 16, 2004. It peaked at number 17 on Billboard's Independent Albums chart, and number 9 on the Heatseekers Albums chart. The title, "MM.. FOOD" is an anagram of "MF DOOM".

MF DOOM described MM...FOOD as a concept album "about the things you find on a picnic, or at a picnic table". The album's titles and lyrics contain references to different foods, some with common metaphors and double entendres in the "street world" and the "nutritional realm".

The album is primarily produced by MF DOOM, except for the tracks "Potholderz", produced by Count Bass D; "One Beer", produced by Madlib and originally intended for the joint Madlib and MF DOOM album Madvillainy; and "Kon Queso" produced by PNS of Molemen. MM...FOOD features guest appearances from Count Bass D, Angelika, 4ize, and Mr. Fantastik.

"Kon Queso" was originally released under the name "Yee Haw" on a 12-inch single in July 2003 with Molemen. The track was re-recorded for MM...FOOD with a more laidback performance from MF DOOM. "Vomitspit" is a new version of the song "Vomit", with a different beat and some changed lyrics. The original release of the album included a different version of "Kookies". It was removed due to an unlicensed sample from Sesame Street and was promptly changed to a simpler version of the song in all future physical and digital releases.

A bonus disc titled Mm..LeftOvers containing throwaway tracks and remixes from the album was released on November 16, 2004, on Hiphopsite.com. It was given away with copies of MM...FOOD. The CD contained a recipe for "Villainous Mac & Cheese" by Grammy Dumile on the back of the CD insert.

Garnering universal acclaim upon release, the album received an average score of 81 from Metacritic, based on 22 reviews. Ryan Dombal of Entertainment Weekly wrote, "MM...FOOD flips countless edible metaphors over hard-hitting, jazzy beats, while never devolving into pointless parody." David Jeffries of AllMusic called it "as vital as anything he's done before and entirely untouched or stymied by the hype." Pitchfork's Nick Sylvester called MM...FOOD "an attempt to make good on Doom's almost fascist conceit to restore rap's golden age despite its loss of innocence." Nathan Rabin of The A.V. Club called the album "a crazy pastiche tied loopily together around obsessions with food, comic books, and supervillainy" and wrote that Doom is "exempt from the law of diminishing returns."

In 2012, Stereogum named it the best MF DOOM album. In 2015, NME named it "one of the 23 maddest and most memorable concept albums." Complex named the song "Rapp Snitch Knishes" the "22nd funniest rap song of all time."

The album cover art was directed by Stones Throw's art director Jeff Jank, and painted by Jason Jagel. The original painting included a blunt that was later edited out. The 2007 vinyl edition was mastered with tracks 3 and 4 switched.
Genre not found
Artist not found
Album not found
Search results not found
Song not found
Beef Rapp
MF DOOM Lyrics
Beef rap, could lead to getting teeth capped
Or even a wreath for ma dukes on some grief crap
I suggest you change your diet
It can lead to high blood pressure if you fry it
Or even a stroke, heart attack, heart disease
It ain't no starting back once arteries start to squeeze
Take the easy way out phony, until then
They know they wouldn't be talking that baloney in the bullpen
So disgusting, pardon self as I discuss this
They talk a wealth of shit and they ain't never seen the justice
Bust this, like a cold milk from out the toilet
Two batteries some Brillo and some foil, he'a boil it
He be better off on PC glued
And it's a feud so don't be in no TV mood
Every week it's mystery meat, seaweed stewed
(Food, we need food!)
He wears a mask just to cover the raw flesh
A rather ugly brother with flows that's gorgeous
Drop dead joints hit the whips like bird shit
They need it like a hole in they head or a third tit
Her bra smell, his card say: aw hell
Barred from all bars and kicked out the Carvel
Keep a cooker where the jar fell
And keep a cheap hooker that's off the hook like Ma Bell
Top bleeding, maybe fella took the loaded rod gears
Stop feeding babies colored sugar-coated lard squares
The odd pair swears and God fears
Even when it's rotten, we've gotten through the hard years
I wrote this note around New Year's
Off a couple a shots and a few beers, but who cares?
Enough about me, it's about the beats
Not about the streets and who food he about to eat
A rhyming cannibal who's dressed to kill and cynical
Whether is it animal, vegetable, or mineral
It's a miracle how he get so lyrical
And proceed to move the crowd like a old Negro spiritual
For a mil' do a commercial for Mello Yello
Tell 'em devil's hell no, sell y'all own Jello
We hollow krills, she swallow pills
He follow flea collar three dollar bills
And squeal for halal veal, 80-dollar pill
Dig the real, it's how the big ballers deal
Twirl a L after every meal (food!)
What up?
To all rappers: shut up with your shutting up
And keep your shirt on, at least a button-up
Yuck, is they rhymers or strippin' males?
Out of work jerks since they shut down Chippendales
They chippin' nails, DOOM, tippin' scales
Let alone the pre-orders that's counted off shippin' sales
This one goes out to all my peoples skippin' bail
Dippin' jail, whippin' tail, and sippin' ale
Light the doobie 'till it glow like a ruby
After which they couldn't find the Villain like Scooby
He's in the lab on some old Buddha Monk shit
Overproof drunk shit, and who would'a thunk it?
Punk, try and ask why ours be better
Could be the iron mask or the Cosby sweater
Yes, you, who's screwed by the dude on the CD, nude (we need food!)
Lyrics © Kobalt Music Publishing Ltd.
Written by: Daniel Dumile Thompson

Lyrics Licensed & Provided by LyricFind
To comment on specific lyrics,
highlight them