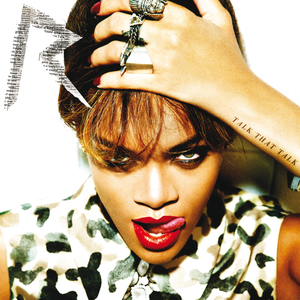 Talk That Talk is the sixth studio album by Barbadian singer Rihanna, released on November 18, 2011, by Def Jam Recordings and SRP Records. It was recorded while traveling for the Loud Tour between February and November 2011, and was originally planned to be a reissue of her previous studio album Loud (2010). As executive producer, Rihanna enlisted a wide range of producers including Alex da Kid, Mr. Bangladesh, Calvin Harris, Chase & Status, Cirkut, Da Internz, Dr. Luke, Ester Dean, Gareth McGrillen, Hit-Boy, No I.D., Priscilla Renea, Rob Swire, StarGate, The-Dream. Following in the same vein as Loud, Talk
Read Full Bio
Talk That Talk is the sixth studio album by Barbadian singer Rihanna, released on November 18, 2011, by Def Jam Recordings and SRP Records. It was recorded while traveling for the Loud Tour between February and November 2011, and was originally planned to be a reissue of her previous studio album Loud (2010). As executive producer, Rihanna enlisted a wide range of producers including Alex da Kid, Mr. Bangladesh, Calvin Harris, Chase & Status, Cirkut, Da Internz, Dr. Luke, Ester Dean, Gareth McGrillen, Hit-Boy, No I.D., Priscilla Renea, Rob Swire, StarGate, The-Dream. Following in the same vein as Loud, Talk That Talk is a dance-oriented pop/R&B crossover album that incorporates elements of hip hop, dubstep, electronic and house music. The album also continues to have subtle dancehall genres, whilst its lyrical content and themes revolve around a nihilist, romantic and lascivious lover.

Talk That Talk received generally positive reviews from music critics, and debuted at number three on the US Billboard 200 with first-week sales of 198,000 copies. As of June 2015, the album has sold 1.15 million copies in the United States. The album peaked at number one in Austria, New Zealand, Norway, Switzerland and the United Kingdom, where it debuted at number one on the UK Albums Chart, selling 163,000 copies in its first week. As of April 2012, the album has been certified three-times platinum by the British Phonographic Industry (BPI) for shipments of 900,000 copies.

The lead single "We Found Love" became Rihanna's eleventh number-one song US Billboard Hot 100, and topped the charts in 26 additional countries. "You da One", "Talk That Talk" (featuring rapper Jay Z) and a remix of "Birthday Cake" (featuring Chris Brown) experienced moderate success, while "Where Have You Been" reached the top ten of twenty countries around the world. A remixed form of "Cockiness (Love It)" (featuring rapper A$AP Rocky) was released as the sixth and final single from the record.
Genre not found
Artist not found
Album not found
Search results not found
Song not found
You Da One
Rihanna Lyrics
You the one that I dream about all day
You the one that I think about always
You are the one so I make sure I behave
My love is your love, your love is my love
Baby, I love you, I need you here
With me all the time
Baby, we meant to be
You got me, smilin' all the time
'Cause you know how to give me that
You know how to pull me back
When I go runnin', runnin'
Tryna get away from lovin' ya
You know how to love me hard
I won't lie, I'm fallin' hard
Yep, I'm fallin' for ya
But there's nothin' wrong with that
You the one that I dream about all day
You the one that I think about always
You are the one so I make sure I behave
My love is your love, your love is my love
You the one that I dream about all day
You the one that I think about always
You are the one so I make sure I behave
My love is your love, your love is mine
Baby come, take me now, hold me now
Make me come alive
You got the sweetest touch
I'm so happy, you came in my life
'Cause you know how to give me that
You know how to pull me back
When I go runnin', runnin'
Tryna get away from lovin' ya
You know how to love me hard
I won't lie, I'm fallin' hard
Yep, I'm fallin' for ya but there's nothin' wrong with that
You the one that I dream about all day
You the one that I think about always
You are the one so I make sure I behave (you the one)
My love is your love, your love is my love
You the one that I dream about all day
You the one that I think about always (you are the one)
You are the one so I make sure I behave (oh, you the one)
My love is your love, your love is mine
And yes I'm kinda crazy
That's what happens baby
When you put it down
You shouldn't give it to me good like that
Shouldn't hit it like that, had me yellin' like that
Didn't know you would've had me comin' back
You the one that I'm feelin'
You the one that I'm lovin'
Ain't no other, niggas like you
No there's just one, one, one
No baby just one, one, one
I bet you wanna know
You the one that I dream about all day
You the one that I think about always
You are the one so I make sure I behave
My love is your love, your love is my love (your love is mine)
You the one that I dream about all day
You the one that I think about always (you are the one)
You are the one so I make sure I behave
My love is your love, your love is mine
Lyrics © Universal Music Publishing Group, Sony/ATV Music Publishing LLC
Written by: Ester Dean, Lukasz Gottwald, Henry Russell Walter, John Graham Hill, Robyn R. Fenty

Lyrics Licensed & Provided by LyricFind
To comment on specific lyrics,
highlight them