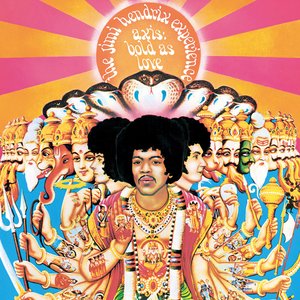 Axis: Bold as Love is the second studio album by The Jimi Hendrix Experience. Under pressure from their record company to follow-up the successful debut of their May 1967 album Are You Experienced, Axis: Bold as Love was released on Track Records in the UK in December 1967. It reached #5 in the UK and later, #3 in the US. The album was recorded to fulfill the band's contract, which stated that they must produce two albums in 1967. Even so, it was not released in the USA until 1968 due to fears that it might have disturbed the sales
Read Full Bio
Axis: Bold as Love is the second studio album by The Jimi Hendrix Experience. Under pressure from their record company to follow-up the successful debut of their May 1967 album Are You Experienced, Axis: Bold as Love was released on Track Records in the UK in December 1967. It reached #5 in the UK and later, #3 in the US.

The album was recorded to fulfill the band's contract, which stated that they must produce two albums in 1967. Even so, it was not released in the USA until 1968 due to fears that it might have disturbed the sales of the first album. Bassist Noel Redding has noted that this was his favourite of three Experience albums. He plays eight string bass on some tracks.

Just before the album's completion, Hendrix left the master tapes of side 1 in a taxi. They were never found again, and thus the A-side had to be mixed again quickly.

In 2003, the album was ranked number 82 on Rolling Stone magazine's list of the 500 greatest albums of all time.

Many of the album's songs were composed with studio recording techniques in mind and as a result were rarely performed live. Only 'Spanish Castle Magic' and 'Little Wing' were performed regularly. The lyrics of "Spanish Castle Magic" were inspired by 'The Spanish Castle', a dance hall in what is now Des Moines, Washington near Seattle where Hendrix jammed with local rock groups during his high school years. On 'Little Wing' Hendrix plays his guitar through a Leslie speaker (a revolving speaker which creates a wavering effect, that is typically used with electric organs) for the first time. Hendrix's effects man Roger Mayer then invented the 'Univibe' effects pedal to simulate the Leslie sound for him (the commercially sold Uni-Vibe pedal was made by Fumo Mieda an engineer of Shin-Ei company not Roger Mayer. Hendrix started using the Uni-Vibe in the summer of '69 just shortly after the release of the Uni-Vibe. Jimi Hendrix also used the obscure and elusive Jax Vibra Chorus - basically a Uni-Vibe with the addition of tremolo and full/slow repeat time selector - on various recordings.)

The intro track, "EXP", begins with a few notes from 'Stone Free' (although played one-half step down) and then features a conversation between Mitchell and Hendrix about UFOs, where Mitchell plays a radio host, and Hendrix plays an outerspace alien in the guise of a human named Mr. Paul Caruso, whose voice is gradually slowed down until he eventually takes off in his spaceship, much to the host's consternation ("But-but-but", he splutters). Paul Caruso was actually a friend of Jimi's from his days in Greenwich Village. 'Up From the Skies' is a jazzy number featuring Mitchell playing with brushes. The song is about a space alien who has visited the earth thousands of years in the past, and returns to the present to "find the stars misplaced and the smell of a world, that has burned."

"Wait Until Tomorrow" is a pop-song with an R&B guitar riff with Mitchell and Redding singing backing vocals. The fourth track, 'Ain't No Telling', is a rock song with a complex structure despite its short length. 'Little Wing', as Jimi himself said, was his impression of the Monterey Pop Festival put into the form of a girl. 'If 6 Was 9', the last song on the A-side, is the album's longest track and arguably the most psychedelic; Gary Leeds (Walker Brothers) and Graham Nash use their feet during the outro to make some stomping. The song features prominently on the soundtrack for the 1969 counterculture film, 'Easy Rider',as well as the Vietnam 'flashback' film "Apocalypse Now" during the chaotic battle scene at the bridge.

"You Got Me Floatin", a rock song opening with a swirling backwards played guitar (which is absent on the mysterious, differently mixed Polydor version of this LP (only available in stereo), which outside of France & UK was the only one available in Europe, opens the second side of the album. Roy Wood and Trevor Burton from The Move, who toured with Hendrix on a package tour through Britain during winter 1967, supplied background vocals. The following track, 'Castles Made of Sand', is a ballad also making use of a backwards guitar solo. 'She's so Fine', Redding's contribution to the album as a composer, a very British Pop/Rock/Who influenced affair features Redding on lead vocals with help from Mitchell. 'One Rainy Wish' begins as a ballad but develops a rock feel during the chorus that is in a different time signature than the verses.

The song 'Little Miss Lover' was the first to feature a percussive muted wah-wah effect (with the fretboard hand "killing" notes) - a technique that was later adopted by many guitarists. The album is included in the book '1001 Albums You Must Hear Before You Die'. Guitarist magazine named the album number seven on their list of "the most influential guitar albums of all time". The final song of the album, Bold as Love, opens very abruptly and segues into a mellow groove similar to Little Wing and Castles Made of Sand. With a psychedelic chorus and an extended solo at the end it fades out the album.

Hendrix was a little disappointed with the album's cover art. Although he appreciated the symbolic design, he mentioned in an interview that it would have been more appropriate if the cover art showcased his American "Indian" heritage. The British Track records art department had independently chosen to use the current fad for all things Indian to create the cover, and thus the album's cover has a photographed copy of a cheap, mass produced religious poster of the Hindu devotional painting known as 'Viraat Purushan-Vishnuroopam' showing the different forms of Vishnu with a small, superimposed painting of the group by Roger Law) (from a photo portrait by Karl Ferris) blended in.

In November a giant B&W blow up of the fantastic day-glo pink, orange & blue offset litho print over gold foil, Haphash/Osiris poster featuring Hendrix dressed as a Native American, wearing a feathered War Bonnet, was used as a background to his appearance on 'Hoepla', a controversial Dutch TV show. This poster, although produced later in London, and supposedly commissioned by Hendrix has text along the top to make it appear as if it was an original poster, advertising his (post Monterey) 1967 Fillmore concerts, this design was possibly what he had in mind. Original prints of this poster are probably all in collections and only later copies occasionally come up for sale at huge prices.

The original Track UK issue came in a gatefold sleeve with a large B&W portrait photo of the group by Donald Silverstein spread over the inside and an orange sheet insert with overprinted lyrics in red, the allegedly high cost of this packaging was a topic of note in the music press. The USA issue had no insert and instead of the group photo inside, had the lyrics. In Europe, the Polydor issue had no lyrics and unfortunately stuck an inch wide white border round the inside portrait, spoiling its effect, while the French dispensed with the original cover entirely and put it in a dull single sleeve with a photo of the group taken from a recent French TV show on the front.

"Little Wing" has become one of Hendrix's best-known songs. It was covered three years after its initial release by Eric Clapton's short lived band, Derek and the Dominos. The song was also popularized as an instrumental rock song by Stevie Ray Vaughan. Kirk Hammett of Metallica covered the song on live performances, Skid Row (not the original group of that name) released a live version of it on their EP B-Side Ourselves, and Sting included an adult contemporary rendition of the song on his ...Nothing Like the Sun album. Irish band The Corrs also recorded a cover of the song on their album Talk On Corners and on their Unplugged album. It was also covered by young American singer/songwriter John Mayer. It also appeared on the album G3 Live: Rockin' in the Free World, namely by Steve Vai, Joe Satriani and Yngwie Malmsteen.

Another notable musician who has covered a song from Axis: Bold as Love is Brian May who covered "One Rainy Wish" on his Another World album. John Mayer covered "Wait Until Tomorrow" on Try! and "Bold as Love" on Continuum. New York Rock & Roll Ensemble also covered "Wait Until Tomorrow." Joan Osborne, of "What If God Was One of Us" fame also covered "Bold as Love" on How Sweet It Is. The Pretenders also covered "Bold as Love" on the 1993 Hendrix tribute album Stone Free: A Tribute to Jimi Hendrix.

The Red Hot Chili Peppers recorded covers of "Little Miss Lover" and "Castles Made of Sand" for possible inclusion on their album 'Blood Sugar Sex Magik'. They were later released as bonus tracks on the iTunes re-release of the album. They also released a live cover of "Castles Made of Sand" on 'Out in LA' and later the re-release of their album Mother's Milk.

Phish has also covered some of Jimi's songs, including "Bold as Love", on live CDs and concerts.

Caetano Veloso and Gilberto Gil covered "Wait Until Tomorrow" on their album Tropicalia 25.

"Spanish Castle Magic" has also been covered by Carlos Santana and appears on the album "Power of Soul: A Tribute to Jimi Hendrix".

PM Dawn covered "You Got Me Floatin'", also on the 1993 Hendrix tribute album Stone Free: A Tribute to Jimi Hendrix.
Genre not found
Artist not found
Album not found
Search results not found
Song not found
Announcer: (Mitch Mitchell)
Good evening ladies and gentlemen.
Welcome to radio station exp. tonight we are
Featuring an interview with a very peculiar
Looking gentlemen who goes by the name of mr.
Paul Crusoe, on the dodgy subject of are there
Or are there not flying saucers or... ahem, UFO's.
Please Mr Crusoe, pleased could you
Give your regarded opinion on this nonsense
About spaceships and even space people.
Mr Crusoe: (Jimi Hendrix)
Thank you. As you all know, you just can't
Believe everything you see and hear, can you.
Now, if you will excuse me, is must be on my way.
Announcer: (Mitch mitchell)
Bbu...but, but...I, I, don't
Believe it...
Lyrics © Universal Music Publishing Group
Written by: JIMI HENDRIX

Lyrics Licensed & Provided by LyricFind
To comment on specific lyrics,
highlight them