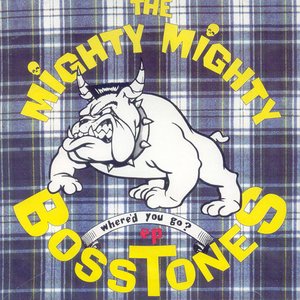 The Mighty Mighty Bosstones were a ska-core band from Boston, Massachusetts, United States (Bosstones is a play on Boston). They are credited with creating the ska-core genre, a form of music that mixes, to various degrees, elements of modern third-wave ska along with hardcore punk, jazz, and other influences. Their current lineup is Dicky Barrett (vocals), Joe Gittleman (bass), Lawrence Katz (guitar), Ben Carr (dancer, "Bosstone"), Joe Sirois (drums)
Read Full Bio
The Mighty Mighty Bosstones were a ska-core band from Boston, Massachusetts, United States (Bosstones is a play on Boston). They are credited with creating the ska-core genre, a form of music that mixes, to various degrees, elements of modern third-wave ska along with hardcore punk, jazz, and other influences. Their current lineup is Dicky Barrett (vocals), Joe Gittleman (bass), Lawrence Katz (guitar), Ben Carr (dancer, "Bosstone"), Joe Sirois (drums), Timothy "Johnny Vegas" Burton (saxophone), Kevin Leaner (saxophone) and Chris Rhodes (trombone)

Formed in 1985, The Mighty Mighty Bosstones started playing in Boston clubs in the mid-1980s. After a brief period of inactivity due to the schooling commitments of its members, they reformed and released their album Devil's Night Out on Taang! Records. The Bosstones toured relentlessly throughout the 1990s, playing hundreds of shows a year, releasing albums and spinning off the popular rock radio hit "Someday I Suppose". They were eventually signed to Mercury Records. The band appeared in the movie Clueless. In 1997, the success of their single "The Impression That I Get" and its follow up, "The Rascal King" earned them mainstream recognition. In 2000 they put out their critically acclaimed disk Pay Attention. The Mighty Mighty Bosstones released their last album on Side One Dummy Records. They officially went on hiatus in 2003, citing too much time on the road and desire to branch out and do different things. In 2007, the Bosstones announced that they were reforming. They played their 10th Hometown Throwdown in Boston and released a new album, Medium Rare, which consists of rare B-sides, and 3 new songs, including the single, "Don't Worry Desmond Dekker".

The band announced their split in early 2022.
Genre not found
Artist not found
Album not found
Search results not found
Song not found
Hello?
Checked the clock when I got home
And realized I was alone
Sat for hours by the window
Wonderin' where did you go?
Couldn't eat or sleep at all
Took the pictures off the wall
Paced the place as time moves slow
And I'm wondering where did you go?
Where'd you go? Where'd you go?
I want to know
Lit a cigarette I couldn't smoke
Wound the clock until it broke
Went to bed then took a shower
Stared at TV for an hour
Did the dishes, made the bed
Read a book I've never read
Any minute you will show
And I'm wondering where did you go?
Where'd you go? Where'd you go?
I want to know
Where did you go? [Repeat x4]
I opened the fridge, I opened a beer
And played a tape I couldn't hear
Emptiness began to grow
And I'm wondering where did you go?
Watched the sun come up from the back stairs
Thought about the last few years
I lost control, I screamed, I cried
I punched a pole and went inside
Packed my things called a friend
Wished this emptiness would end
Wrote a note then tore it up
Poured the beer into a cup
Sat on the couch, drank it slow
Wondering where did you go?
I realized I couldn't stay
Grabbed my things and I went away
Where'd you go? Where'd you go?
I want to know!
Lyrics © Sony/ATV Music Publishing LLC
Written by: DICKY BARRETT, NATE ALBERT

Lyrics Licensed & Provided by LyricFind
To comment on specific lyrics,
highlight them