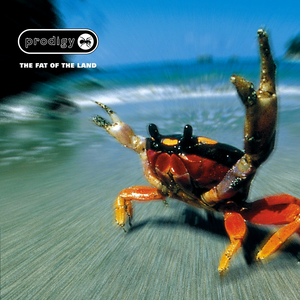 "The Fat of the Land" is an album by The Prodigy. The album was released by XL Recordings on June 30, 1997 (and on July 1, 1997 in the USA). The album caused some controversy in Britain. The video for the first single, "Firestarter", caused a minor uproar because of vocalist Keith Flint's appearance, and several people objected to the seeming misogyny of "Smack My Bitch Up", though the band maintains that its true interpretation is "...doing anything intensely..." "Mindfields" later appeared on the soundtrack of the film The Matrix, while "Smack My Bitch Up" has appeared in both Charlie's
Read Full Bio
"The Fat of the Land" is an album by The Prodigy. The album was released by XL Recordings on June 30, 1997 (and on July 1, 1997 in the USA).

The album caused some controversy in Britain. The video for the first single, "Firestarter", caused a minor uproar because of vocalist Keith Flint's appearance, and several people objected to the seeming misogyny of "Smack My Bitch Up", though the band maintains that its true interpretation is "...doing anything intensely..."

"Mindfields" later appeared on the soundtrack of the film The Matrix, while "Smack My Bitch Up" has appeared in both Charlie's Angels and Closer. "Funky Shit" appeared in the trailers for the film Event Horizon and also played over the end credits.

"Serial Thrilla" features a sample of a riff by Skunk Anansie, "Funky Shit" features a sample from "Root Down" from the Beastie Boys album Ill Communication, "Fuel My Fire" is a cover of an L7 song from Hungry for Stink. "Smack My Bitch Up" takes a sample from an Ultramagnetic MCs song, "Give the Drummer Some", and thus the Prodigy invited Kool Keith to do the lyrics and vocals for another track, "Diesel Power." Matt Cameron of Soundgarden, who is falsely credited as "Mark" in the liner notes, is also understood to have contributed samples to the album, though it is not clear where.

The album debuted at number one on the U.S. Billboard 200 chart. The album has since gone double platinum selling over 2 million copies in the U.S.

The album entered the Guinness World Records as the fastest-selling UK album in 1999 and was also nominated for a Grammy Award.

The album was nominated for the 1997 Mercury Music Prize.

In 1998 Q magazine readers voted The Fat of the Land the ninth greatest album of all time. In 2000 Q placed it at number 47 in its list of the 100 Greatest British Albums Ever. Q (10/01, p.46) - Ranked #43 in Q's "Best 50 Albums of Q's Lifetime." Q (12/99, p.92) - Included in Q Magazine's "90 Best Albums Of The 1990s." Q (1/98, p.114) - Included in Q Magazine's "50 Best Albums of 1997."

Rolling Stone (5/13/99, p.82) - Included in Rolling Stone's "Essential Recordings of the 90's."

Spin (1/98, p.87) - Ranked #20 on Spin's list of the "Top 20 Albums Of The Year."

Melody Maker (12/20-27/97, pp.66–67) - Ranked #13 on Melody Maker's list of 1997's "Albums Of The Year."

Village Voice (2/24/98) - Ranked #29 in the Village Voice's 1997 Pazz & Jop Critics' Poll.

NME (12/20-27/97, pp.78–79) - Ranked #17 in NME's 1997 Critics' Poll.

The album is included in the book 1001 Albums You Must Hear Before You Die.

In 2004, KISS co-founder Gene Simmons covered "Firestarter" on his second solo album, "Asshole".
Genre not found
Artist not found
Album not found
Search results not found
Song not found
Smack My Bitch Up
The Prodigy Lyrics
(Like, like, like this)
Change my pitch up
Smack my bitch up
Change my pitch up
Smack my bitch up
(Like this)
Change my pitch up
Smack my bitch up
Change my pitch up
Smack my bitch up
(Like, like this)
(Like this)
(Like this)
Smack my bitch up
(Like this)
(Like this)
Smack my bitch up
(Like this)
(Like this)
Change my pitch up
Smack my bitch up
Change my pitch up
Smack my bitch up
(Like this)
Lyrics © BMG Rights Management, Kobalt Music Publishing Ltd., Warner Chappell Music, Inc.
Written by: Liam Howlett, Cedric Ulmont Miller, Tim Randolph, Mike Smith, Keith Mathew Thornton

Lyrics Licensed & Provided by LyricFind
To comment on specific lyrics,
highlight them