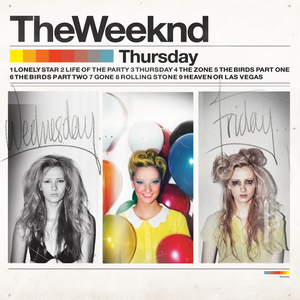 Thursday is the second Mixtape of the Canadian artist The Weeknd, released online for free on August 18th 2011, It features more of the hazy drug and sex-fueled R&B that filled The Weeknd's debut album, House of Balloons. Tracks like Gone and Life Of The Party highlight his purely hedonistic, yet fairly tragic lifestyle. Producer Illangelo returns for most of the tracks, and expands and finds new sounds from those on House of Balloons. It features one of the only two guests of the entire trilogy; Drake on The Zone.
Genre not found
Artist not found
Album not found
Search results not found
Song not found
Yes, all I could say is yes
Promise me you won't regret me like the tattoos on my skin
Like the wrong pill
Promise me when they all love you that you'll remember me
When you fuck them, you'll see my face
My body is yours
Every Thursday
It seems like pain and regret are your best friends
Ooh, oh yeah
'Cause everything you do leads to them, why?
Run, run
But baby, I could be your best friend (Ooh)
And baby, I could fuck you right (Ooh whoa)
Baby, you could have it all (Ooh yeah)
Baby, you could have it all (Ooh yeah)
Baby, you can have the cars, the clothes, the jewels, the sex, the house
Baby, you could be a star (Ooh yeah)
Baby, you could have it all
Baby, you could have it all
Baby, you can have the cars, the clothes, the jewels, the sex, the house
Baby, you could be a star
Woah, you're blaming all your sins on your best friends
And nothing's ever, ever your fault
Nothing's your fault baby, no
Well baby, you don't need your best friends (Woah, oh woah)
'Cause I got everything you want (Ooh ooh, yeah)
Baby, you could have it all (Ooh baby)
Baby, you could have it all (Ooh yeah)
Baby, you can have the cars, the clothes, the jewels, the sex, the house
Baby, you could be a star, baby you could be a star
Baby, you could have it all (Ooh)
Baby, you could have it all (Ooh yeah)
Baby, you can have the cars, the clothes, the jewels, the sex, the house
Baby, you could be a star (Ooh yeah)
Yes, all I could say is yes
Promise me you won't regret me like the tattoos on my skin
Like the wrong pill
Promise me when they all love you that you will remember me
When you fuck them, you'll see my face
My body is yours
Give them any other day but Thursday
You belong to me
Every Thursday
I'll wait for you
I'll be beautiful for you
Every Thursday
I exist
Only on Thursday
Not on Monday, Tuesday, Wednesday, Friday, Saturday, Sunday
But on Thursday, Thursday
Not on Monday, Tuesday, Wednesday, Friday, Saturday, Sunday (Sunday)
But on Thursday
I love the guitars
Lyrics © Sony/ATV Music Publishing LLC, Kobalt Music Publishing Ltd.
Written by: Abel Tesfaye, Carlo Montagnese, Martin McKinney

Lyrics Licensed & Provided by LyricFind
To comment on specific lyrics,
highlight them