Stir of Echoes
J-Live Lyrics
[Verse 1]
Ayo, the hotter the summer, the cooler the fall
The lesser you stress her, the quicker she call
Now whether you short, or whether she tall
The later you bust, the louder she bawl
Now that was for them, this is for y'all
The more for the little store, the less for the mall
The smarter your plan, the better for all
You fail in the plan, you plannin' to fall
United we stand, divided we fall
The quicker they come, the harder they fall
You straddle defense, pickin' a brawl
You loved by none, hated by all
See eloquent words, never the wise
Keeping it simple, teaching it real
Live by the sword, die by the sword
Swinging for justice, fuck how you feel
Rappers with deals, tuck in they shines
Fuck the chains, I'm talkin' 'bout rhymes
Maybe they got 'em and maybe they don't
Maybe they spit 'em and maybe they won't
Nevertheless, fuckin' with mine
Never the best, better with time
Movin' the body, sparkin' the mind
Keepin' the real heads pressin' rewind
[Hook]
I feel good! Ahoooooooo! About Hip-Hop! (x4)
I feel good!
[Verse 2]
Ayo, you feelin' the song, you happy it's yours
You diggin' the cadence, you heard it before
You know it's the freak for many emcees
Maybe ya Kool Keith or maybe it's Breeze
Maybe ya Flava Flav or maybe it's Meli Mel
Or Maybe it's Run or maybe it's L.L.
I'm makin' it mine, ya dissin' it fine
Don't take it too personal, it's only a rhyme
A minute has passed, a sucker was born
One minute you're here, next minute you're gone
If you can predict the shit I'ma say
Initial my name, you know that it's justice
I saw your mistake, don't take it too far
Take kindness for weakness, the man for a star
With either extreme, you're mentally dead,
Take heed to the words, J-Live has just spoken
Ya did it again, you thought I was jokin'
You tryin' to fix, but you know it is broken
You need to sit back, nod your head to the track
And check out the lyrics so you can react
Like this!
[Hook]
[Interlude - Woman Speaking]
Okay, just relax, get very comfortable
Relax, trust me, close your eyes, now just listen for a moment
Listen to the sounds of the room around you
Remember that you are in a studio, a recording studio,
With your name on one mat
You're in the mic booth, you look around
It's one huge empty mic booth
You notice that the walls are painted in black
The mic is black, the windows tinted black
And all you can see is a very old computer screen
Five letters flashing on and off
You can barely see what the letters spell
You lean closer to the screen, the letters become clearer
And the word is rhyme
[Verse 3]
Ayo I'm trapped in the mind of a mad man literally
It's not a metaphor kid, pay attention
Reporting to you live from this first dimension
In the real crowded room, I just want some attention
And since you lack the bright, like high beams at night
The silence of the noise is deafenin' to hear
My lack long vision is the jack of a position
But I can't tell if I'm in the front of the rear
Formless I don't know if I'm a circle or square
Let alone solid liquid or air
I'm completing myself
But can't confirm or deny if I'm actually here
That's quite a fucked-up predicament, yeah
I fell at home but I gotta escape
This paradox in a box, I'm intent to solve this mystery
I'm made up of dreams and nightmares
Soliloquies, dialogues, arguments
Fantasies, memories, imagery, symmetry, alcohol, history
Love, life, death, joy, remorse and sympathy
Actions, wishes, reactin' and hopin'
But everytime the beat comes the door opens
The out-of-our-body experience is showing me
Jettin' from the exit, the entrance, the outlet
I'm strapplin' through veins, blood vessels and muscle tissue
Till it goes pitch black, and I still don't know if I'm out yet
I wake up from the blackout, finish with the race
Confined in a two-dimensional blank space
Looking back on my original birth place
Now taking the shape of a young black face
Parts of my physical erased and replaced
What was sight and sound is now feel and taste
I **tal a fruit punch laced with toothpaste
I'm shot from a cannon with amazing grace
My identity revealed with the mystery solved
I see my purpose in life as I travel through time
Ridin' the beat through audio wires recording venaire
Waves hit your minds, I'm a J-Live rhyme
Contributed by Sadie K. Suggest a correction in the comments below.
To comment on specific lyrics,
highlight them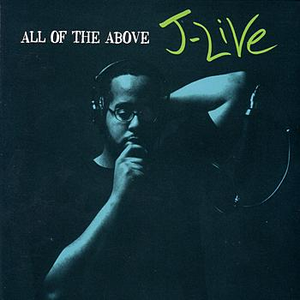 J-Live was born and raised in Uptown Manhattan, New York City. After making a home for himself in Brooklyn upon graduating from SUNY at Albany, J relocated to Philadelphia in 2003. "Moving to Philly was more for the family than any kind of career move. But the whole music scene here and the hip hop community here have embraced me with open arms since I arrived. I've gotten a lot of support from so many different artists and dee jays. This city is jam packed with talented and beautiful people."
Read Full Bio
J-Live was born and raised in Uptown Manhattan, New York City. After making a home for himself in Brooklyn upon graduating from SUNY at Albany, J relocated to Philadelphia in 2003. "Moving to Philly was more for the family than any kind of career move. But the whole music scene here and the hip hop community here have embraced me with open arms since I arrived. I've gotten a lot of support from so many different artists and dee jays. This city is jam packed with talented and beautiful people."

J-Live started his career by releasing solid 12" such as "Longevity", "Braggin' Writes", and "Hush the Crowd", which earned him a spot in The Source's "Unsigned Hype" column.

Recorded mostly at J's own Triple Threat Studios in Philadelphia, The Hear After actually seems to have taken on a life of its own. Guest vocalist on the album, include up and coming artist, Kola Rock, Cvees, and the soulful sounds of Virgin recording artist, Dwele. The album features production by Floyd the Locsmif (Atl), Hezekiah, James Poysner (Philly), Probe DMS, Fire Dept., (NYC), Oddisee (DC), and J-Live himself. "The title is a play on words. People think of the here after as the after life or somewhere you go when you die. Like heaven or hell. Me personally, I see heaven as being at peace with yourself while you're alive. I see hell as the path you choose in life as opposed to a place you go after death. The album is called The Hear After because I'm at peace with myself musically, and I've been through hell to get that way. This is what you "hear after" all that has transpired so far. This is what I've been working to accomplish since the last album."

Like J's last two full length records, The Best Part and All of the Above, The Hear After covers a wide range of thoughts and emotions both musically and with its subject matter. "If you were to look at the whole thing, you would see a story line about an artist trying to maintain and expand his career and still be there for his family. That was the biggest struggle while making the record, and its no coincidence that it's a theme that becomes obvious listening to it. But there are songs about almost every aspect of my life from growing up in the city, to raising kids, touring heavy, building and teaching, politics, party and bullshit. I can't just spit about one thing for a whole record. That's not my style."

J-Live has been rhyming and mixing since the age of 12 but he has made much more of a name for himself as an MC than as a DJ. "I definitely focus on rhyming more. Growing up doing both it was easier on the pockets to be an MC. Records and equipment can get expensive. But I love spinning." One of the highlights of his entertaining live show is when he rhymes and beat juggles on the turntables simultaneously, performing his classic, "Braggin' Writes." J-Live is also known to produce beats.

J-Live has always used music to get his messages across. He explains, "I grew up listening to everything from BDP to NWA, to PE [[artist]Public Enemy], Slick Rick, Big Daddy Kane, Nice and Smooth. Whether the music was pimped out, gangsta, militant or whatever, rappers had something important to say to kids like me. And I listened intently. As a 5%er, I can't imagine how much of an influence hip hop had on the way I see the world."

Case in point, J's favorite song on the album, "Audio Visual" is so descriptive it's a song "in 3-D". From the quirky, key accents to the thick-ass bottom running throughout the song, J-Live paints a colorful, picture of his life on and off the mic. "Brooklyn Public" is his ode to his days as an educator. Earlier in his career, J-Live taught middle school English/Language Arts in Brooklyn for a few years.

Making music for the walkmans as well as the Jeeps, J-Live made a mature, sonically sophisticated album. "I feel like I represent hip hop's middle class. Seems like everybody's either crying broke or screaming rich or both. I try to speak to the people in between. The everyday hard working fun loving hip hop heads."

Year Formed: 1995
Official Site: http://www.j-livemusic.com/
Genre not found
Artist not found
Album not found
Search results not found
Song not found