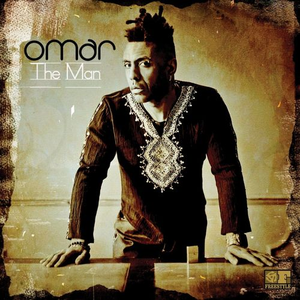 There are at least six acts by the name of Omar:

1. Omar is a UK soul ar…
Read Full Bio ↴
There are at least six acts by the name of Omar:

1. Omar is a UK soul artist of Chinese, African and Indo-Jamaican descent. Born Omar Lye-Fook (1969) in Canterbury England, Omar has been making albums since the early 1990s and his work is often compared to Stevie Wonder's work of the 1970s. After the lukewarm US sales for the LP "For Pleasure," subsequent Omar releases were only available as pricey imports. Now Omar releases his own recordings, tours the UK often, occasionally making brief tours in the US. He is often highly regarded by his US contemporaries such as Erykah Badu, Jill Scott, Common, and Stevie Wonder.
There's Nothing Like This (1990)
Music (1992)
For Pleasure (1994)
This is Not a Love Song (1997)
Best By Far (2000)
Sing, (If You Want It) (2006)
The Man (2013)
http://www.omarmusic.net

2. Omar Akram is the son of a United Nations diplomat, Omar Akram spent many of his early years traveling the world, soaking up the musical traditions of such exotic locales as Afghanistan, Cuba, France, and the Czech Republic.
By the age of 14, he was considered a piano prodigy. In his late teens, he discovered the boundary-pushing sounds of Jean Michel Jarre (France), Kitaro (Japan), and Vangelis (Greece), and began to absorb their independent musical influences. At the same time, Omar Akram remained intrigued by such classical composers as Bach and Mozart, and used much of their thematic coherence, comprehensible structure, and clear rhythmic control to craft his own original compositions.

3. Omar is a two-piece punk band rooted in Philadelphia, PA. They released a CD titled "I'm Not Mad, I'm Just Mad That You're Mad" in April 2010.
http://omar.bandcamp.com

4. Omar is an Italian singer.

5. Omar is an Uruguayan duo of DJs and producers formed by Ignacio Benedetti & Pablo Bonilla.

6. Omar was a British punk band.
http://www.myspace.com/omarband
Fuck War Make Love
Omar Lyrics
Jump to: Overall Meaning ↴ Interesting Facts ↴ Line by Line Meaning ↴
I don't want to play by your rules
Nothing to gain nothing to lose
Everybody sees what's going on
Now they say it's gone on for far too long

Don't just sit there and smooth your face
Time to rise up, time to take your place
Everybody sees what's going on
Now they say it's gone on for too long

Come on lets go
We need some understanding
Believe in me
We must be more demanding
Stop war make love
Cause love is

All I wanna do is just to live
I pay my bills take care of wifey and kids
Your making me feel I done so wrong
I got to express myself in my song
How many more people have to die
Brothers killing brothers that ain't right
Everybody knows what's going on
Time to say it's gone on for far to long
Overall Meaning
The lyrics of Omar's song "Fuck War Make Love" are a powerful message against war and a plea for love and understanding. The first verse rejects the established rules that lead to war and calls for a change. The message is clear: war has no winners and leaves only losers.
The chorus is a call to action, urging listeners to rise up and demand a different world, a world where love conquers all. The lines "Stop war, make love, cause love is" are a powerful reminder that love can be a powerful force for change, and that it is up to us to choose which path we take.
The second verse is a personal message from Omar, explaining that all he wants is to live his life with his family, and that expressing himself through music is his way of making a difference. The lines "How many more people have to die, brothers killing brothers that ain't right" reflect the sadness and frustration that many people feel about the state of the world today.
Overall, "Fuck War Make Love" is a call to action for a more peaceful and compassionate world, and a reminder that we all have the power to create change if we choose to do so.
Interesting facts about the song "Fuck War Make Love":
Interesting Facts
Note: This section uses generative AI, which can be inaccurate.


Line by Line Meaning
I don't want to play by your rules
I refuse to follow your instructions or live according to your expectations.
Nothing to gain nothing to lose
I have no personal interests or advantages to pursue so I'm not afraid to voice my opinion.
Everybody sees what's going on
The situation is not hidden or unknown, everyone is aware of the conflict.
Now they say it's gone on for far too long
People have reached their limit and believe the conflict has lasted beyond what's acceptable.
Don't just sit there and smooth your face
Don't just look with a neutral expression, show some emotion or take action.
Time to rise up, time to take your place
It's time to become proactive, take a stand, and fight for what you believe in.
Come on lets go
Let's work together and collaborate to achieve our goal.
We need some understanding
We need to have empathy and try to see things from each other's perspectives to reach a resolution.
Believe in me
Have faith that I am sincere and have good intentions.
We must be more demanding
We need to have higher expectations for ourselves and others to achieve positive change.
Stop war make love
To bring peace, we need to replace the act of war with acts of love and kindness.
Cause love is
Love is the only emotion that can overpower the hate and anger of war.
All I wanna do is just to live
All I want is to be able to live my life in peace and without fear of war or violence.
I pay my bills take care of wifey and kids
I have obligations and responsibilities, just like everyone else, to provide for my family and loved ones.
Your making me feel I done so wrong
Others are making me feel guilty or ashamed for expressing my feelings or opinions.
I got to express myself in my song
I need to find a way to express myself creatively and share my message with the world.
How many more people have to die
The number of casualties due to war is already too high, and it's time to put an end to the bloodshed.
Brothers killing brothers that ain't right
The fact that families, countries, and people who share the same beliefs are fighting against each other is morally wrong.
Time to say it's gone on for far to long
It's time to take a stand and declare that the conflict has lasted for too long and needs to stop immediately.
Lyrics © O/B/O APRA AMCOS
Written by: Daniel Fridell, Omar Lyefook

Lyrics Licensed & Provided by LyricFind
To comment on or correct specific content,
highlight it
Genre not found
Artist not found
Album not found
Search results not found
Song not found