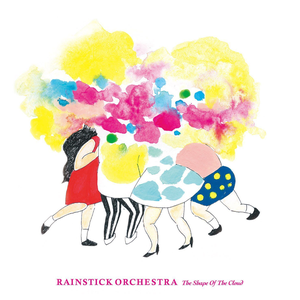 Baku Tsunoda (28) and Naomichi Tanaka (31) have been working together as the Rainstick Orchestra since 2001. They met when they were both DJing in a club in Tokyo and, as they lived near to each other, they began hanging out and trying to improve their musical skills by working together.

By day, Baku is an Editorial Designer and Naomichi is a Systems Engineer. But it's music that drives them both. While Naomichi cites an early love of the music of Manchester as a formative influence as well as time playing in punk bands
Read Full Bio
Baku Tsunoda (28) and Naomichi Tanaka (31) have been working together as the Rainstick Orchestra since 2001. They met when they were both DJing in a club in Tokyo and, as they lived near to each other, they began hanging out and trying to improve their musical skills by working together.

By day, Baku is an Editorial Designer and Naomichi is a Systems Engineer. But it's music that drives them both. While Naomichi cites an early love of the music of Manchester as a formative influence as well as time playing in punk bands, Baku started out playing guitar and piano in both a Yellow Magic Orchestra covers band and a session group who played in the style of Maceo Parker and Funkadelic.

What they create together, using guitars, piano, bass & sequencers, is a delicate 'systems music' that gives a nod to the minimalism of Cage and Reich as well as echoing forms such as techno and jazz. Unsurprisingly, they both subscribe to the idea that music is "borderless".
Genre not found
Artist not found
Album not found
Search results not found
Song not found
We have lyrics for 'Deception' by these artists:



Absurd Minds You think that I'm heartless They believe that I have a…
Acid Ice Flows My mind opened exposed for all to see Run their filthy…
Antonious ((Devil) and Antonious Speakin) (Sup Antonious) Yeah (I se…
Aslan Faction Grey clouds embrace the hollow azure sky Factories spit th…
Battlecross Those of you with the appetite to deceive Disgusting how yo…
Blackalicious [Gift of Gab] Don't let money change ya! Laaaaah, di-dah, …
Bobby O A liar never tells the truth All you do is try…
Burnman We've got our sextant set. We can get there. Yet…
CHAOS! You make sure you never lose You only want to…
Chokehold You think you got me pinned down? You think you…
Clive Nolan Jagman Amelia Darvas I presume? Amelia: I am……
Cruxshadows She cries, children often do When they're cold, and hungry …
Dance Gavin Dance Better wake up before it's all gone Better wake up before…
Demon One N'ayant plus d'encre dans ma plume, j'ai volé celle de…
DJ Maj [Intro] Shake it off. Lord, I won't do this song This is…
Earthride Look in a window and what do I see Absolute violence…
Electro Hippies Through Poverty, many have sinned: and he that seeketh to b…
Fear Factory Enter your my world, deception Enter your my world, decepti…
Focal Point deception as I pass through your eyes of judgment, you mak…
I Hate Heroes So how does it feel to know You're not in control…
IZZ pure as white but black as night such skilled entertainers…
MindGrinder Deception of body and mind Sacrifice! Insignificant to the r…
Monophonics Where you been What you been to Seems while you were gone I…
NamNamBulu I am trying to see why all of this would…
Nathan Wagner Well she had me out 'til four in the morning Playing…
Nickenson Prud'homme WHAT'S GOING ON? Anpil lané gen tan pasé Men ou poko janm…
Odd Thomas What's the point, huh? Seat me in the front row, of…
Pigeon John [Intro] Shake it off. Lord, I won't do this song This is…
Platitude I have seen the blackened sky A place where immortal people…
Pledge This No one in this world matters We're all gutless soulless Wort…
Prism I hear you talkin' all the time I'm catchin' every word Bu…
Provision Have I awaken in my own true identity? Could I…
Revolution You have fallen to the lies of man Ever sinking to…
Serenity Broken It's times like this That I would not miss it for…
Seventh Dimension Swallow the shame and guilt kept inside Leave the senses tha…
Shedly Abraham Anpil lané gen tan pasé Men ou poko janm ka desidé'…
Sound We Sleep How long, Have I've been letting this go on, Cause I can't…
Strommoussheld Angels are crying In a picturesque quarantine This abandoned…
Taste The Steel 14 million spent, 49 times, as my friends die, for…
TesseracT So my demons your time has come You will find me…
The Crüxshadows She cries, children often do When they're cold, and hungry t…
The Goodwill Do you remember the time we went hand in hand, Through…

The lyrics can frequently be found in the comments below, by filtering for lyric videos or browsing the comments in the different videos below.