How Do You Keep the Music Playing?
Simone Kopmajer Lyrics
How do you keep
The music playing?
How do you make it last
How do keep
The song from fading
Too fast
How do you lose yourself
To someone
And never lose your way
How do you not run
Out of new things
To say
And since you know
We're always changing
How can it be the same
And tell me how
Year after year
You're sure your heart
Will fall apart
Each time
You hear her name
I know the way
I feel for you
Is now or never
The more
I love the more
There I'm afraid
That in yours eyes
I may not see forever
Forever
If we can be
The best of lovers
Yet be the best of friends
If we can try with every day
To make it better as it goes
With any luck than I suppose
The music never ends
Lyrics © Warner/Chappell Music, Inc., Universal Music Publishing Group
Written by: MICHEL JEAN LEGRAND, ALAN BERGMAN, MARILYN BERGMAN

Lyrics Licensed & Provided by LyricFind
To comment on specific lyrics,
highlight them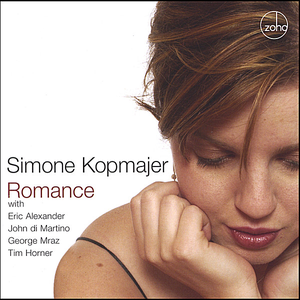 How Do You Keep the Music Playing?
Simone Kopmajer is a young jazz singer from Austria, who made her US debut in 2000.

Kopmajer grew up in a family of musicians and began singing in her father's band when she was 12. At the same time she studied piano, though singing remained her first love. Early on, she entered and won various talent contests and even made appearances on television in her native country, Austria. As a young performer, she twice toured the Netherlands with the "Euro Big Band" and later appeared in several international jazz festivals.
Read Full Bio
Simone Kopmajer is a young jazz singer from Austria, who made her US debut in 2000.

Kopmajer grew up in a family of musicians and began singing in her father's band when she was 12. At the same time she studied piano, though singing remained her first love. Early on, she entered and won various talent contests and even made appearances on television in her native country, Austria. As a young performer, she twice toured the Netherlands with the "Euro Big Band" and later appeared in several international jazz festivals.

Influenced by some of the great American vocalists like Frank Sinatra, Ella Fitzgerald, and Jon Hendricks, Kopmajer has developed into a true jazz singer who uses a wide variety of rhythms and excels in her very individual style of scatting.

Kopmajer received her Masters Degree from the University for Music and Dramatic Arts in Graz, Austria where she had the opportunity to work with such jazz luminaries as Mark Murphy, Sheila Jordan, Michele Hendricks, Jay Clayton, and the New York Voices.


http://www.simonekopmajer.com
Genre not found
Artist not found
Album not found
Search results not found
Song not found