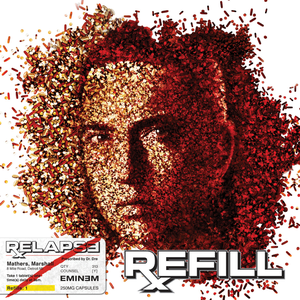 Relapse: Refill is the reissue of Eminem's studio album Relapse. It was released on December 21, 2009, under Aftermath Entertainment, Shady Records, and Interscope Records. The reissue includes a bonus disc featuring seven new tracks:
"Forever" (with Drake, Kanye West and Lil Wayne)"Hell Breaks Loose" (featuring Dr. Dre)Buffalo Bill"Elevator""Taking My Ball""Music Box""Drop the Bomb on 'Em"
Genre not found
Artist not found
Album not found
Search results not found
Song not found
Dr. West
Eminem Lyrics
Morning, Marshall
Morning, Doc
So we're discharging you today, how are you feeling?
Anxious
Anxiety?
Well, anxious to get home, anxious to get back into the world, nervous
Nervous? Come on, Marshall, you're a big boy now, sounding like a bit of a baby
You can do this; you found a sponsor yet?
Um, not yet, I mean, but when I get back
Well, if you find one, you find one; if you don't, you don't
Well, yeah, I mean, I gotta start going to meetings first and
Wait, what?
Well, I mean you don't absolutely have to go to meetings
And it's not like like a requirement that they fit into your schedule
I know you're a busy person
Well, yeah, but I thought sobriety was the most important thing?
So what else are you thinking?
Um, well, I know I gotta start practicing the steps
And, I mean, learning them, and start being able to apply them
The steps?
Yeah, the steps
There's a lot of them, aren't there?
Well, twelve
Christ, I don't even know them all
Really?
Anything else?
Um, well, I mean the only other question I have was like
What do I do if I find myself in a situation where
Maybe somebody is drinking around me or something like that and I get tempted to?
Take a drink
What?
Take a drink and, you know, take the edge off
Take the edge off?
Man, if I ever take a drink, I already know what that's gonna lead me to
What, you mean these?
Man, what the fuck?
Marshall, what's the matter, darling?
Having some doubts are we?
Marshall, you can't leave me
You'll never leave me, Marshall
We'll always be together, Marshall
Marshall? Marshall?
No, no
Oh, shit
Lyrics © Universal Music Publishing Group, Warner Chappell Music, Inc.
Written by: Andre Young, Dawaun Parker, Mark Batson, Trevor Anthony Lawrence, Marshall B Mathers, Michael Elizondo

Lyrics Licensed & Provided by LyricFind
To comment on specific lyrics,
highlight them