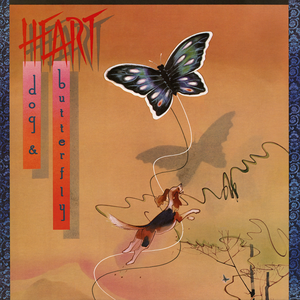 Dog & Butterfly is the fourth studio album by American rock band Heart, released on October 7, 1978 through Portrait Records. Heart rebounded from their legal dispute with Mushroom Records over the release of the platinum-selling Magazine in April 1978, as Dog & Butterfly was certified double platinum, spent 36 weeks on the charts, and peaked at No. 17 on the US Billboard 200. The album was the 'proper' successor to 1977's hit Little Queen in terms of musical development and direction, and contained two hit singles: "Straight On", and "Dog & Butterfly". As Heart themselves noted on the album's
Read Full Bio
Dog & Butterfly is the fourth studio album by American rock band Heart, released on October 7, 1978 through Portrait Records. Heart rebounded from their legal dispute with Mushroom Records over the release of the platinum-selling Magazine in April 1978, as Dog & Butterfly was certified double platinum, spent 36 weeks on the charts, and peaked at No. 17 on the US Billboard 200. The album was the 'proper' successor to 1977's hit Little Queen in terms of musical development and direction, and contained two hit singles: "Straight On", and "Dog & Butterfly".

As Heart themselves noted on the album's release, side 1 was the "Dog" side, and was the more "rocking" compared to the "Butterfly" side 2, which was all ballads, with the exception of the closer "Mistral Wind", which, in many ways, epitomized the trademark sound for which Heart would be remembered: folksy ballads shifting into searing hard rock explosions.

Though the first song, "Cook with Fire", sounds like a live recording, the liner notes to the 2004 CD say that it was actually recorded at Sea-West Studios along with the rest of the album. Audience sounds from a live performance were overdubbed on the studio recording.

The album was reissued in a remastered edition in 2004 by Epic/Legacy and included three bonus tracks from this period. The song "Feels" was later reworked and became "Johnny Moon", included in the album Passionworks (1983).
Genre not found
Artist not found
Album not found
Search results not found
Song not found
Cook With Fire
Heart Lyrics
C'mon, c'mon, I said c'mon
This hot night wind is mine, I know
This gust of love ain't no liar
Steamed up, blown up, stoked from below
I'm a ready to cook with fire, ooh with fire
Yeah [Incomprehensible]
She cattin' around to catch you, man
And butters you up to buy her
Darlin', she's just a flash in the pan
And now don't you wanna cook him with fire?
I'm talkin' 'bout kickin' the role thing, yeah
I wanna give you the whole thing, yeah
Ooh, listen, she gonna burn ya
I tell ya, she gonna make you a fool
But it'll help ya learn yeah
Way, way better than school
I got the soul that's got the spark for ya
Holdin' a real hot wire
You got a hungry flame in the dark
And Lord, we gonna cook it with fire
I got the soul that's got the spark for ya
Holdin' a real hot wire, yeah
We got a hungry flame in the dark
And Lord, we gonna cook it with fire
Oh, listen to me
[Incomprehensible]
Ooo, my sweet baby
You'll wind up cooking with
see-see-ook it with fire, see-see-cook it with fire
Oh, I could cook it with
See-see-cook it with
Oh, cook it with fire, fire, fire, fire
Ooh yeah
Lyrics © Universal Music Publishing Group
Written by: ANN WILSON, HOWARD M. LEESE, NANCY LAMOUREAUX WILSON, ROGER DOUGLAS FISHER, SUSAN ENNIS

Lyrics Licensed & Provided by LyricFind
To comment on specific lyrics,
highlight them