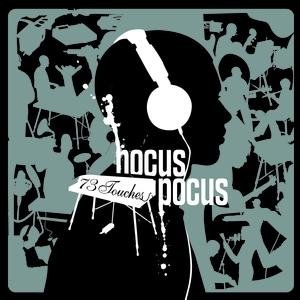 Various artists named Hocus Pocus.

1. - Hocus Pocus is a Hip Hop band from Nantes, France. Formed in 1995, their music is a mix of all hip-hop true elements with live instrumentation influenced by jazz, soul & funk music.
This band gives positive vibrations, stepping outside the French rap box. The alchemy between the intruments and the main rapper/DJ/band leader 20Syl, results in a appreciable coherence.
The lineup includes muscians Matthieu Lelièvre (on fender rhodes) Hevré Gogard (on bass)
Read Full Bio
Various artists named Hocus Pocus.

1. - Hocus Pocus is a Hip Hop band from Nantes, France. Formed in 1995, their music is a mix of all hip-hop true elements with live instrumentation influenced by jazz, soul & funk music.
This band gives positive vibrations, stepping outside the French rap box. The alchemy between the intruments and the main rapper/DJ/band leader 20Syl, results in a appreciable coherence.
The lineup includes muscians Matthieu Lelièvre (on fender rhodes) Hevré Gogard (on bass), and Antoine Saint-Jean (on drums) with DJ Greem and 20Syl (MC), both members of C2C, the DJ crew, 2003-to-2006 DMC World DJ Team Championships winner.
Often compared with The Roots, Their live performance are often showy, mostly when the standard live instruments communicate with the turntables.


Discography
- 18/10/2007 : 15 tilte CD/12" "Place 54"
- 26/12/2006 : "73 Touches", La Réédition
- February 2005 : 13-title CD/12" "73 Touches"
- December 2004 : Maxi Single "On And On part.2"
- June 2002 : 8-title CD "Acoustic Hip Hop Quintet"
- January 2003: Maxi single "Conscient"
- October 2001 : Maxi single "On and on"
- 1998 : Mixtape album "Seconde Formule"


They created On and On Label (ex-Coups2Cross), under wich one you can find C2C (DMC world chmpions in 2003, 2004, 2005 and 2006), The Procussions.

For more informations please go to
http://www.onandon-records.com/hocuspocus.php

2. - Real Name: Ferry Ridderhof & Peter Garnefski - A duo that produces hardcore music.
Aliases: Boobytrax, Doop, Ferry & Garnefski, Headcracker, Krimson, Madam, Mandroid, Rare Candy, Sebastian Blender, Sponk, Sugar 'N' Spice, Thick Red Spot, Vicious Delicious, Waxattack, X-Orgasmic

Most famous for their Here's Johnny record.

3. - Real Name: Dirk Nuttelmann
Aliases: Dirk Nuttelmann, Penny Lane, Sandy
Releases:Vibrator (12", Maxi, Cle)

4. - Hard rock band formed in 1986, first known as Lust.
Members: John Uhlinger, Ken Kennedy (2), Kurt Menck, Mike Easlo
Had songs feature on some compilations like Nashville Rock, What You Haven't Heard... and Hear Rock City Tennessee Tracks.
Genre not found
Artist not found
Album not found
Search results not found
Song not found
J'attends... hein... ouai... ok
J'attends que la marée noir monte, que les pluies soient acides, que le CO2 nous asphixie quand la nuit s'épaissit.
J'attends qu'il fasse chaud en hiver comme au mois d'août, que je soit allé sur terre comme un poisson dans le mazout.
J'attends un peu plus d'électricité dans l'air quitte à respirer de l'oxygène 100% nucléaire.
J'attends que la ville soit clean, que les têtes s'inclinent et que le taxi monte sa clim.
Patient vivant sous perfu d'espoir, j'attends le déluge d'un soir.
Ou demain peut être, en attendant j'attends que mon dîner crame avec un mal au crâne , une sale mine et plus de doliprane.
J'attends le bus de la volonté, j'ai pas de ticket, il me laisse pas monter.
Je fume ma clope en attendant le cancer car de la patience j'en est à plus savoir qu'en faire
Refrain :
J'attends ( I'm waiting )x 7
J'attends
J'attends que la terre tourne pour en voir le coté sombre.
Coté son j'attends pas pour leurs botter le fion.
Seulement pure moment j'attends que personne ne trouve plus ça triste de voir un SDF qui crève dans sa pisse.
Développé et parait il civilé mais on attend que l'extrème passe pour se mobiliser.
J'attends tout des autres et eux attendent tout des autres, ceux ci-même qui attendent tout de moi.
J'attends cette émission où c'est le dernier qui tire sur le bout de bois même si je sais que dedans on se fout de moi.
Depuis septembre j'attends le 11 pour le nouvel épisode et pour ce que je pense j'attends qu'on m'emprisonne.
Pour ce que je dis j'attends la chaise et pour ce que je fais pas de malaise puique je fais rien et j'attends.
(Refrain)
J'attends que mes proches meurent pour leurs dire je vous aimes fort et j'attends
que là haut on me réserve le même sort.
J'attends en regardant ceux qui veulent essayer de nous gouverner, je les écoutes sans jamais me sentir concerné.
J'aimeré stopper l'attente mais je reste hyper zen.
J'attends qu'ils s'étouffent en bouffant leurs bretzelles.
Je suis né blig blig Colanne et Dretzel.
Egoïste je suis pas là pour ceux qui voudraient de l'aide.
J'attends que ma main stoppe toute seule, juste un instant de doute.
J'attends le dernier moment pour réagir.
J'attends de toucher le fond pour quitter le navire.
(Refrain)x 2
Contributed by Mackenzie I. Suggest a correction in the comments below.
To comment on specific lyrics,
highlight them