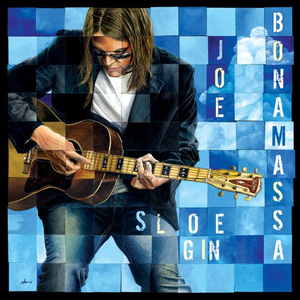 Personnel:
Joe Bonamassa (guitars)
Rick Melick (keyboards)
Carmine Rojas (bass guitar)
Anton Fig, Bogie Bowles (drums)
The Bovaland Symphonic Orchestra (strings)

Voted by Guitar Player readers as 2007's Best Blues Guitarist, blues-rock guitar virtuoso, vocalist, and songwriter JOE BONAMASSA is set to release his seventh solo album, SLOE GIN, on August 21, 2007. Bonamassa's fourth release, the disc re-teams him with producer Kevin Shirley (Joe Satriani
Read Full Bio
Personnel:
Joe Bonamassa (guitars)
Rick Melick (keyboards)
Carmine Rojas (bass guitar)
Anton Fig, Bogie Bowles (drums)
The Bovaland Symphonic Orchestra (strings)

Voted by Guitar Player readers as 2007's Best Blues Guitarist, blues-rock guitar virtuoso, vocalist, and songwriter JOE BONAMASSA is set to release his seventh solo album, SLOE GIN, on August 21, 2007. Bonamassa's fourth release, the disc re-teams him with producer Kevin Shirley (Joe Satriani, Black Crowes, Aerosmith, Led Leppelin), who produced 2006's YOU & ME, which debuted at #1 on Billboard's Blues Chart in June of last year.SLOE GIN effortlessly ranges through heavy blues and acoustic numbers alike, a textured flow that Bonamassa says was in part inspired by Rod Stewart's legendary 1969 debut solo LP.

In the liner notes, Joe adds, "I sequenced the album as a throwback to the side A/side B set-up of vinyl records...listening to an album as a whole is a lost pastime. i wanted to bring that experience back around.Renowned for this fluid phrasing and post-modern fusion of traditional roots blues with rock
and roll guts, Bonamassa began playing guitar at age four, and toured with blues icon B.B. King when he was twelve. Recently, Joe was named Best Blues Guitarist in Guitar Magazine's 2007 Reader's Choice Awards. He is also the youngest member of the Memphis, TN-based Blues Foundation's Board of Directors, and a spokesperson for their respected Blues in the Schools Program.


On the other hand, Sloe Gin isn't a summer album. It has the makings of a year-round classic that could set a new standard for recorded blues, rock, blues-rock and a few other genres not always associated with "Joe Bonamassa the blues artist". Within the first 20 seconds of the opening track, "Ball Peen Hammer", it's clear we're in the presence of something special.
Genre not found
Artist not found
Album not found
Search results not found
Song not found
I wanna go there, I wanna climb
Now I don't know about no law, I don't see no crime
Ain't no reason, ain't no rest
I wanna get down to the woman and get undressed
And I can't stand it, I can't stand it
I can't wait to see them walls falling down
So tell me Jesus, why they run
Is it by the weight of the woman, the weight of the gun?
Got fifty minutes now and I just don't care
I'm gonna take this off already when I get there
And I can't stand it, I can't stand it
I can't wait to see them walls falling down
And I can't stand it, I can't stand it
I can't wait to see them walls falling down
No where tomorrow, a Sunday rhyme
You know all good things come in their due time
Put 'The Ball Peen Hammer', 'Right through' That Door'
And I don't pretend to understand no more
I can't stand it and I can't stand it
I can't wait to see them walls falling down
I can't stand it, I can't stand it
I can't wait to see them walls falling down
Lyrics © Warner/Chappell Music, Inc.
Written by: CHRIS WHITLEY

Lyrics Licensed & Provided by LyricFind
To comment on specific lyrics,
highlight them