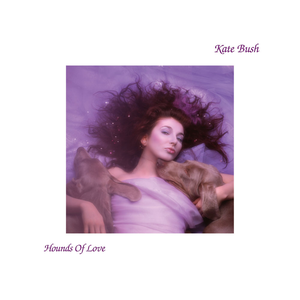 Hounds of Love is the fifth studio album by English singer Kate Bush, released on September 16, 1985 by EMI Records. It was a commercial success and marked a return to the public eye for Bush after the relatively low sales of her previous album, 1982's The Dreaming. The album's lead single, "Running Up That Hill (A Deal with God)", became one of Bush's biggest hits. The album's first side produced three further singles, "Cloudbusting", "Hounds of Love" and "The Big Sky". The second side, subtitled The Ninth Wave, forms a conceptual suite about a woman drifting alone in the
Read Full Bio
Hounds of Love is the fifth studio album by English singer Kate Bush, released on September 16, 1985 by EMI Records. It was a commercial success and marked a return to the public eye for Bush after the relatively low sales of her previous album, 1982's The Dreaming. The album's lead single, "Running Up That Hill (A Deal with God)", became one of Bush's biggest hits. The album's first side produced three further singles, "Cloudbusting", "Hounds of Love" and "The Big Sky". The second side, subtitled The Ninth Wave, forms a conceptual suite about a woman drifting alone in the sea at night.

"Hounds of Love" received critical acclaim both on its release and in retrospective reviews. It is considered by many fans and music critics to be Bush's best album, and has been regularly voted one of the greatest albums of all time. It was Bush's second album to top the UK Albums Chart and in the US, it reached the top 20 on the Billboard 200. It is her best-selling studio album, having been certified double platinum for 600,000 sales in the UK, and by 1998 it had sold 1.1 million copies worldwide. The album was nominated at the 1986 Brit Awards for Best British Album, at which Bush was also nominated for Best British Female and Best British Single for "Running Up That Hill".
Genre not found
Artist not found
Album not found
Search results not found
Song not found
Running Up That Hill
Kate Bush Lyrics
It doesn't hurt me
Do you want to feel how it feels?
Do you want to know, know that it doesn't hurt me?
Do you want to hear about the deal that I'm making?
You, it's you and me
And if I only could
I'd make a deal with God
And I'd get him to swap our places
Be running up that road
Be running up that hill
Be running up that building
See if I only could, oh
You don't want to hurt me
But see how deep the bullet lies
Unaware I'm tearing you asunder
Ooh, there is thunder in our hearts
Is there so much hate for the ones we love?
Tell me, we both matter, don't we?
You, it's you and me
It's you and me, won't be unhappy
And if I only could
I'd make a deal with God
And I'd get him to swap our places
Be running up that road
Be running up that hill
Be running up that building
Say, if I only could, oh
You
It's you and me
It's you and me, won't be unhappy
Oh come on, baby
Oh come on, darling
Let me steal this moment from you now
Oh come on, angel
Come on, come on, darling
Let's exchange the experience, oh
And if I only could
I'd make a deal with God
And I'd get him to swap our places
I'd be running up that road
Be running up that hill
With no problems
Said, if I only could
I'd make a deal with God
And I'd get him to swap our places
I'd be running up that road
Be running up that hill
With no problems
So if I only could
I'd make a deal with God
And I'd get him to swap our places
I'd be running up that road
Be running up that hill
With no problems
Said, if I only could
I'd be running up that hill
With no problems
(If I only could, I'd be running up that hill)
(If I only could, I'd be running up that hill)
Lyrics © Sony/ATV Music Publishing LLC
Written by: Kate Bush

Lyrics Licensed & Provided by LyricFind
To comment on specific lyrics,
highlight them