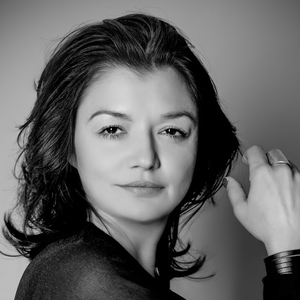 Marcha para Amália Rodrigues
Maja Milinkovic, is a fado and sevdah singer and songwriter. Born in Bosnia, Sarajevo, now lives in Lisbon.Has a unique talent, charismatic and recognizable voice that awakes emotions by singing everlasting melodies.

She began singing at an early age in a church choir during the Bosnian War and learned to play guitar in a shelter. At 15th start to sing in the rock band. She graduated on Music Academy of Sarajevo on the department of Music Theory and pedagogy.
Read Full Bio
Maja Milinkovic, is a fado and sevdah singer and songwriter. Born in Bosnia, Sarajevo, now lives in Lisbon.Has a unique talent, charismatic and recognizable voice that awakes emotions by singing everlasting melodies.

She began singing at an early age in a church choir during the Bosnian War and learned to play guitar in a shelter. At 15th start to sing in the rock band. She graduated on Music Academy of Sarajevo on the department of Music Theory and pedagogy. Plays piano and guitar and works as singer, songwriter, composer and music arranger. At 2009 she discovered Fado, and since then she dedicate her life and work to tradicional music.





MUSIC CAREER


​

Maja Milinković became known to a wide public in Bosnia and Herzegovina (BaH) and other parts of South East Europe in 2003, as one of the finalists of the first OBN Music Talent Show, at that time the most popular television show in BaH and its neighboring countries. Since then she was singled out by music experts and critics for her vocal abilities, her unique color of voice, energy and talent. She received strong sympathy by the public and nation-wide popularity gaining the status of a rock-pop star.

At 2006 released her 9 time awarded album "Začarani krug" during that time she had more then 1000 concerts, numerous TV and Radio appearances. CD was published for the biggest label in BaH - Hayat production.



At 2009 Maja discovered and started to sing Portuguese Fado music, and at 2012. recorded the first Fado song in BaH and officially started singing it. During that year, she had a dozen Fado concerts in BaH. Among them a concert at the most known music festival "Bascarsijske noći", (The nights of Bascarsija) in Sarajevo and a glamorous concert at the Sarajevo Chamber Theater where tickets were sold out in one day.

Maja Milinkovic moved to Portugal 2013 where she currently lives, giving concerts in Portugal and BaH, singing in Fado houses in Lisbon and writing and composing her music. She also started to introduce sevdah/sevdalinka, the tradicional music from her country, to her repertoire.

Her album "Fado é sorte" was published by Portuguese label "Seven muses musicbooks", promoted in "Fado Museum", and around the Europe.

​

​

AWARDS

​

​2003. finalist at the first BaH-wide OBN Music Talent Show

2003. Debut at the Bihać Festival receiving the following prizes for her first song
"Zovem Te": First Prize of the Experts Jury
First Prize for the interpretation
First Prize for the arrangement

2004. Prestigious award MpX from radio "M" in the category
"Talent of the Year 2004"

2004. Music award of BaH radio and television channels in the category
"Surprise of the Year 2004"

2004 Participation in the first BaH Radio Television Festival with the song "Genijalno"
receiving the "First Award of the Expert's Jury",

2005 At Zenica Music Festival her song "Genijalno" is proclaimed "Hit of the Year",

2005 At the second BaH Radio and Television Festival her song "Da hodamo u snu"
receives the "First Prize of the Expert's Jury",
"First Prize for the Interpretation",


2006 Oscar for Popularity" in the category "Pop-rock singer of the Year",

2006 Release of the first album (CD) "Zacarani krug" (under the label Hayat Production)
which proudly carries 9 festival prizes and recognitions - most prestigious to be singled out, the "DAVORIN" for "Best Vocal Performance on an Album in 2007"

On this album she accomplishes a successful co-operation with the living legend, singer Mladen Vojičić Tifa, with the production of the song "Opako" and video spot

2007. Regional Zenica Festival declares her song "Nije me strah" as "Hit of the Year"
Genre not found
Artist not found
Album not found
Search results not found
Song not found