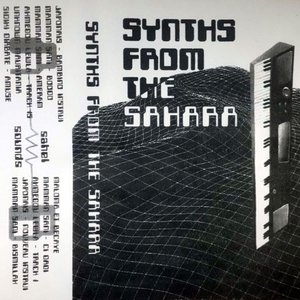 Mamman Sani Abdullaye is a legendary name amongst Niger's avant garde. A pioneer…
Read Full Bio ↴
Mamman Sani Abdullaye is a legendary name amongst Niger's avant garde. A pioneer of early West African electronic music, for over 30 years his instrumentals have filled the airwaves. The instrumental background drones of radio broadcasts and instrumental segue ways of TV intermissions borrow heavily from his repertoire. The dreamy organ instrumentals drift by sans comment, yet are known to all.
Mamman first found the organ in 1974.

Mamman's composes in technique that can only be called minimal, relying on the simplicity and space. It is a remarkable manipulation of sound that uses the silence to invoke the emptiness - a metaphoric desert soundscape. Unsurprisingly, his source material is folkloric Nigerien music, and many of the compositions on this record are reproductions of ancient songs brought into the modern age. Interpreting this rich and varied history of Niger's dance and song for the first time in contemporary musics, Mamman electrifies the nomadic drum of the tende, the polyphonic ballads of the Woddaabe, and the pastoral hymns of the Sahelian herders. Accompany this repertoire are a few compositions, such as Salamatu, the deeply personal love letter to an unrequited romance.

His first and only album was recorded in 1978. Mamman stepped into the studio of the National Radio with his organ, where it was transposed and overdubbed in two takes. In coordination with the Minister of Culture, the album was released in a limited series of cassettes showcasing modern Niger music. The cassette project, unfortunately, did not progress as planned, and merely a handful were released. Today his cassettes are rare objects, highly sought by fine art connoisseurs and experimental music collectors in Niamey.
Genre not found
Artist not found
Album not found
Search results not found
Song not found