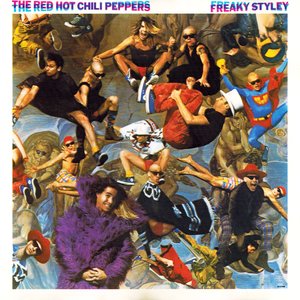 Freaky Styley is the second studio album by American alternative rock band Red Hot Chili Peppers, released on August 16, 1985 on EMI. The album is the first to feature original guitarist Hillel Slovak, following his return to the band earlier in the year, and the last to feature drummer Cliff Martinez. Freaky Styley was produced by George Clinton, of Parliament-Funkadelic. The album yielded four singles: "Jungle Man", "American Ghost Dance", "Catholic School Girls Rule", and "Hollywood (Africa)" According to Jason Birchmeir, of Allmusic, Freaky Styley is "the closest the Red Hot Chili Peppers ever came to straight funk, is
Read Full Bio
Freaky Styley is the second studio album by American alternative rock band Red Hot Chili Peppers, released on August 16, 1985 on EMI. The album is the first to feature original guitarist Hillel Slovak, following his return to the band earlier in the year, and the last to feature drummer Cliff Martinez. Freaky Styley was produced by George Clinton, of Parliament-Funkadelic.

The album yielded four singles: "Jungle Man", "American Ghost Dance", "Catholic School Girls Rule", and "Hollywood (Africa)"

According to Jason Birchmeir, of Allmusic, Freaky Styley is "the closest the Red Hot Chili Peppers ever came to straight funk, is the quirkiest, loosest, and most playful album in their long and winding catalog. It's also one of the best, if also one of their least heard."

The cover artwork features the band jumping in front of Michelangelo's Last Judgment.

The track "Yertle the Turtle" incorporates several verses directly from Dr. Seuss' poem also named "Yertle the Turtle". As stated by Kiedis in his autobiography, Scar Tissue, the spoken lyrics at the beginning and throughout the song were by George Clinton's drug dealer who demanded debts be paid by Clinton. Unable to repay the dealer, Clinton offered him a part in the album.

The album did not garner mainstream success and failed to enter the Billboard 200. In the liner notes to the 2003 remastered edition of the album, bassist Flea states:
I know the music on this record was just way too obscure to ever be popular in a mainstream kind of way, but to me it really holds its own as a definitive and substantial musical statement. More than any other record we ever made it falls into the category of "too funky for white radio, too punk rockin' for black." Of course, the songs were very far away from any pop format; I realise it is/was not just the racial segregation at radio that precluded it from being a popular record.
Genre not found
Artist not found
Album not found
Search results not found
Song not found
Deep inside the soul hole of mother earth
Father time came with a supersonic supersonic burst
His soul monkey sperm tribes racing to be first
Her ruby fruit jungle givin' bush baby bush baby birth
The baby was a boy but I think what stunned her
Is that this bare breasted baby was a baby boy boy boy boy wonder
Crackin' from his thumb bone came felonious thunder
Fill the sky with hellfire from way down down down under
I am a jungle man I am a jungle man I am a jungle man
I get all the bush I can
I am a jungle man I am a jungle man I am a jungle man
I get all the bush I can
Erupting from the ground in Hollywood he glowed
His jungle turned to concrete his funk bone bone bone bone to stone
Like a full blown volcano I must let it be known
That through this boy's vein atomic lava blood flows and flows
His soul shocking sounds they make the mountains moan
This boy's become a man it's time to take take take take the throne
I am a jungle man I am a jungle man I am a jungle man
I get all the bush I can
I am a jungle man I am a jungle man I am a jungle man
I get all the bush I
I am a jungle man I am a jungle man I am a jungle man
I get all the bush I can
I am a jungle man I am a jungle man I am a jungle man
I get all the bush I can
I am a jungle man I am a jungle man I am a jungle man
Lyrics © Sony/ATV Music Publishing LLC, MoeBeToBlame
Written by: MICHAEL PETER BALZARY, ANTHONY KIEDIS, CLIFF MARTINEZ, JACK SHERMAN

Lyrics Licensed & Provided by LyricFind
To comment on specific lyrics,
highlight them